New food, new theme, new kids (for the most part). Week 2 of Kids Camp begins and the theme is Southern Food. Each day's theme for the week is the Carolinas, Louisiana, Florida, Kentucky and Georgia respectively.
Monday, The Carolinas
As we awaited for more campers to arrive, the early birds went ahead with a chill, morning colouring session to get to know their new friends and camp counselors. Following the welcome from camp director Jennie Merrill, kids went straight into making name tags decorated with their favourite foods. The groups then proceeded to visit the SoFAB Museum to see information about their group's state. They used the Museum exhibits to come up with ideas for their team name and banner.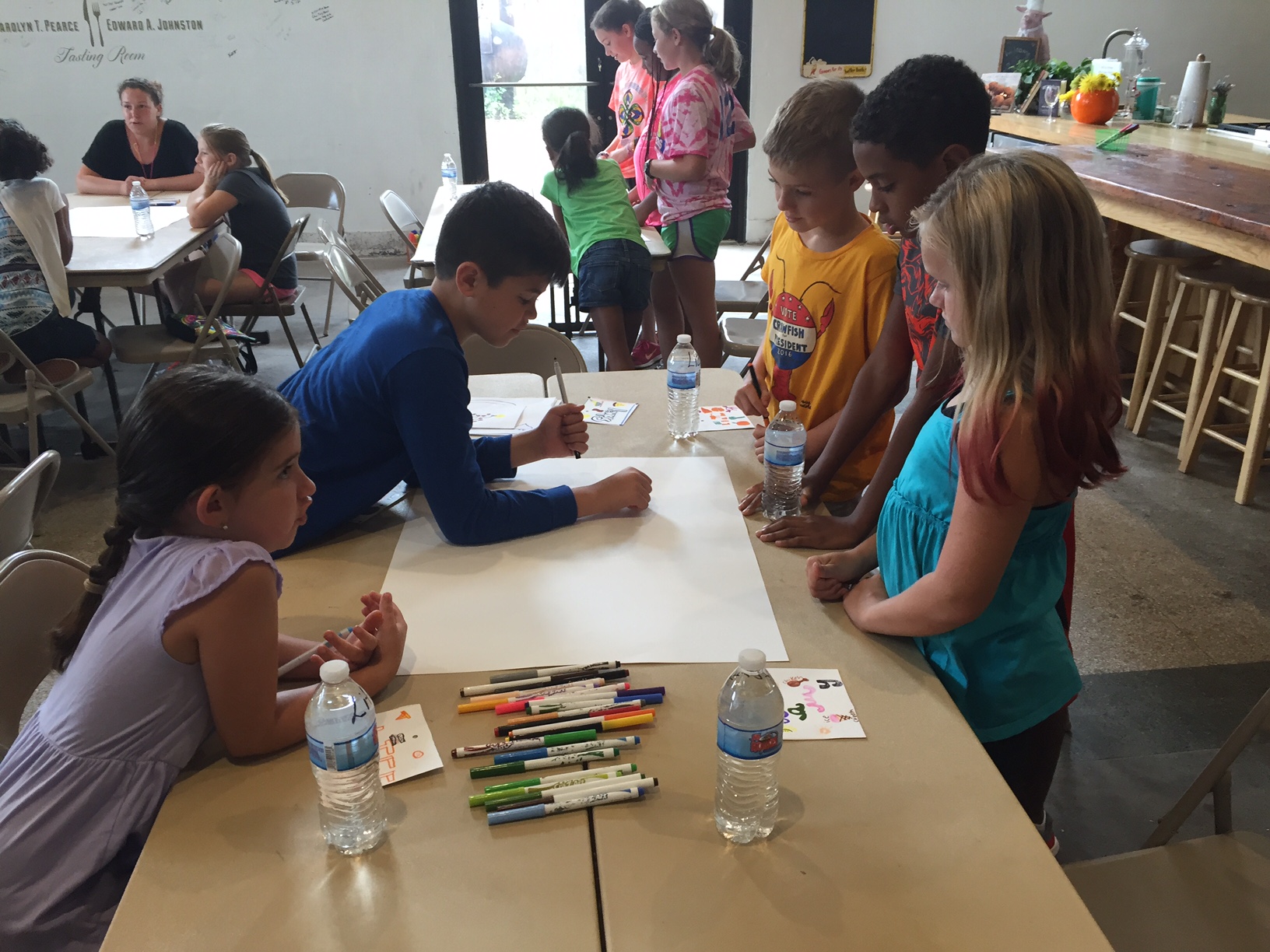 The team names turned out to be Turf 'N Surf (The Carolinas), Louisiana Pralines, the Beach Mermaids (Florida), the Derby Girlz (Kentucky), and the Barbie-Cues (Georgia). The Turf 'N Surf explained where their name came from: they used Turf to represent North Carolina's excellent barbecuing skills and they used Surf to represent seafood and surfing down in South Carolina.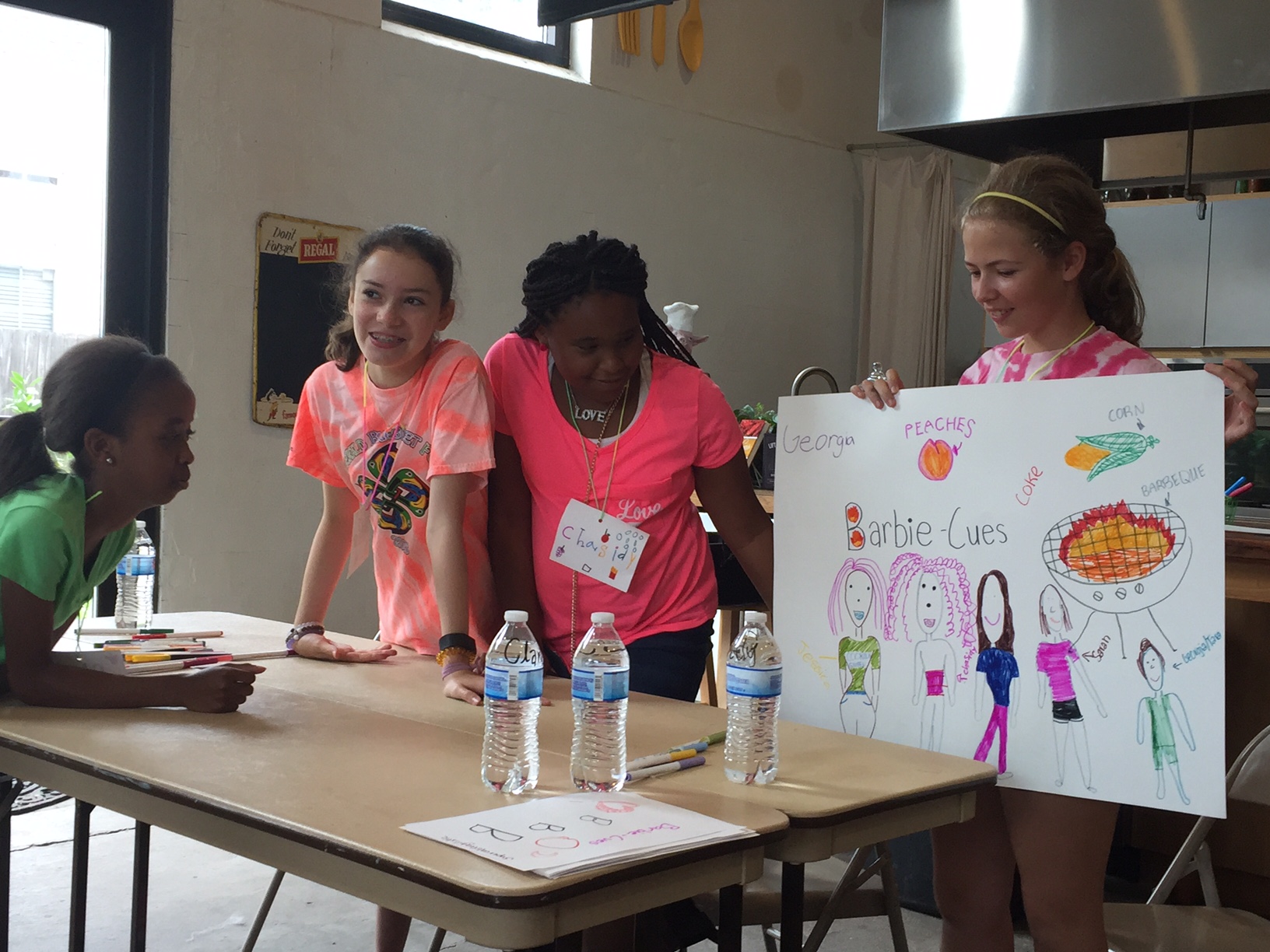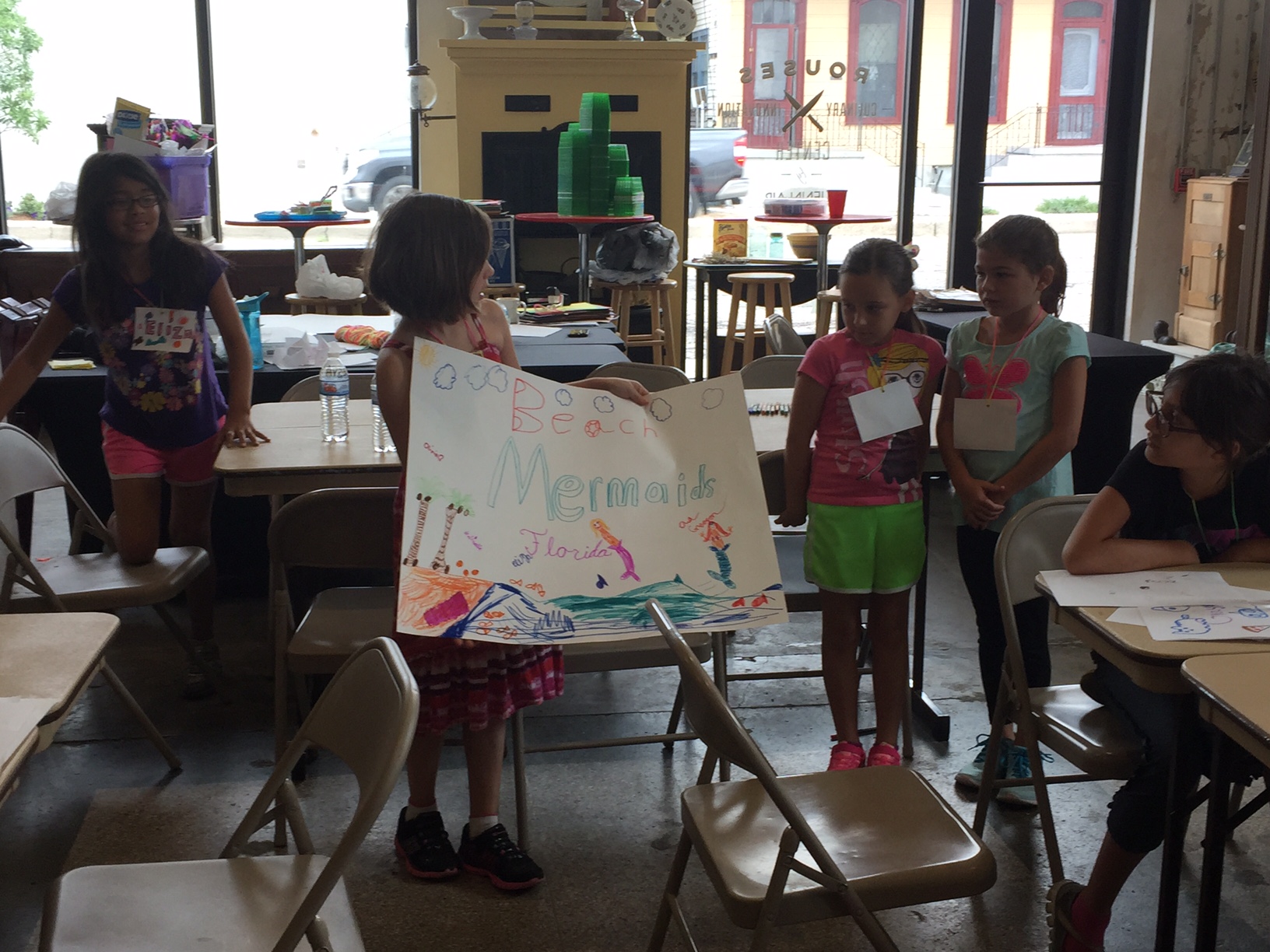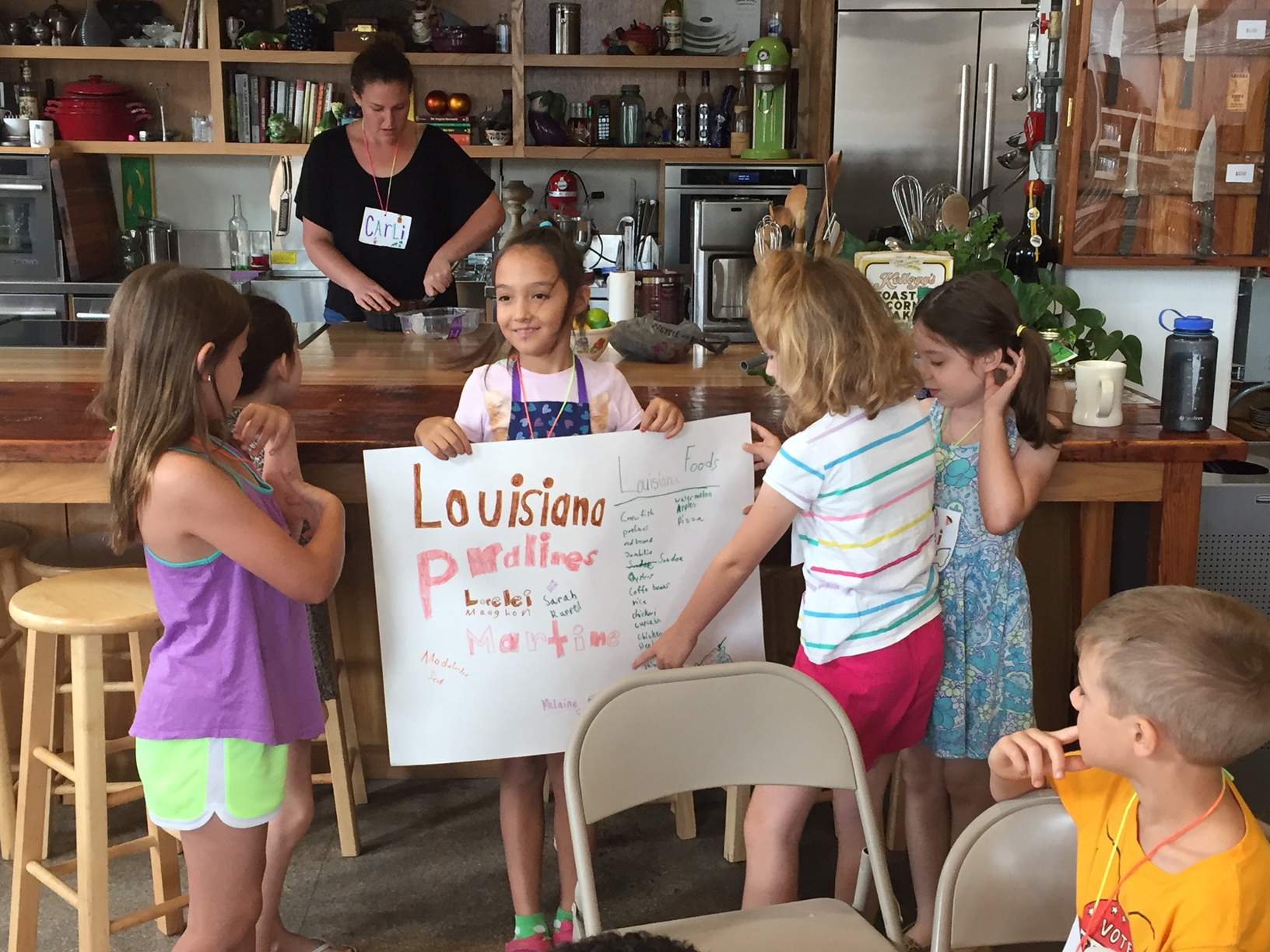 As always, the first day of the week's nutritional-learning portion of the day was dedicated to an explanation of camp expectations (CHEFS and knife safety).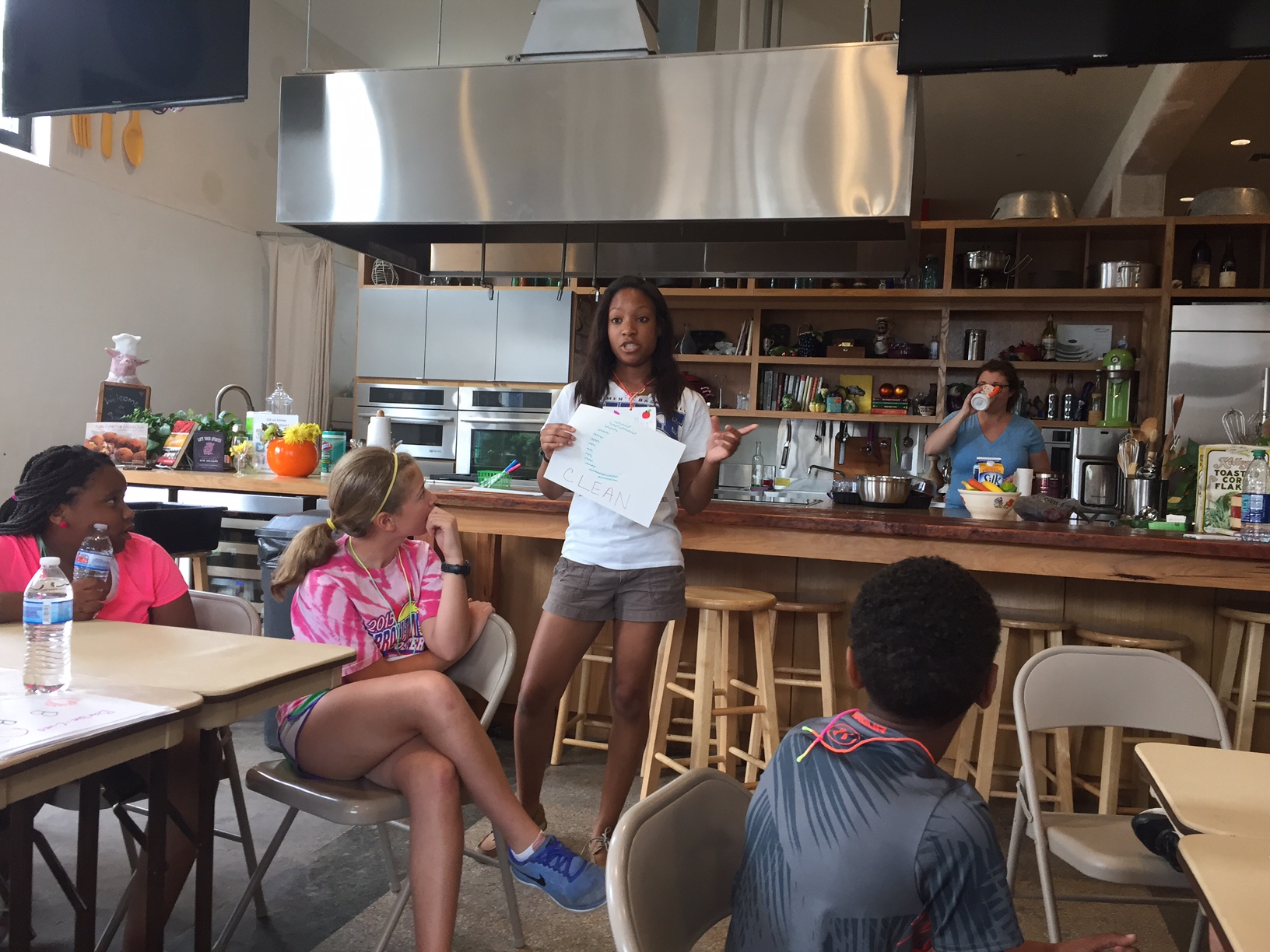 Appropriately, cooking followed knife safety. The menu today was rotisserie chicken with two types of BBQ sauce (wine based and mustard based), as well as delicious corn bread muffins. The children rotated through 4 stations; each kid had a hand in every part of the meal.
Joey then lead them outside to play 3 tag games! They played Cheese Graters, Chefs and Waiters, and Meatball & Spaghetti (a version of freeze tag).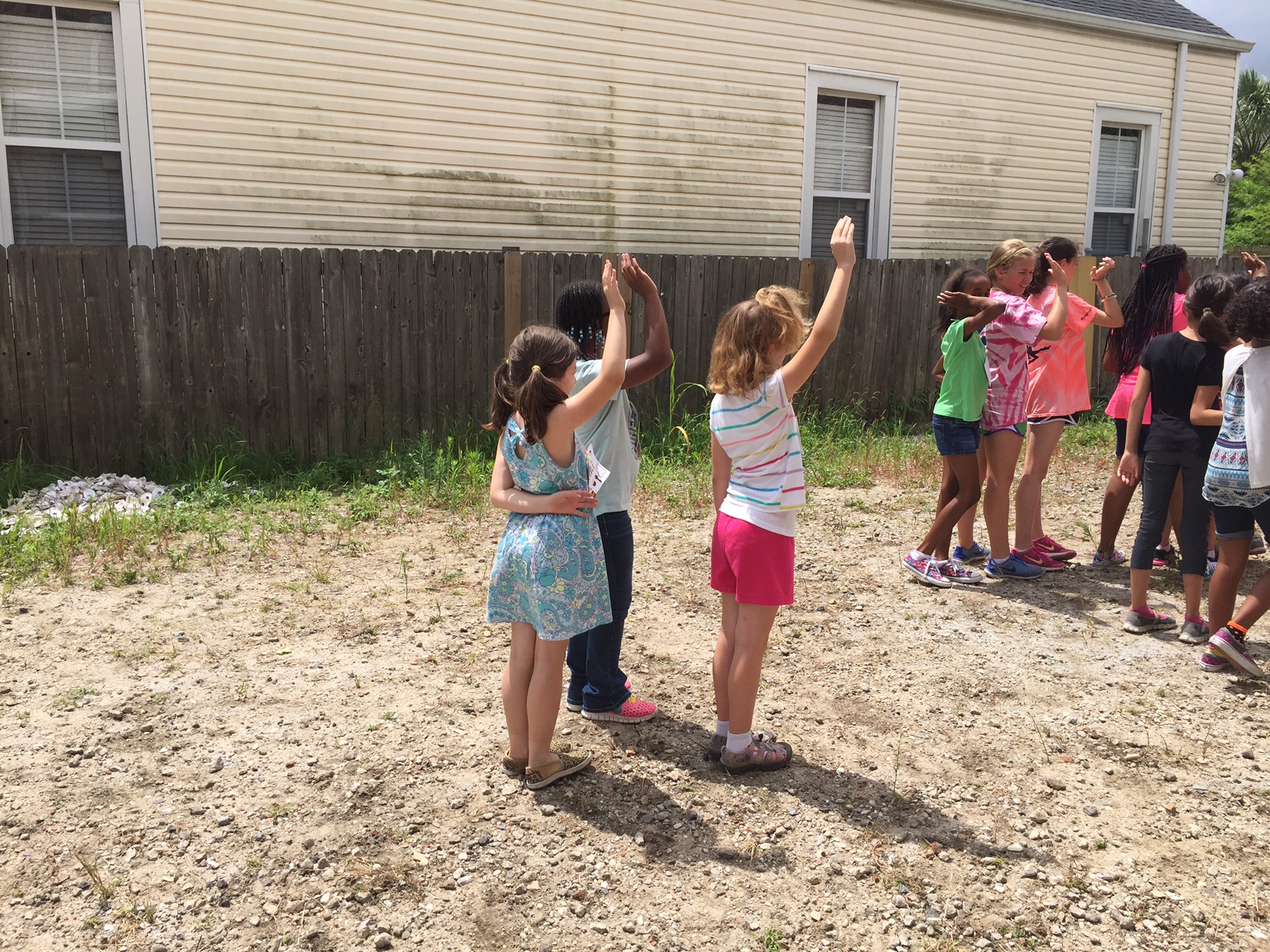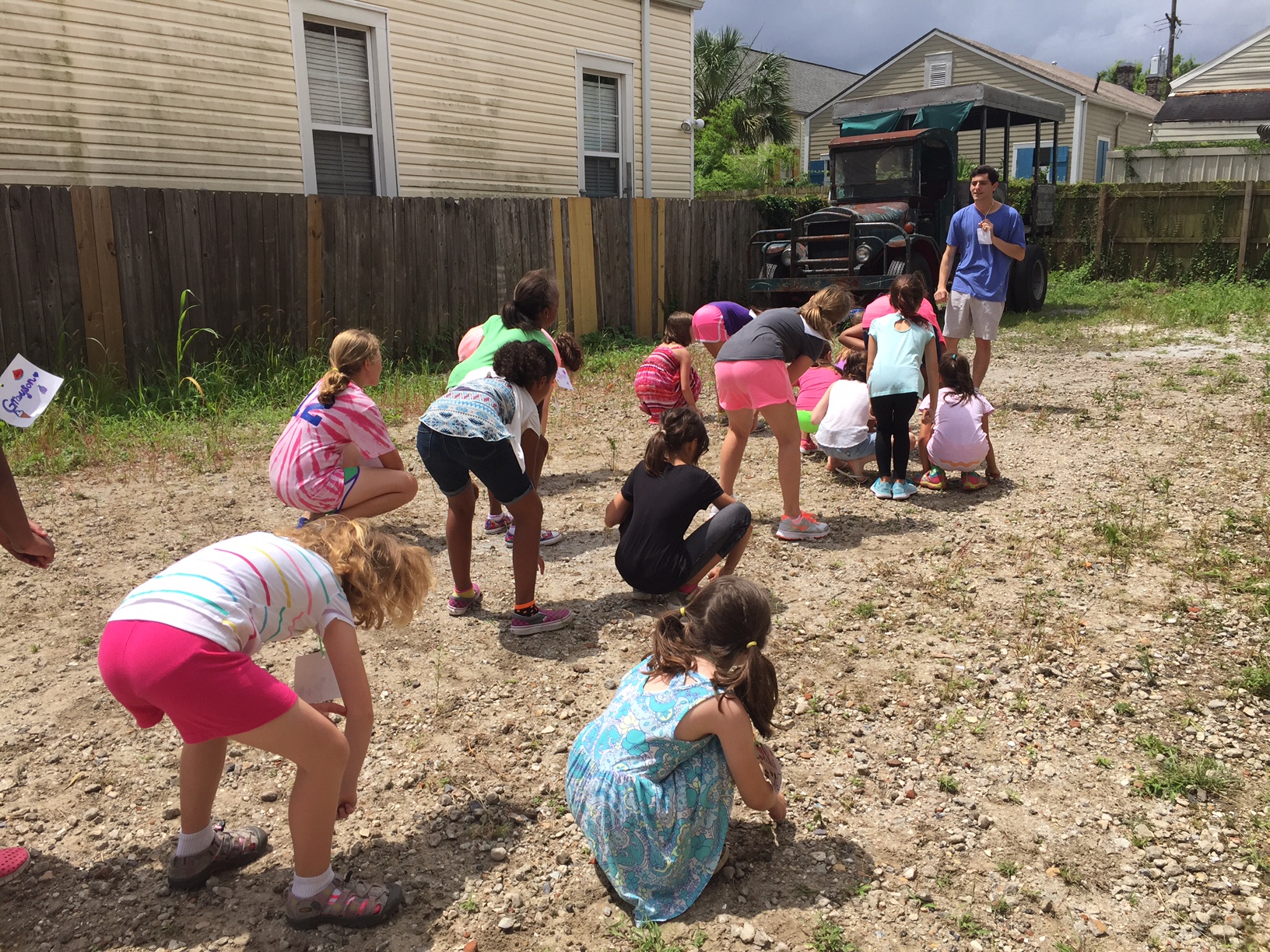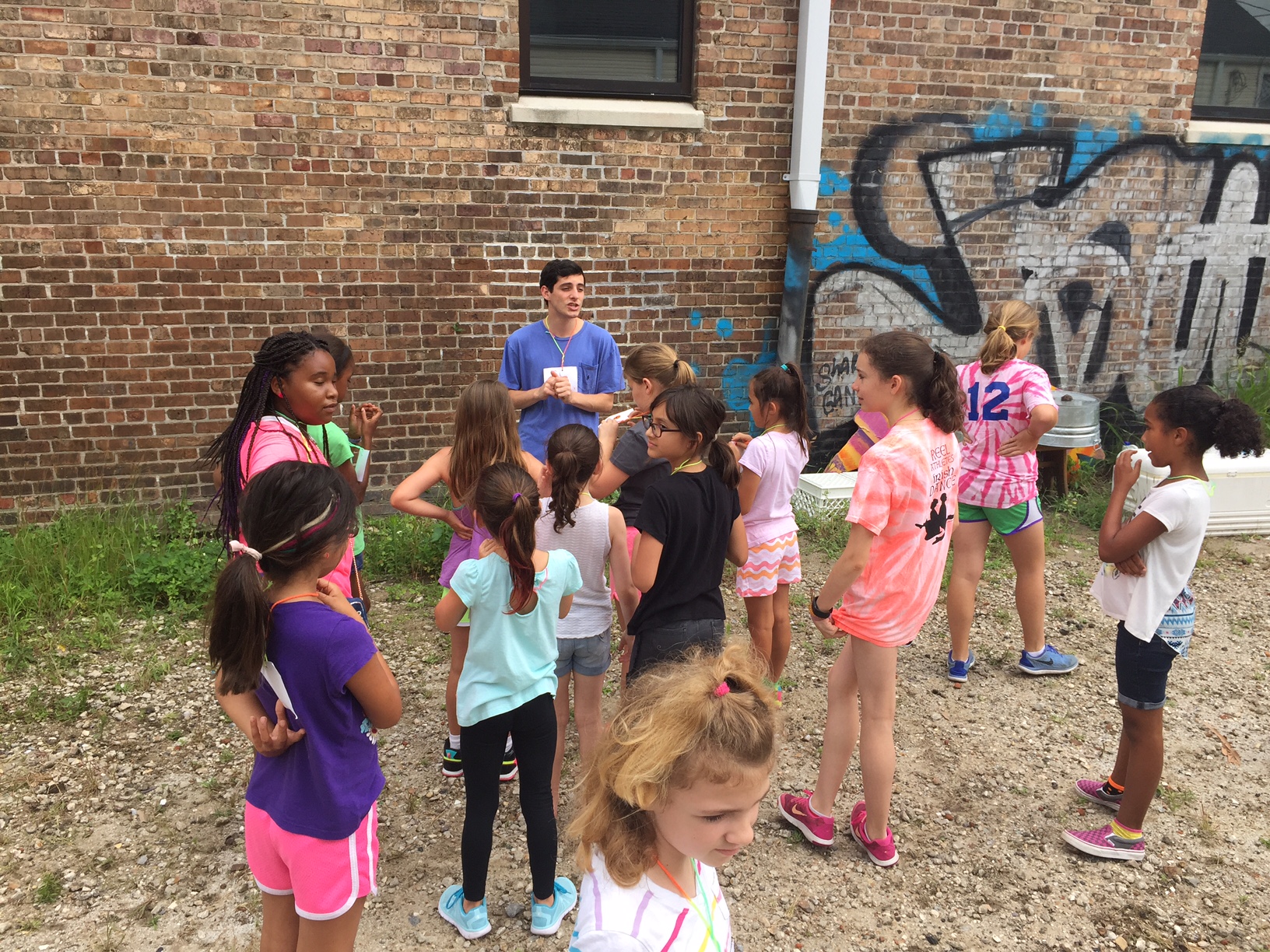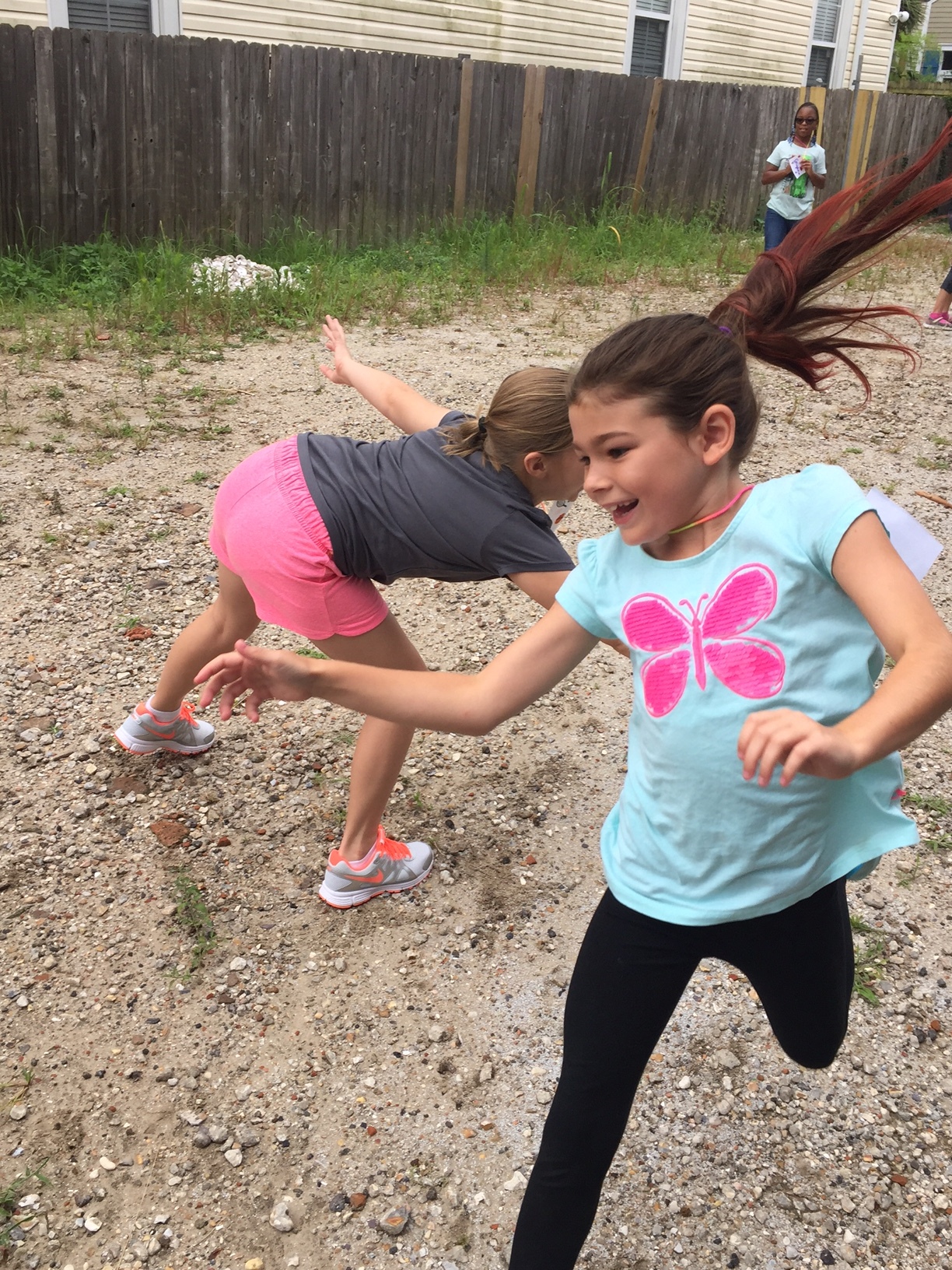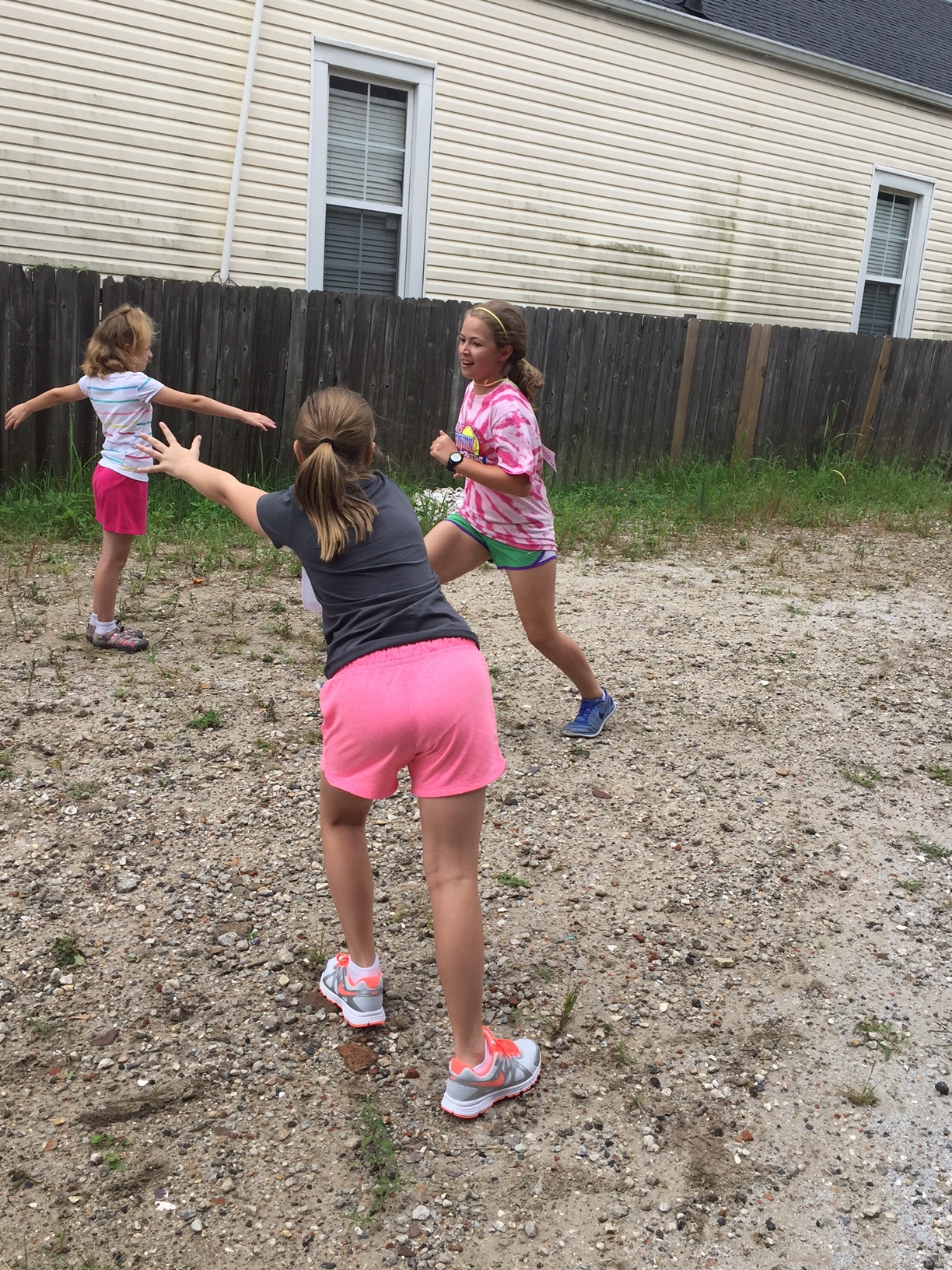 The Turf 'N Surf crew stayed in to put the cornbread muffin batter in the muffin tray and serve their fellow friends. The other camp members returned and gobbled up the food - except some found the vinegar-based BBQ sauce a bit overpowering. However, that was the point of showing two types of BBQ sauce options. Camp counselor Carli wanted the kids to compare and contrast the sauces so they can figure out elements of each that they liked and disliked. It was an excellent cooking lesson for kids to have a variety in their cooking.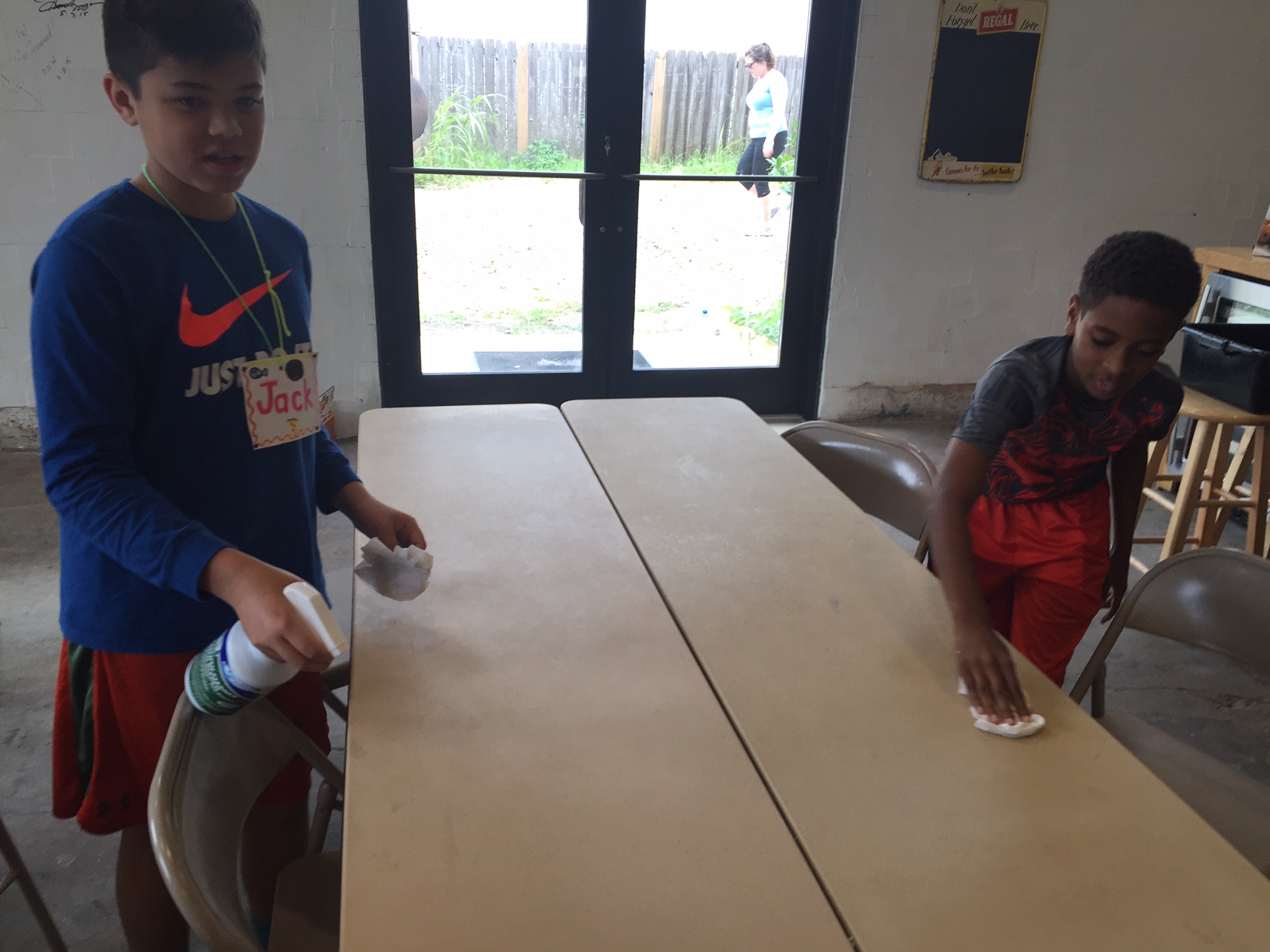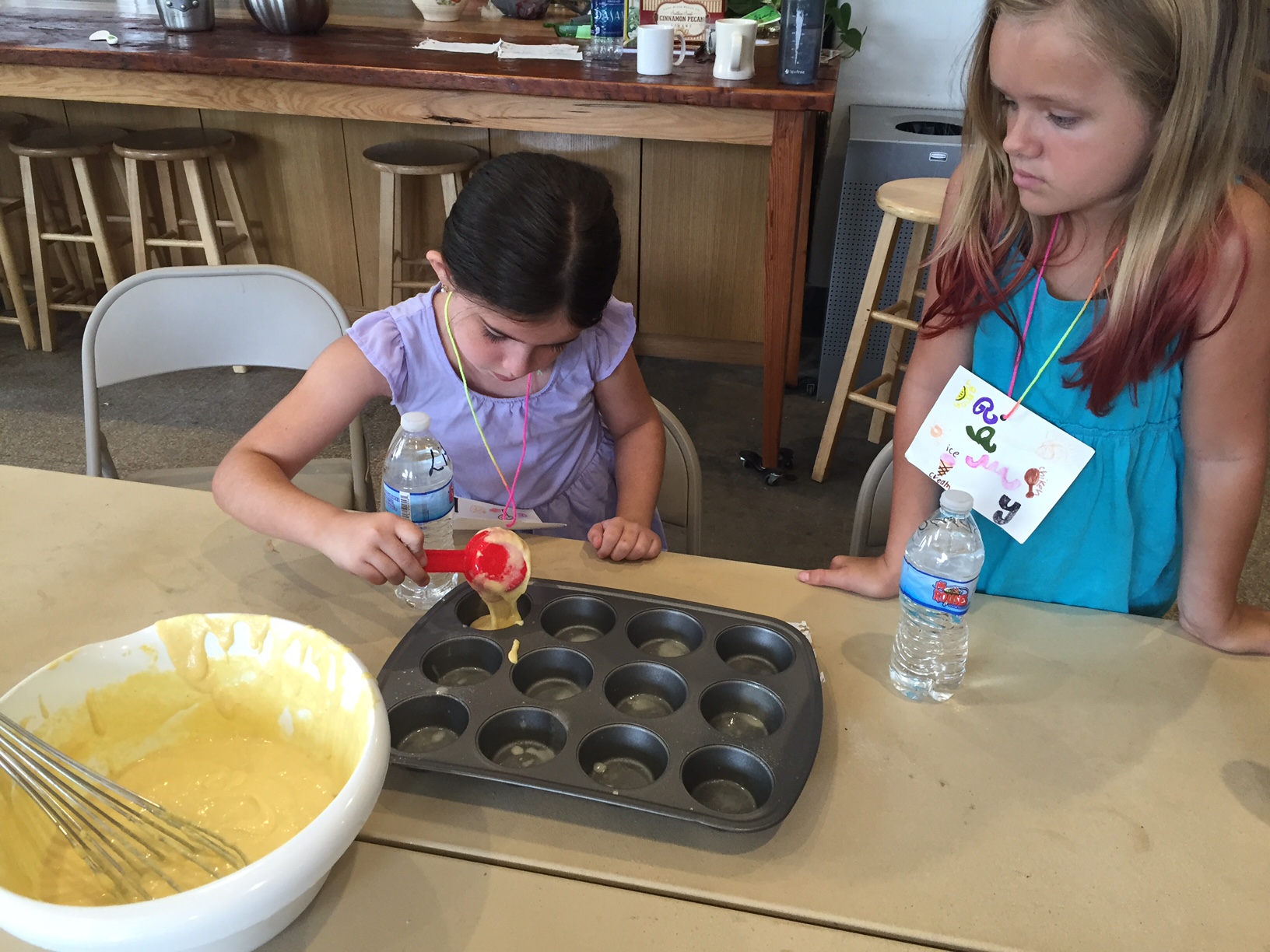 After a long (but fun) first day, the new chefs headed home hopefully to cook dinner for their families.
Recipes to look out for: Vinegar based BBQ sauce, Mustard based BBQ sauce, Cornbread Muffins.
Tuesday, Louisiana
The kids were clearly opening up today. In games, they worked together to come up with strategies to beat camp counselor Joey in a game of freeze tag/capture the flag. They also unleashed their creativity, designing mugs to take home using painty pens. Since the day's theme is Louisiana, they were specifically asked to draw Louisiana's famous foods (pralines, crawfish, oysters, beignets etc.)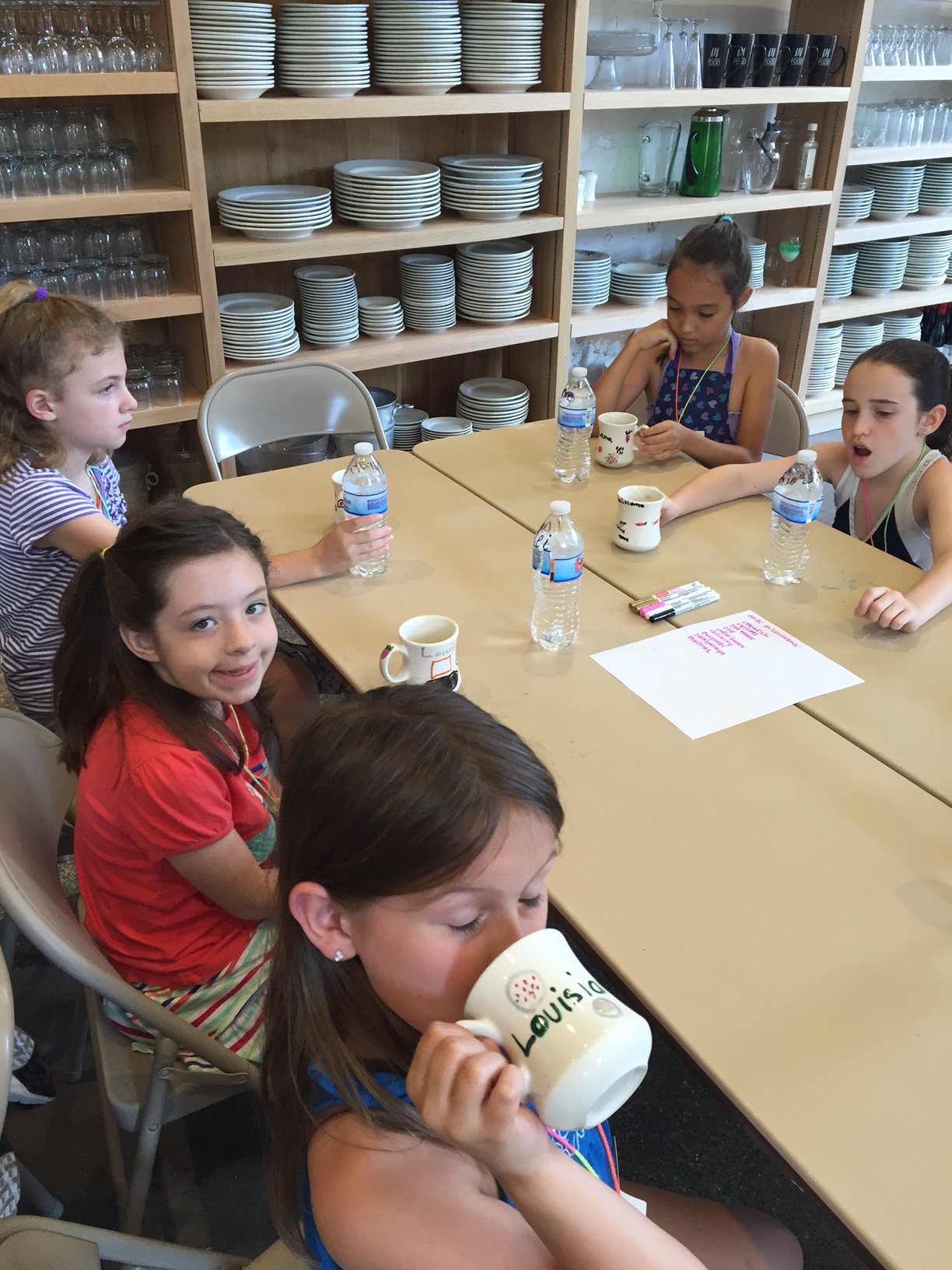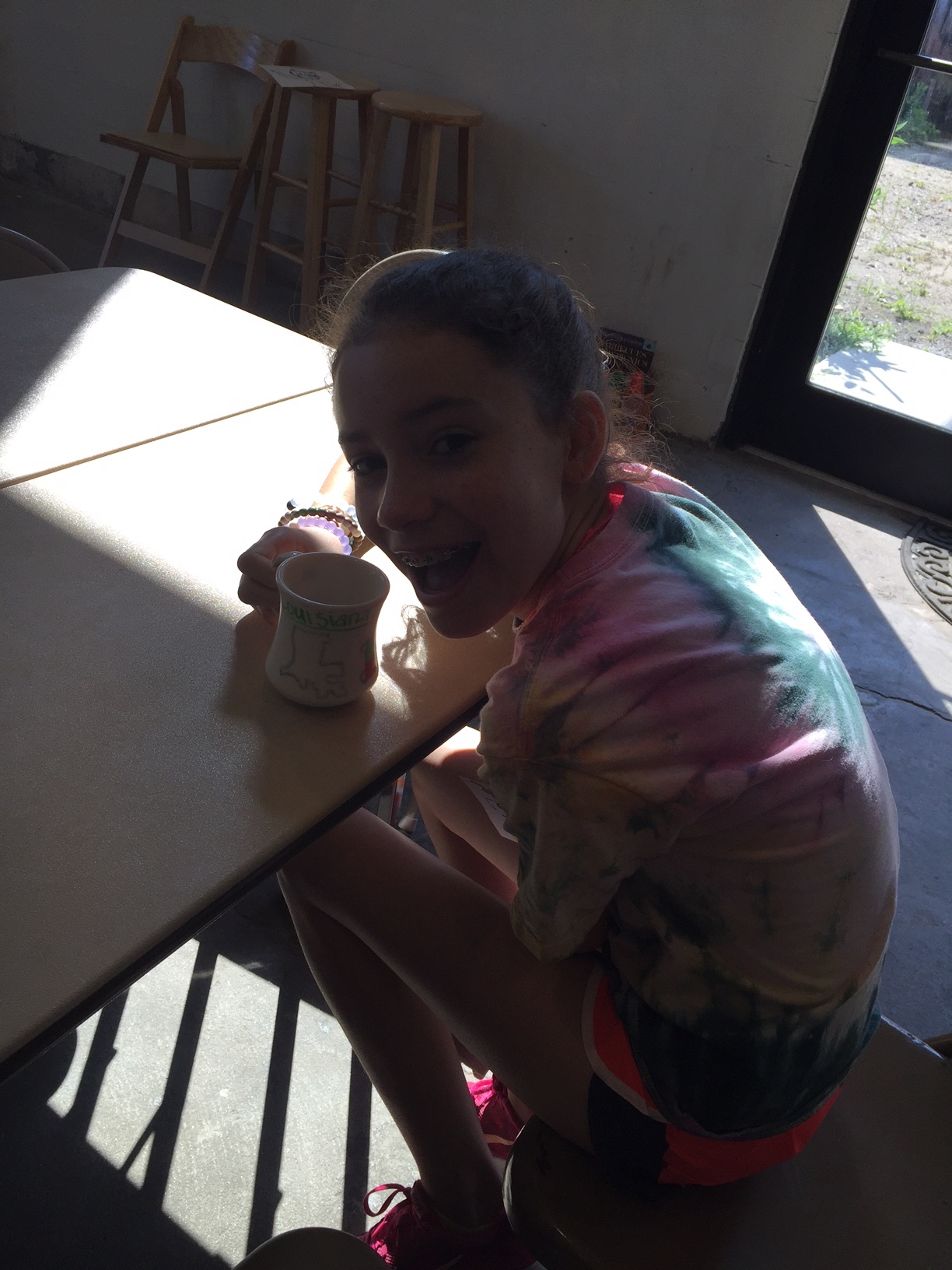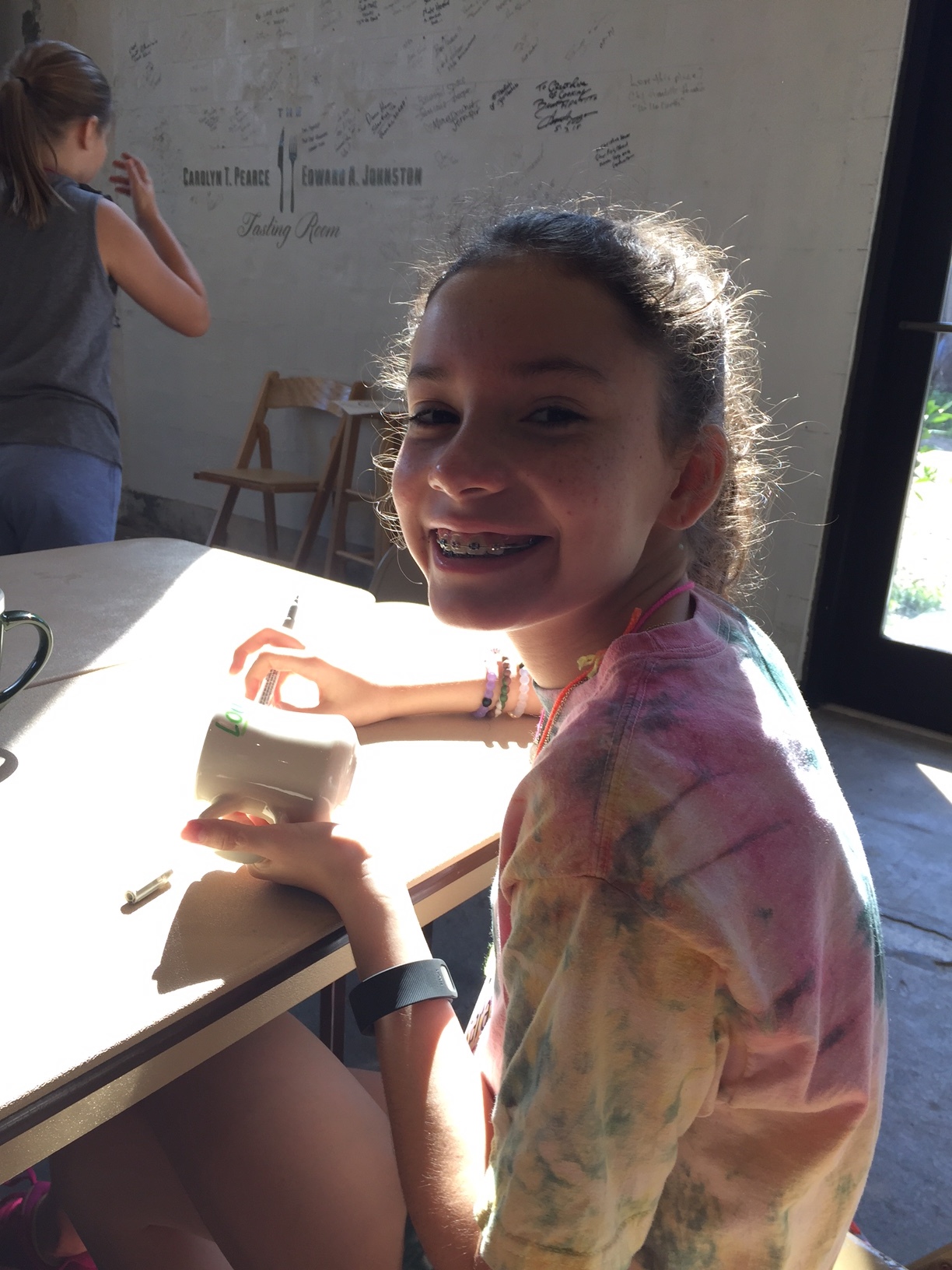 Excitements rose afterwards when we played a game of Louisiana Jeopardy. The four categories were Interesting Facts, History, Traditional Dishes and Desserts. The winning team was Turf 'N Surf. It was tricky but they managed come out on top!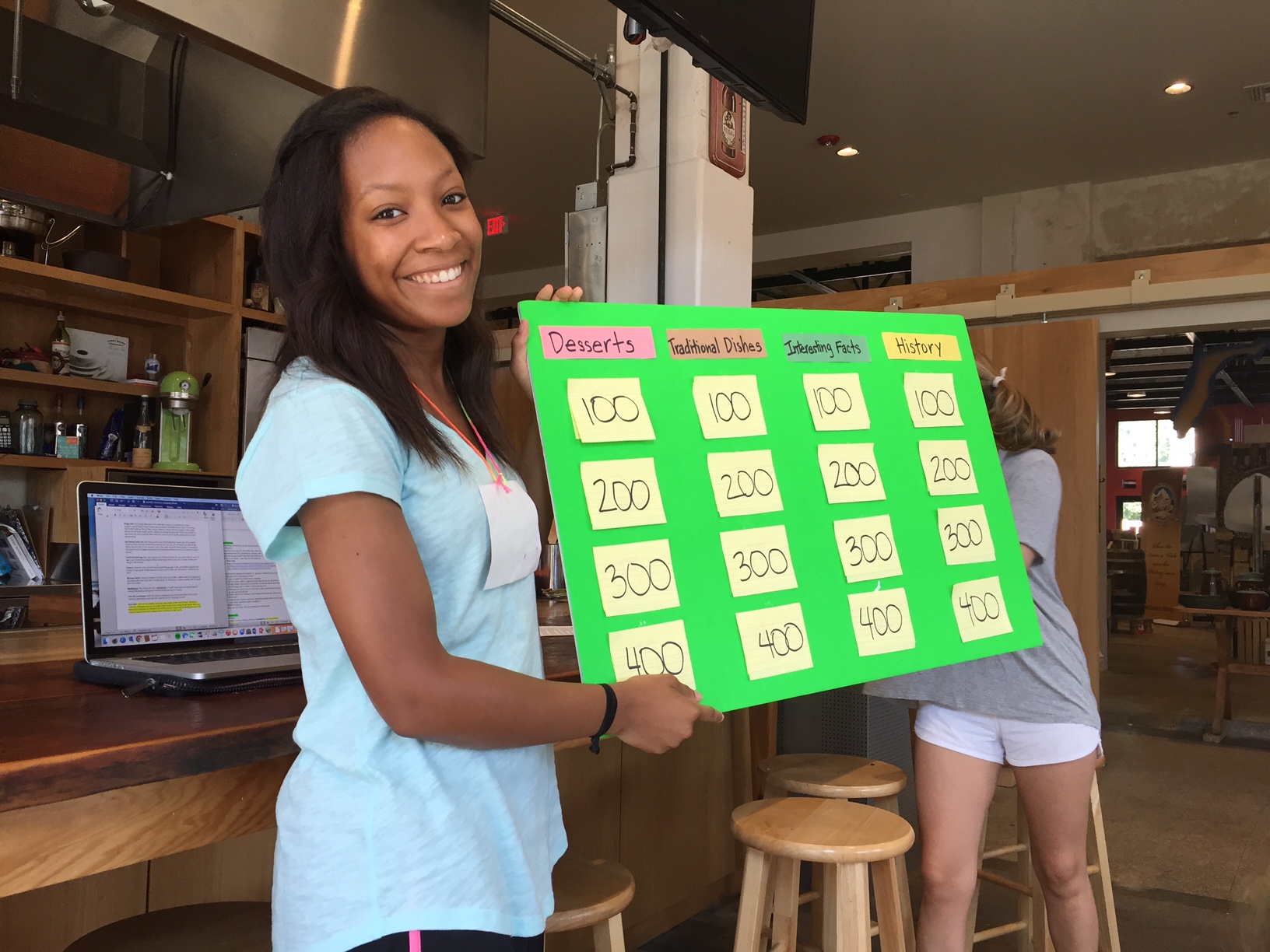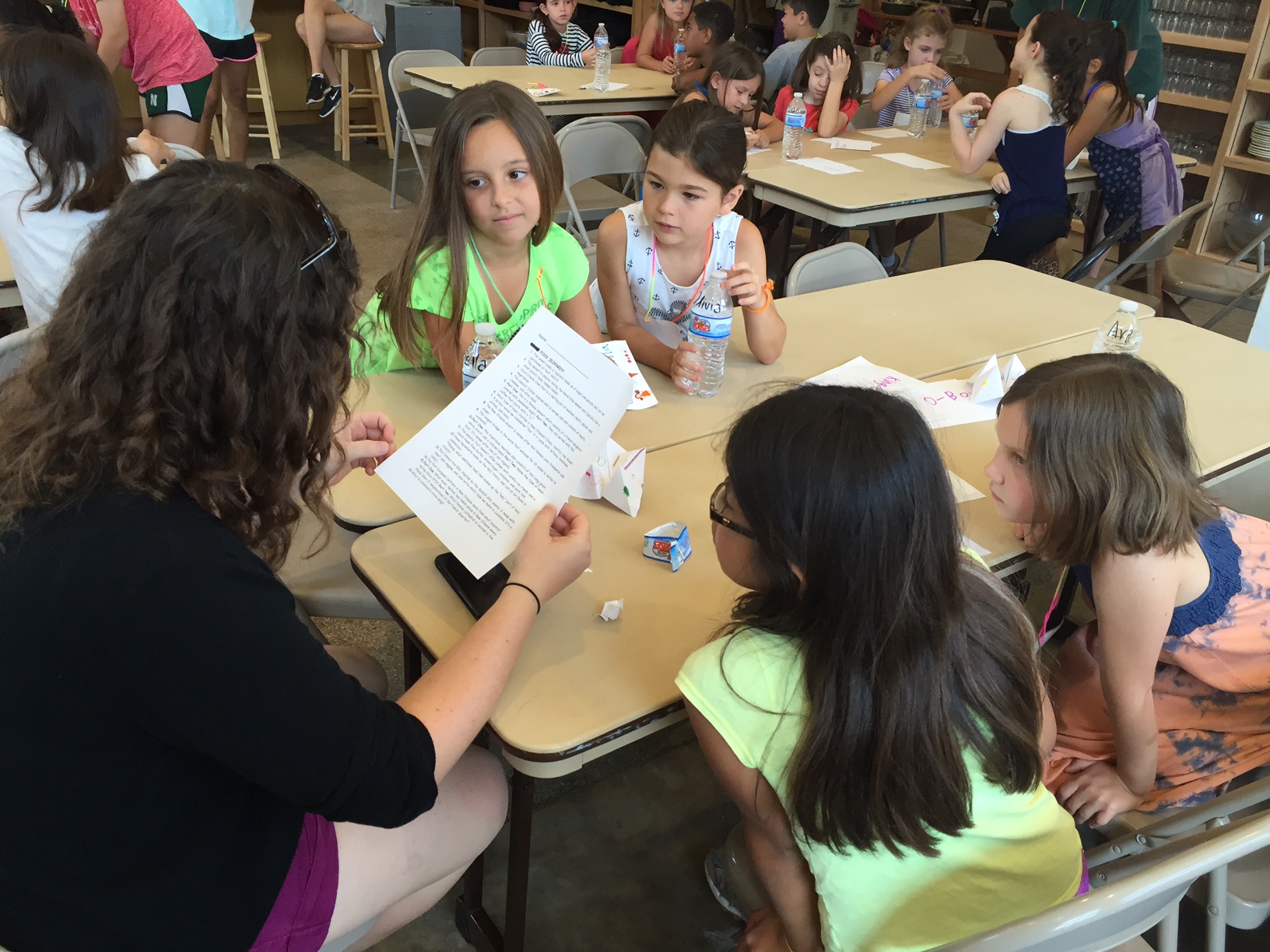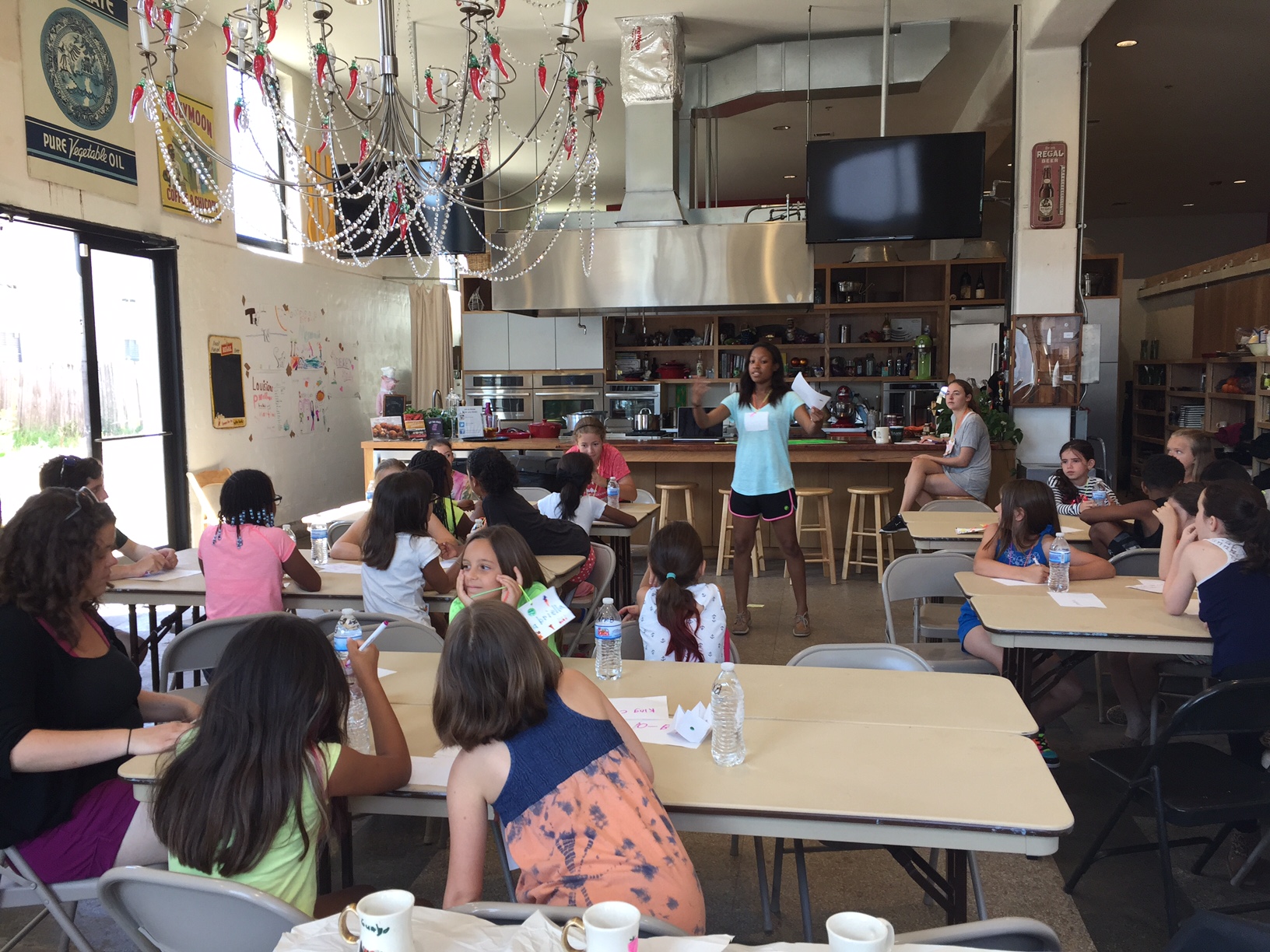 Then, Louisiana's best mini chefs all prepared rice and red beans - a New Orlean's classic traditionally cooked on Monday. They also made Southern biscuits from scratched and dressed it with strawberries.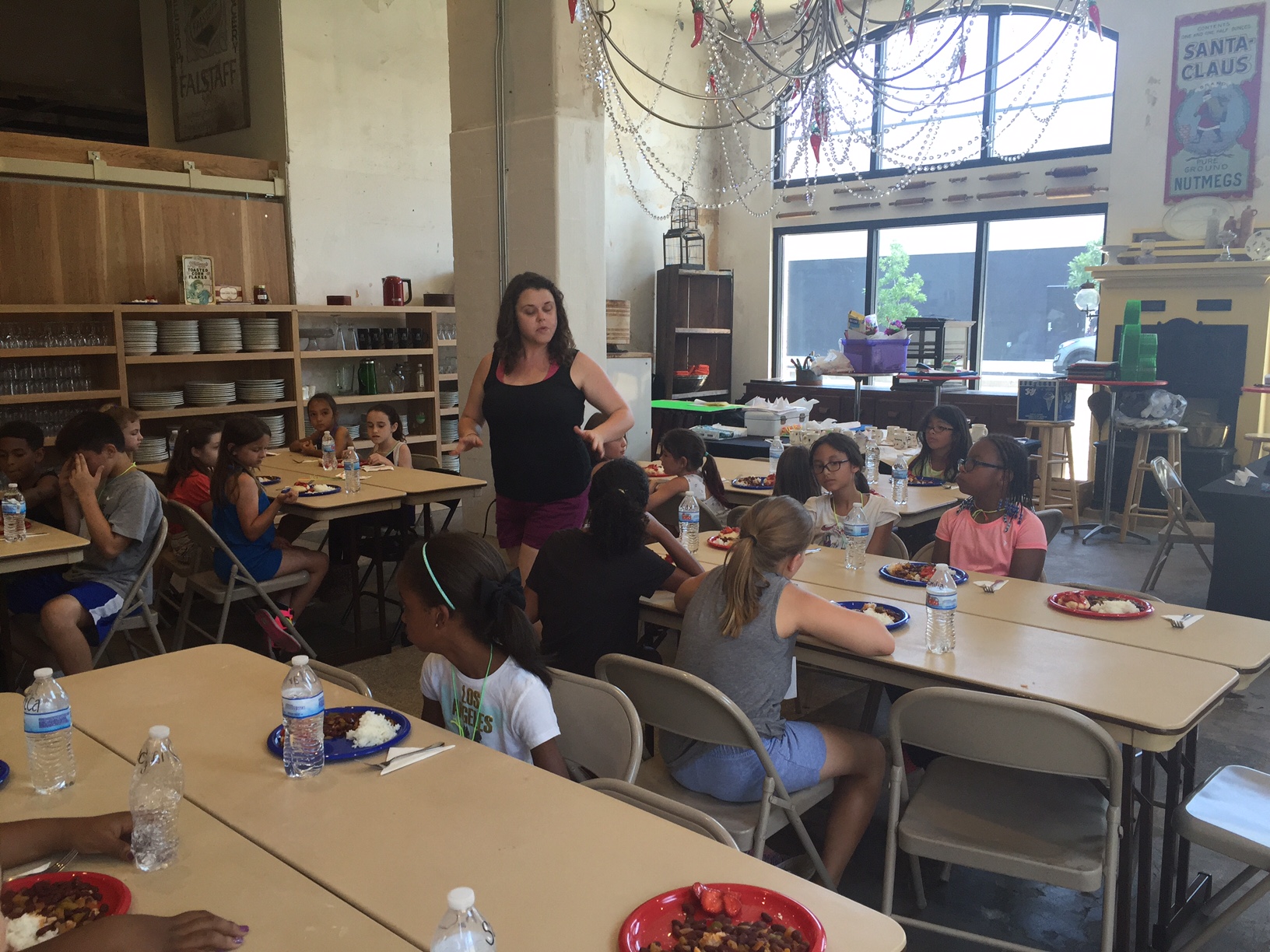 Recipes to look out for: Strawberry Shortcake with Biscuits, Healthy and Quick Red Beans and Rice.
Wednesday, Florida
We're entering the Orange state today! The state with plenty of seafood and Sun. We begun with crafting sea creatures. Spongebobs, crabs, octopi, seahorses, and many other creatures were created from our sea of children.
Chandler then took the lead, explaining what MyPlate is. MyPlate is a learning tool that shows how much of the different foods groups people should eat to stay healthy. We talked about what the different food groups were, what kind of nutrients they each have, and what serving sizes typically look like using examples.
The Cuban sandwich is a traditional dish in Florida brought over from a country 90 miles from the state. It is simple and timeless. They looked adorable when served in little picnic baskets. The kids also made Orange soda from scratch - yes, soda from scratch, and healthy too. They used different methods of squeezing oranges, and also used a soda stream machine to carbonate water.
Recipes to look out for: Cuban Sandwiches, Freshly Squeezed Orange Juice Spritzer.
Thursday, Kentucky
The second last day of Kids Camp week 2 is here! Today's meal was absolutely delicious - and so was the nutritional/history section of the day! We started off with some ingenious crafting. Campers made chicken masks in accordance with the theme, Kentucky, as the state is famous for Kentucky Fried Chicken. People got extra creative, turning the chicken masks from 2D to 3D. Martine thought camp counselor Mimi's chicken mask was "not realistic" enough, so when she made her mask, it was so well done you couldn't even tell that it wasn't a real chicken!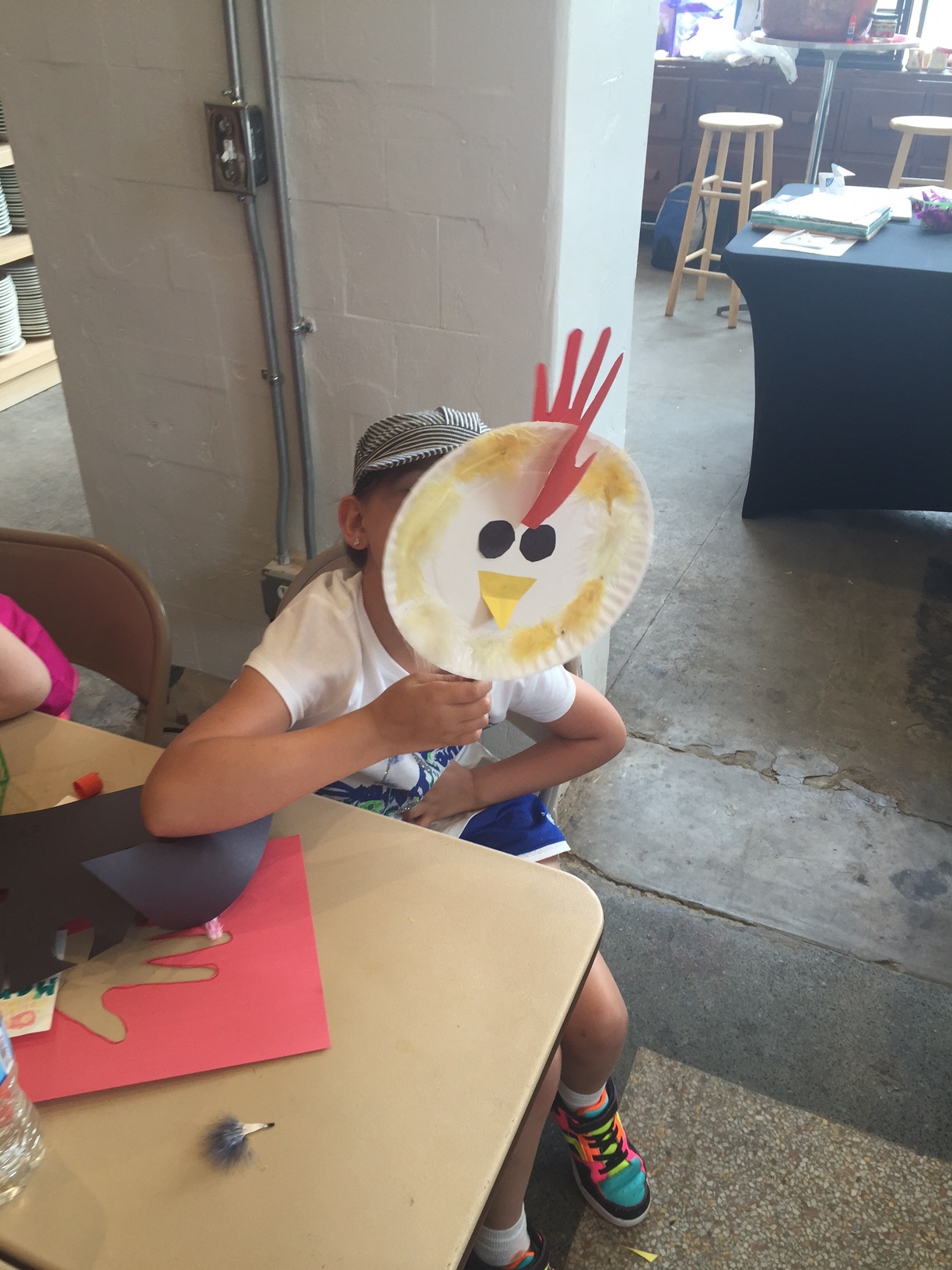 Thrilling Thursdays! Snack Wars is here. People made fabulous creatures, and even a whole storyline to go with it.
Sidney and Jack made a boatful of soldiers dubbed "Squadron 0." They traveled underwater - apple butter slathered over them represented the water - and had a commander leading the way.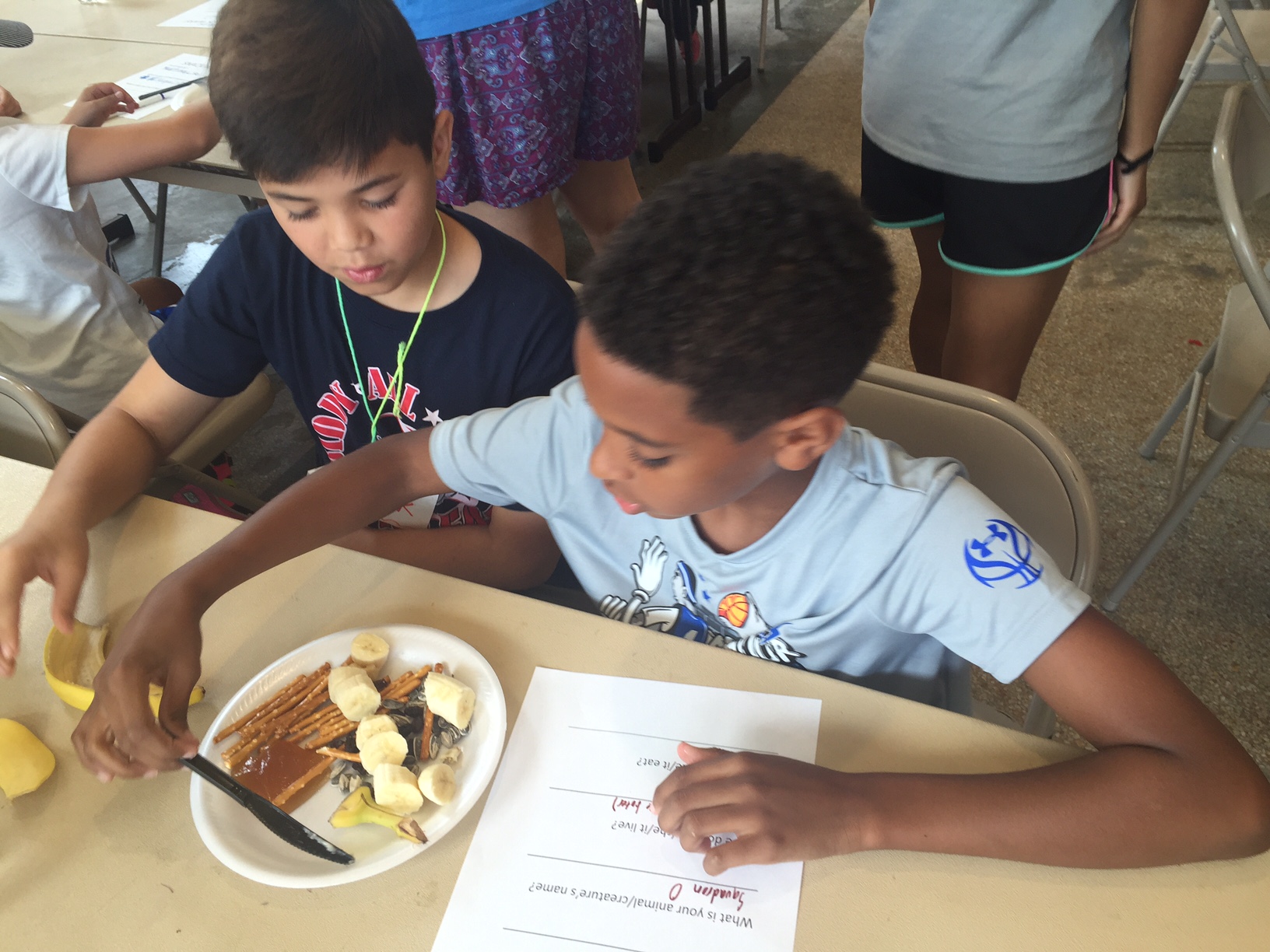 Tallulah and Clarke made a porcupine out of the banana, and were rewarded for their creativity with a coconut macaroon!
How do you make KFC healthy?!! Carli found a way! She taught the kids how to make cucumber and tomato salad (which was surprisingly scrumptious) and some oven-baked parmesan chicken. Everyone got to dress the chicken in egg and bread it - a technique that can be used with any meat or dry vegetable!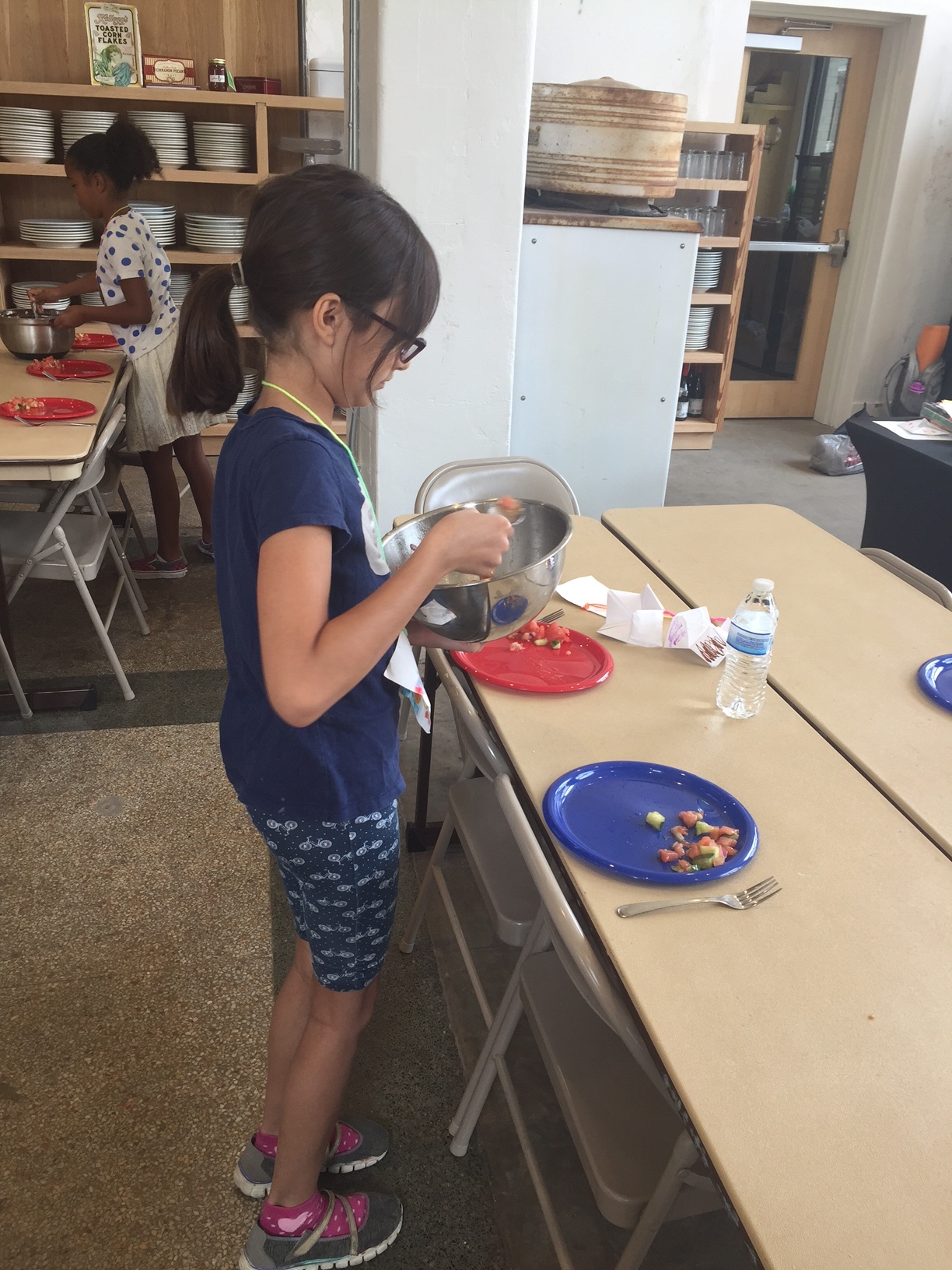 Games! Games! Games! Of course, kids got their outside Sun with a lot of fun.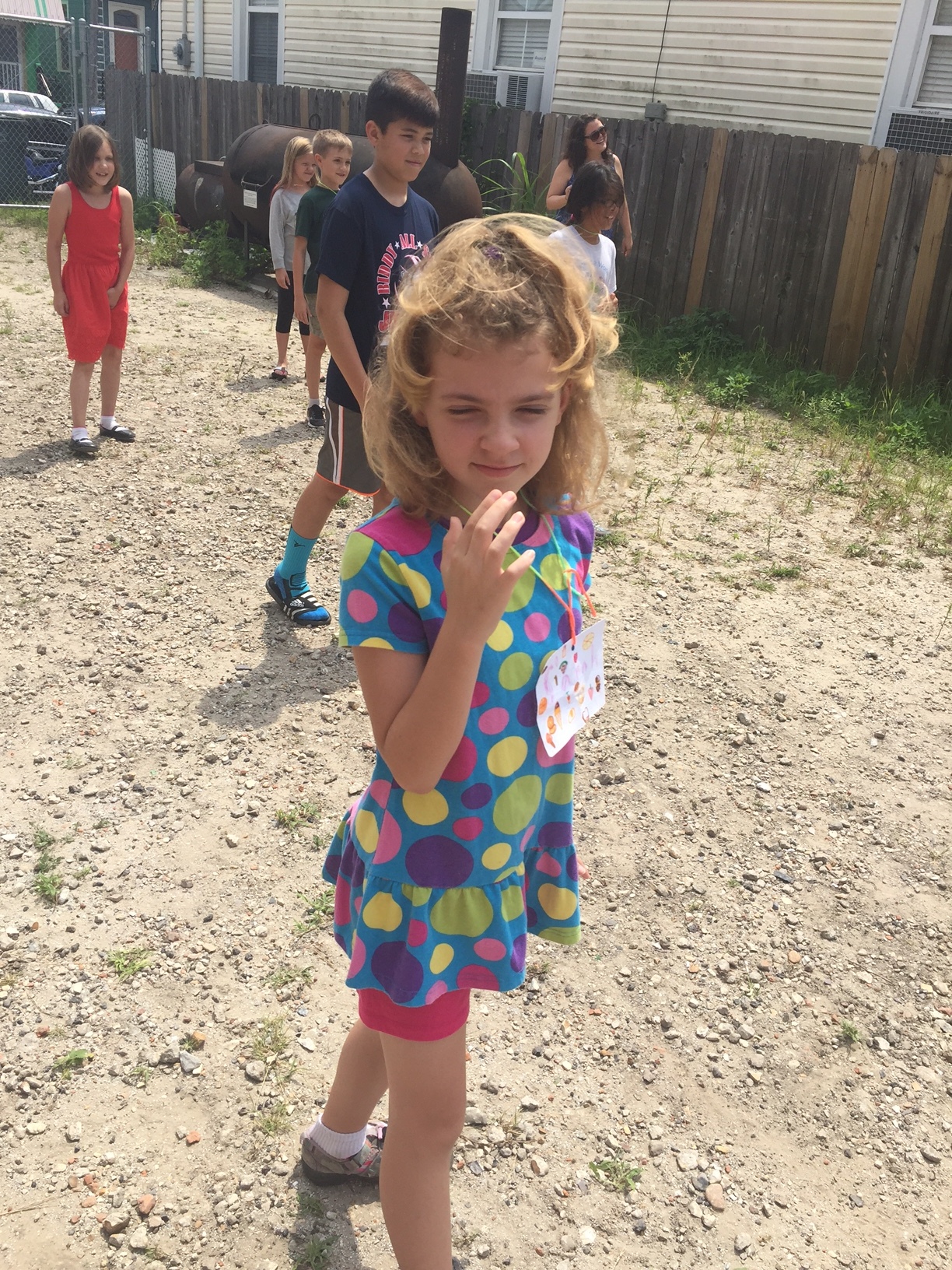 Then we ate, so (as always), we ended on a finger-licking good note.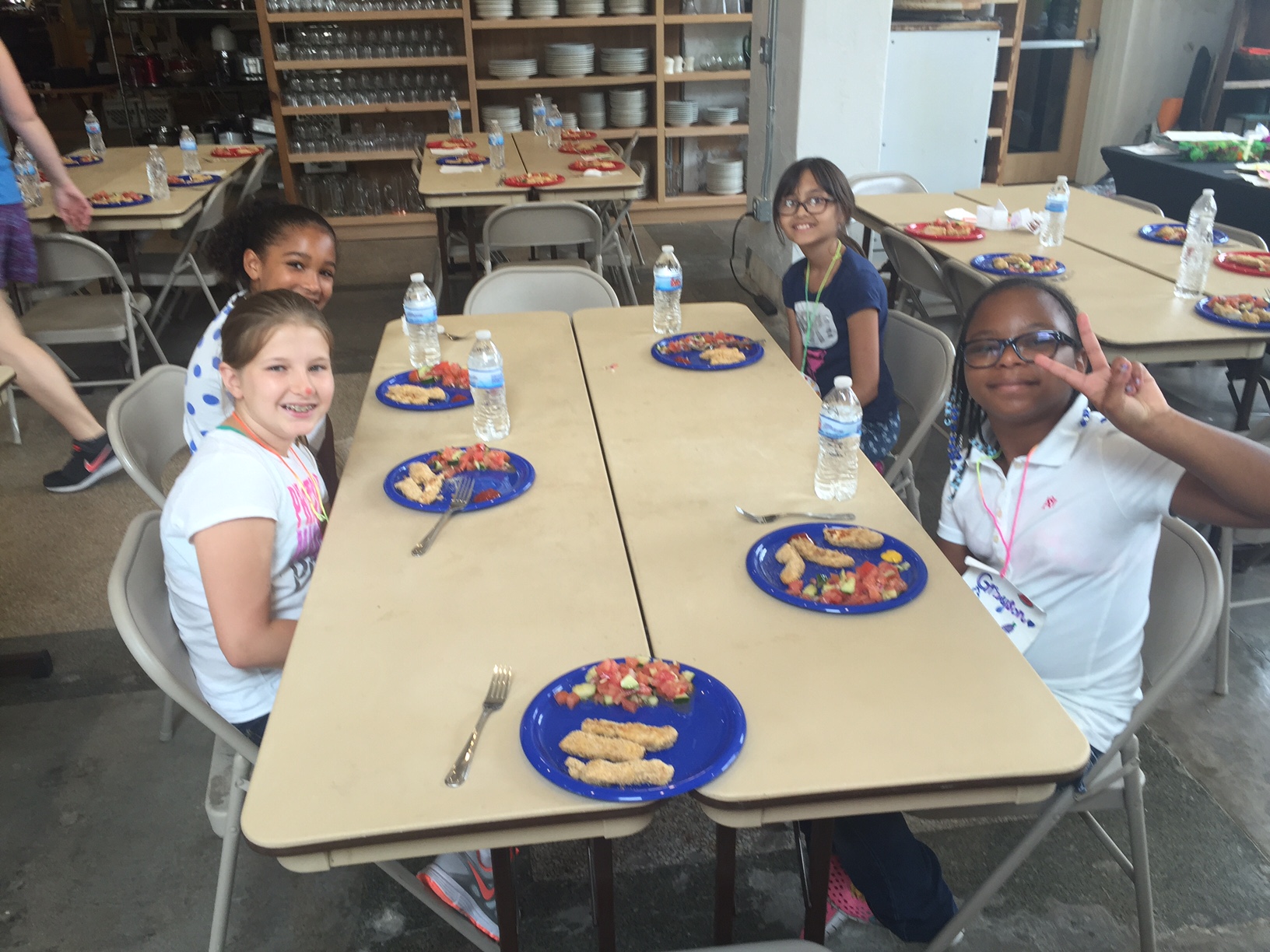 Chasidy wasn't the biggest fan of the tomato and cucumber salad though, but she tried it!
Recipes to look out for: Tomato and Cucumber Salad, Kentucky "Oven-Baked" Chicken.
Friday, Georgia
The final day of week 2! Camp went by so fast. Again, we begun with a calming colouring session. Then we proceeded to decorating our cookbooks that contained all the recipes from the week. All the kids were able to adjust their recipes to their liking, and make a colourful cover page.
The nutritional learning portion of the day was very informative. They matched foods with what nutrient they are high in, and learnt about how to read nutritional labels. They got to see unexpectedly unhealthy foods by analysing the food labels.
It was raining so we played Evil Chef (aka. Mafia)! Joey would tell stories of a new mysterious cooking death every round, and the children would have to vote for who they think the Evil Chef is!
For cooking today, we ended off on an amazing note. We all rotated around a chopping-vegetables station, a BBQ-sauce station (the third type of BBQ sauce this week - staying true to the Southern theme), a chicken-pulling station, and a chopping-fruit station. It all culminated to a tasty final supper for the kids: Brunswick stew and fresh fruit salad. Soooooo many kids (and counselors) got up for seconds.
Gobble, gobble and good bye!
Recipes to look out for: Fresh Fruit Salad, Brunswick Stew.
Fundamentals of Cooking #2
How To Steam Fish and Vegetables:
To make a makeshift steamer, put a large metal sift into a pot with some hot water. Otherwise, you can use a colander/strainer or a bamboo steamer.

Pour water in, put the fish or vegetables in the colander/strainer, bring it to a boil and cover.

If you are cooking fish, it should turn an opaque whitish colour when cooked.
This information was found on the Cooking Channel. Click on this hyperlink for a video explaining steaming
Recipes
Vinegar based BBQ sauce
Ingredients
1⁄4 cup ketchup
1⁄2 cup red wine vinegar
1⁄4 teaspoon red pepper flakes 1 T adobo sauce
1 teaspoon dry mustard
2 teaspoons granulated garlic 1 teaspoon sugar
Directions
Combine all ingredients in a bowl and whisk to combine.
Mustard based BBQ sauce
Ingredients
1⁄2 cup mustard
2 T honey
2 T brown sugar
2 T white vinegar
a pinch of black pepper
Directions
Mix all ingredients in a saucepan. Put on the stove and bring to a boil, let it simmer for 5 minutes. Pour sauce, cool or warm, on meat.
Cornbread Muffins
Ingredients
1⁄2 cup cornmeal
1⁄2 cup all purpose flour 1⁄2 teaspoon baking soda 1⁄2 teaspoon baking powder 1⁄2 teaspoon salt
2 T sugar
1 egg
1⁄2 cup low fat buttermilk 2 teaspoons olive oil
Directions
Put all ingredients in a bowl. Whisk until just combined. Pour intro greased muffin tins. Should make 6 muffins. Bake at 400 for 15 minutes or until golden.
Strawberry Shortcake with Biscuits (Serves 8-10)
Ingredients
2 cups flour
4 teaspoons baking powder 1⁄2 teaspoon salt
4 T cold unsalted butter
1 cup milk (any kind)
Directions
Combine dry ingredients in a bowl. Cut the butter into tiny pieces and mix then into dry mixture. Use a fork to mash the butter into the mixture until it looks like big crumbs. Then pour in the milk and mix. Knead the dough 8-10 times with hands. Then turn out onto parchment paper and pat flat to around 3⁄4 inch thickness. Cut out biscuits using a mug. Put on ungreased cookie sheet. Bake at 450 degrees for 10- 12 minutes.
Healthy and Quick Red Beans and Rice
Ingredients
4 tsp oil
1 onion, diced
2 stalks celery, diced 1 green pepper, diced 2 T smoked paprika 4 cans kidney beans 1 cup chicken stock 2 bay leaves
1 tsp thyme
1⁄2 tsp hot sauce
1 tsp salt
Directions
Heat oil in a large pot. Add onion, celery, and green pepper, cooking for 5 minutes. Add the garlic and paprika and cook another 1-2 minutes, stirring frequently. Add the beans, stock, thyme, bay leaf, salt, and hot sauce, stir to combine. Reduce heat to medium-low and simmer for 10-20 minutes to thicken. Serve over rice.
Cuban sandwiches
Ingredients
14 hoagie rolls
30 slices of provolone cheese 30 slices baked ham
30 slices roast pork Mustard
Jar of thin dill pickle slices Butter
Directions
Spread mustard on hoagie. Layer one slice of ham, one slice of cheese, a spoonful of roast pork, and two pickles. Spread butter on outside of hoagie (top and bottom). Press in Panini press until browned.
Freshly squeezed Orange Juice Spritzer
Ingredients
5 oranges Club soda
Directions
Juice the oranges using a fork or a hand juicer. Put in the fridge. Once cool, add equal parts club soda. Serve on ice.
Tomato and Cucumber salad
Ingredients
1⁄2 cucumber, chopped 2 tomatoes, chopped 1⁄2 red onion, finely sliced 2 T red wine vinegar
3 T olive oil
salt
pepper
Directions
Mix all ingredients in a bowl and stir to combine. Chill before serving.
Kentucky "Oven Baked" Chicken
Ingredients
1 cup breadcrumbs
3 T Parmesan Cheese
1⁄4 tsp garlic powder
1⁄4 tsp dried thyme
1⁄4 tsp kosher salt
1⁄4 tsp black pepper
2 large eggs, beaten
2 chicken breasts, cut into nuggets/strips
Directions
Mix breadcrumbs with the parmesan, garlic powder, thyme, salt, pepper, and cayenne in a shallow dish. Put the beaten eggs in a separate shallow dish. Run the chicken strips through the egg, letting excess liquid drip off. Run the strips through the breadcrumbs, pressing evenly to coat. Put the chicken in a single layer on a baking sheet and bake for 10-15 minutes at 400 degrees.
Homemade Barbeque Sauce (Serves 32)
Ingredients
1 1⁄2 cups brown sugar
1 1⁄2 cups ketchup
1⁄2 cup red wine vinegar
1⁄2 cup water
1 tablespoon Worcestershire sauce 2 1⁄2 tablespoons dry mustard
2 teaspoons paprika
2 teaspoons salt
1 1⁄2 teaspoons black pepper
2 dashes hot sauce
Directions
Put all ingredients in a blender and blend until smooth.
Fresh Fruit Salad (Serves 4)
Ingredients
2 peaches
1 banana
2 bunches of red grapes 2 apples
Directions
Cut all the fruit into bite-size pieces and chill before serving.
Brunswick Stew
Ingredients
1 T olive oil
1 cup chopped onions
2 stalks of celery, chopped
1 1⁄2 lbs ground beef
1 whole cooked chicken, deboned and shredded 3 cans whole peeled tomatoes with liquid, chopped 1 cup ketchup
1⁄2 cup homemade barbeque sauce
salt and pepper to taste
1 green bell pepper
3 cans creamed corn 2 Potatoes, cubed
Directions
Heat olive oil in large skillet, and sauté the onions and celery until soft. Mix in the beef and cook until evenly browned. Do not drain. Put beef mixture into large pot over low heat. Stir in chicken, tomatoes, ketchup, and barbeque sauce. Season with salt and pepper. Place whole green pepper into mixture. Cook for 30 minutes or up to 2 hours, stirring occasionally until thickened. Stir the creamed corn into the mixture, and cook until desired consistency. Remove green pepper, chop and return to the stew.