This is the first week of Culinary Kids Camp for the summer and the theme was Holidays! Everyday was a new holiday. Monday was Mardi Gras, Tuesday was the Fourth of July, Wednesday was Halloween, Thursday was Thanksgiving and Friday was St. Patrick's Day.
Through this blog, you can see the daily activities we had and the recipes for the food we made. Enjoy!
Monday, Mardi Gras
Day 1 of Kids Camp! Kids assembled into teams and each table was assigned a Holiday theme. After some colouring to begin the day, each camper designed their own name tag, decorating it with their favourite foods.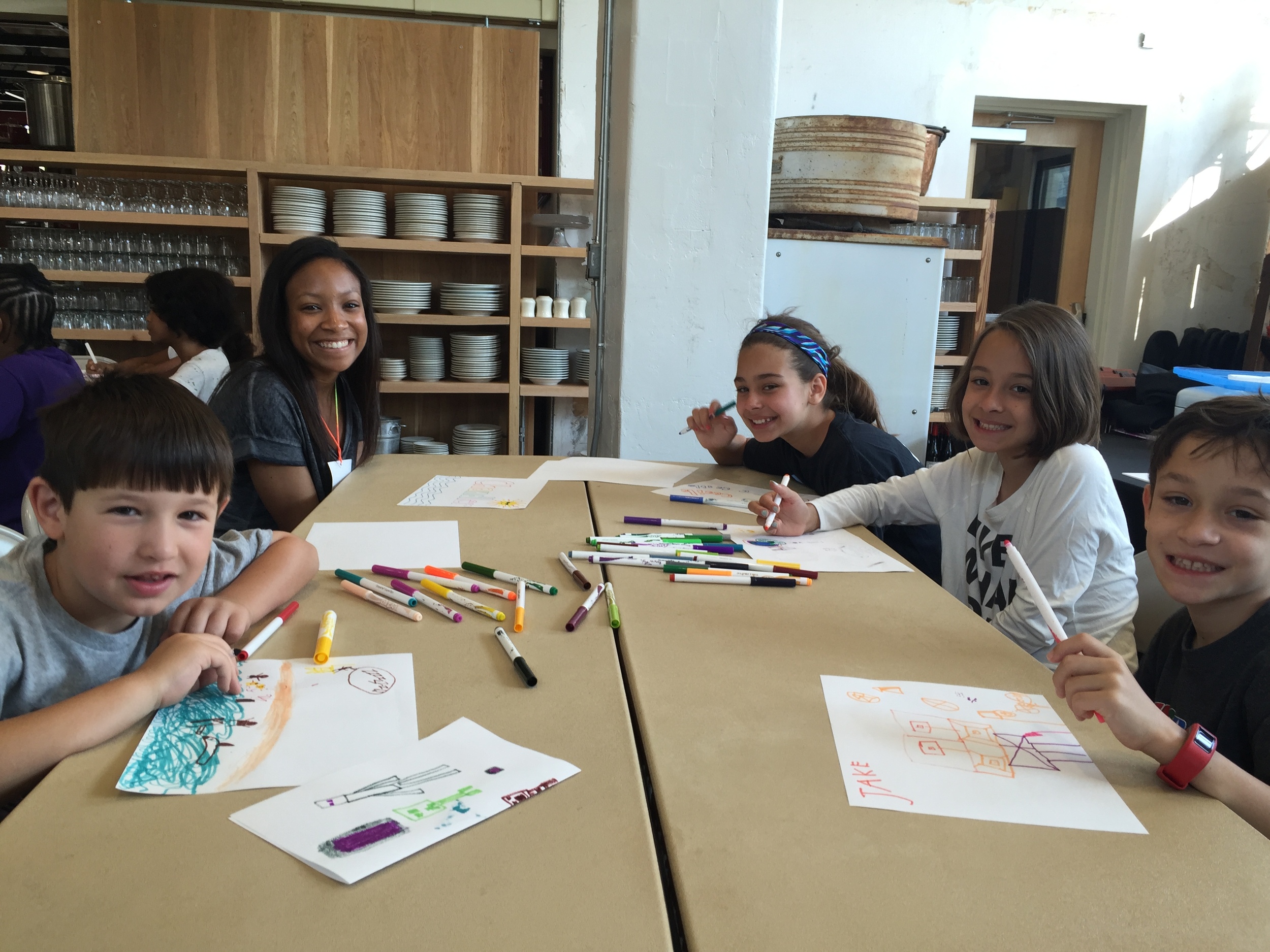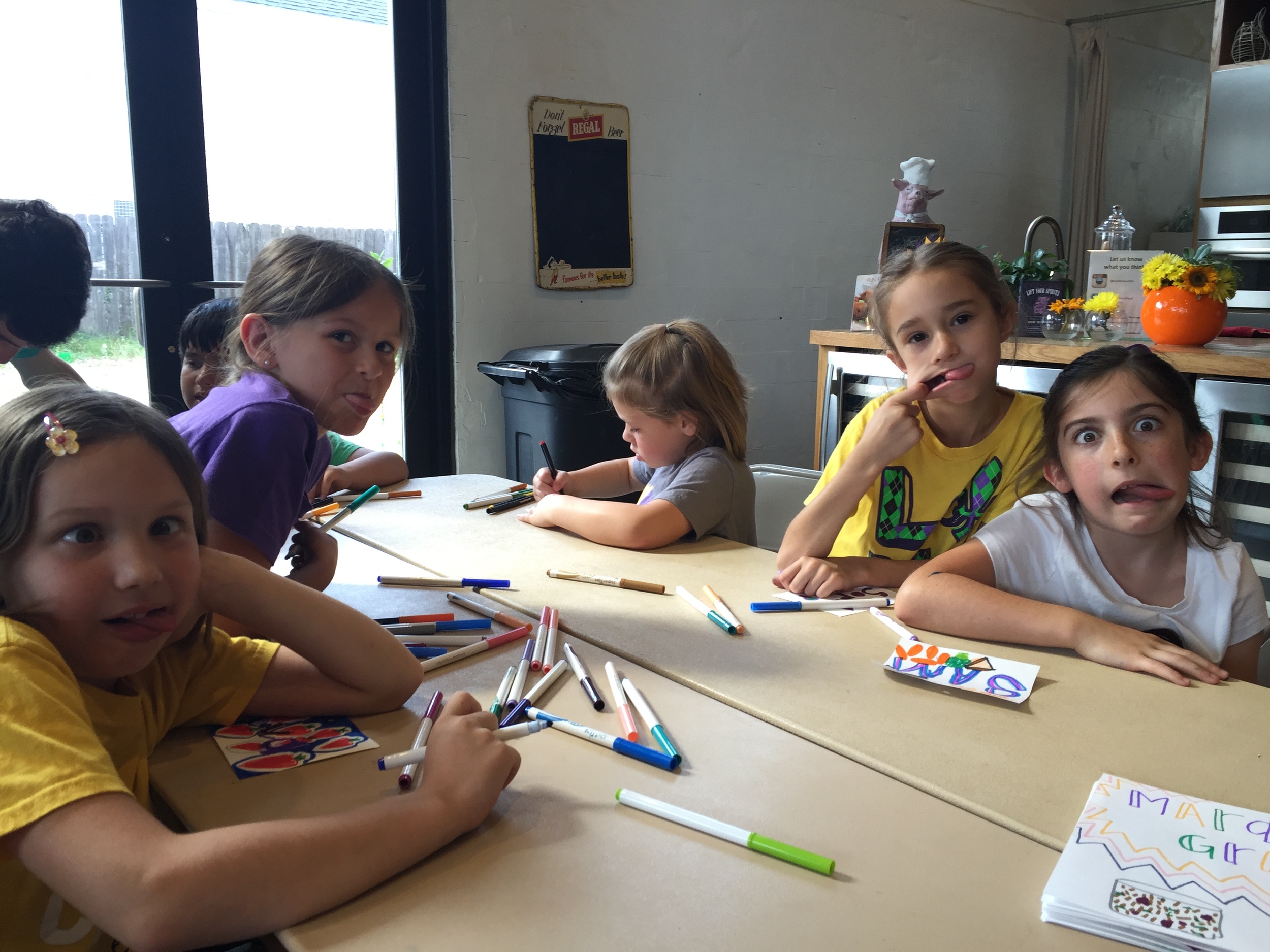 Each table then brainstormed to decide on a team name. In the end, the five teams with weird and wacky names were: the Jesters (Mardi Gras), the Fantastic Fourth (Fourth of July), the Pumpkin People (Halloween), the May Flowers (Thanksgiving) and the Lucky Charm Leprechauns (St. Patrick's Day).
Each team made their own banner to showcase their unique names. Afterwards, Camp Director, Jennie Merrill, went through camp expectations. Campers are expected to be CHEFS throughout (and hopefully after) camp hours. CHEFS are Clean, Helpful, ready to Experiment with new foods, Friendly and Safe.
Carli, one of our camp counselors, then began an interactive lesson on how to cook New Orlean's famous Jambalaya to celebrate Monday's Mardi Gras theme. Cooking skills were clearly blooming as kids expertly chopped the trinity of vegetables (onions, celery and bell peppers).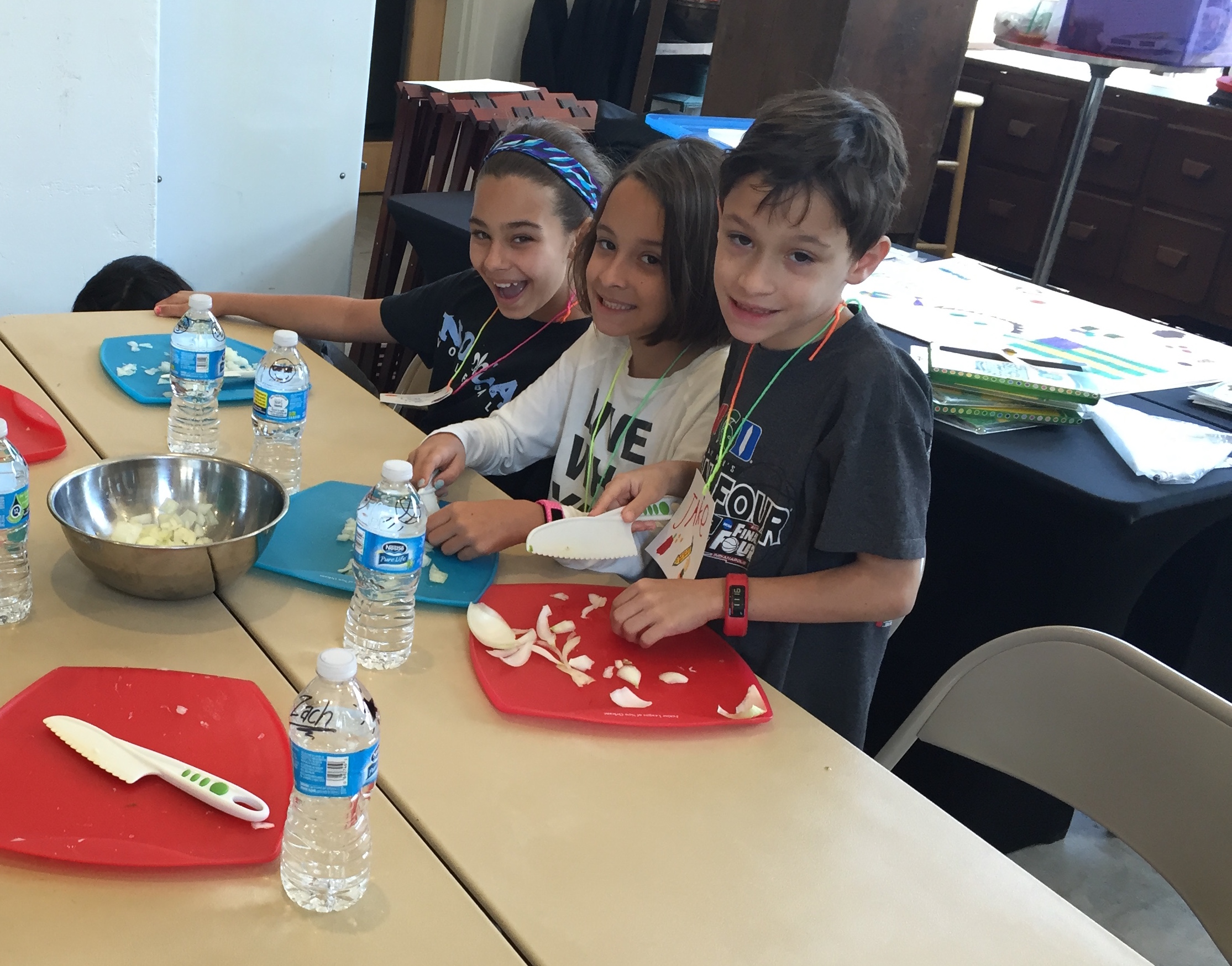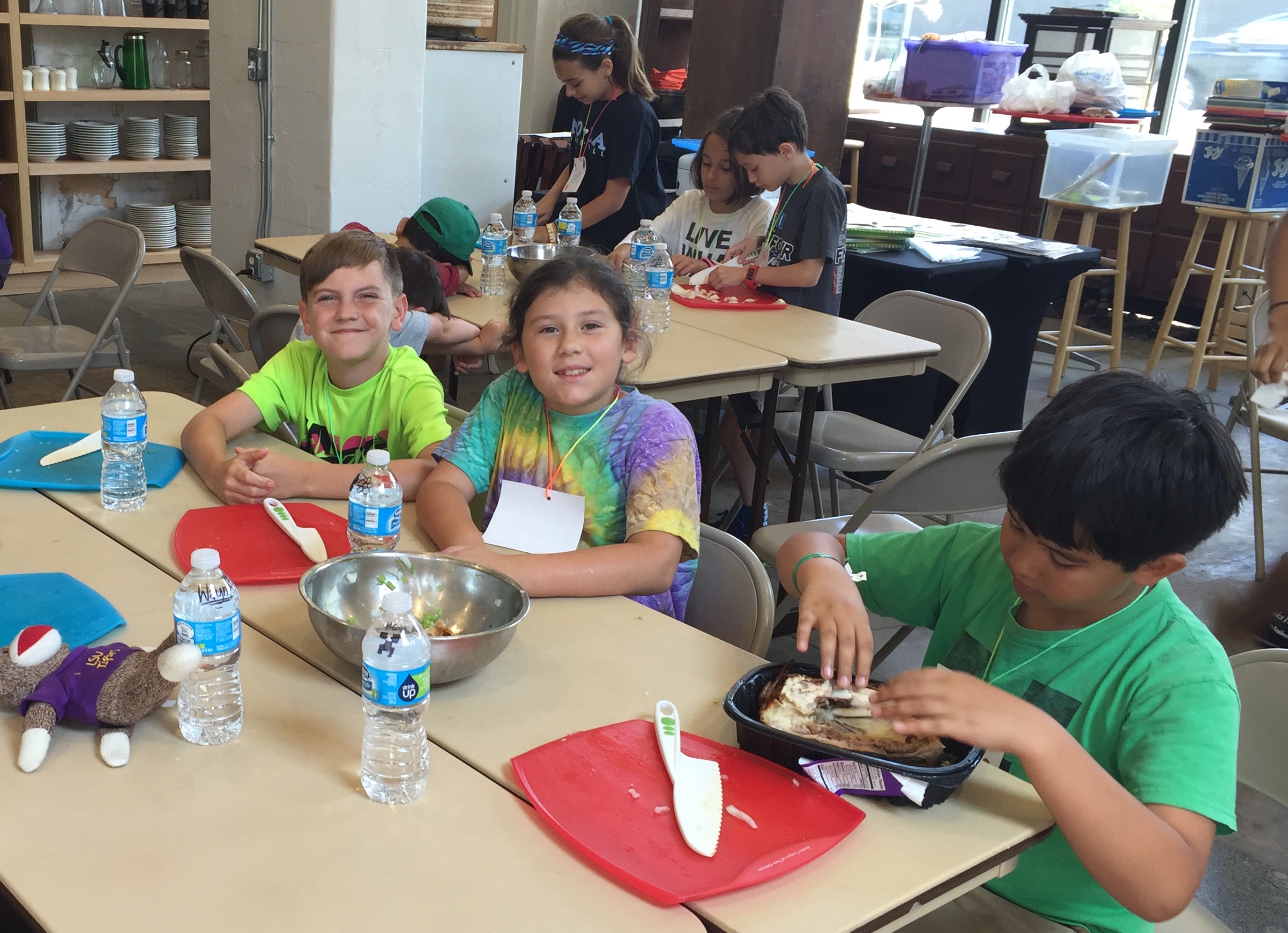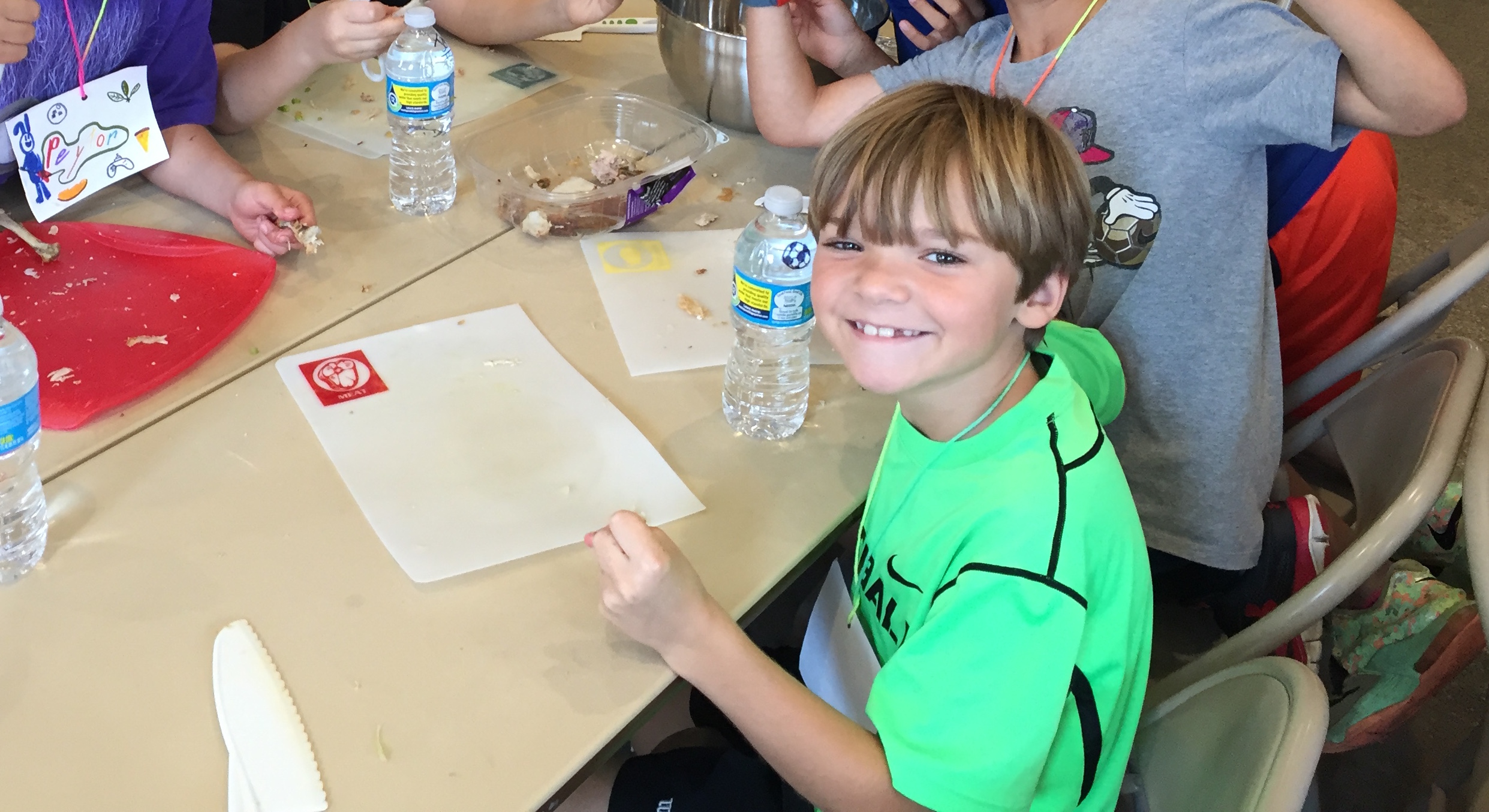 The Mardi Gras team, the Jesters, finished the job and even cleaned up for everyone else afterwards. They did a superb job in making the Creole Jambalaya up to Mardi Gras standards.
The rest of the teams joined together outside to play Chefs and Waiters - a camp classic.
They later returned to a spotless kitchen classroom to eat what they made. When asked about what was surprising about the day, a lot of children answered, "I was surprised by how good the food was!"
Recipe to look for: Jambalaya
Tuesday, Fourth of July
Today was the Fourth of July (for Kids Camp that is)! Campers came in red, white and blue, and then transferred those colours to pen and paper with a morning colouring session.
Their creative minds then flowed onto picnic baskets for the arts and crafts lesson. Each child was given a green plastic basket, strips of coloured paper, a piece of cloth and colourful pipe cleaners. Even with these basic materials, the number of ways they manipulated them to create different designs was spectacular.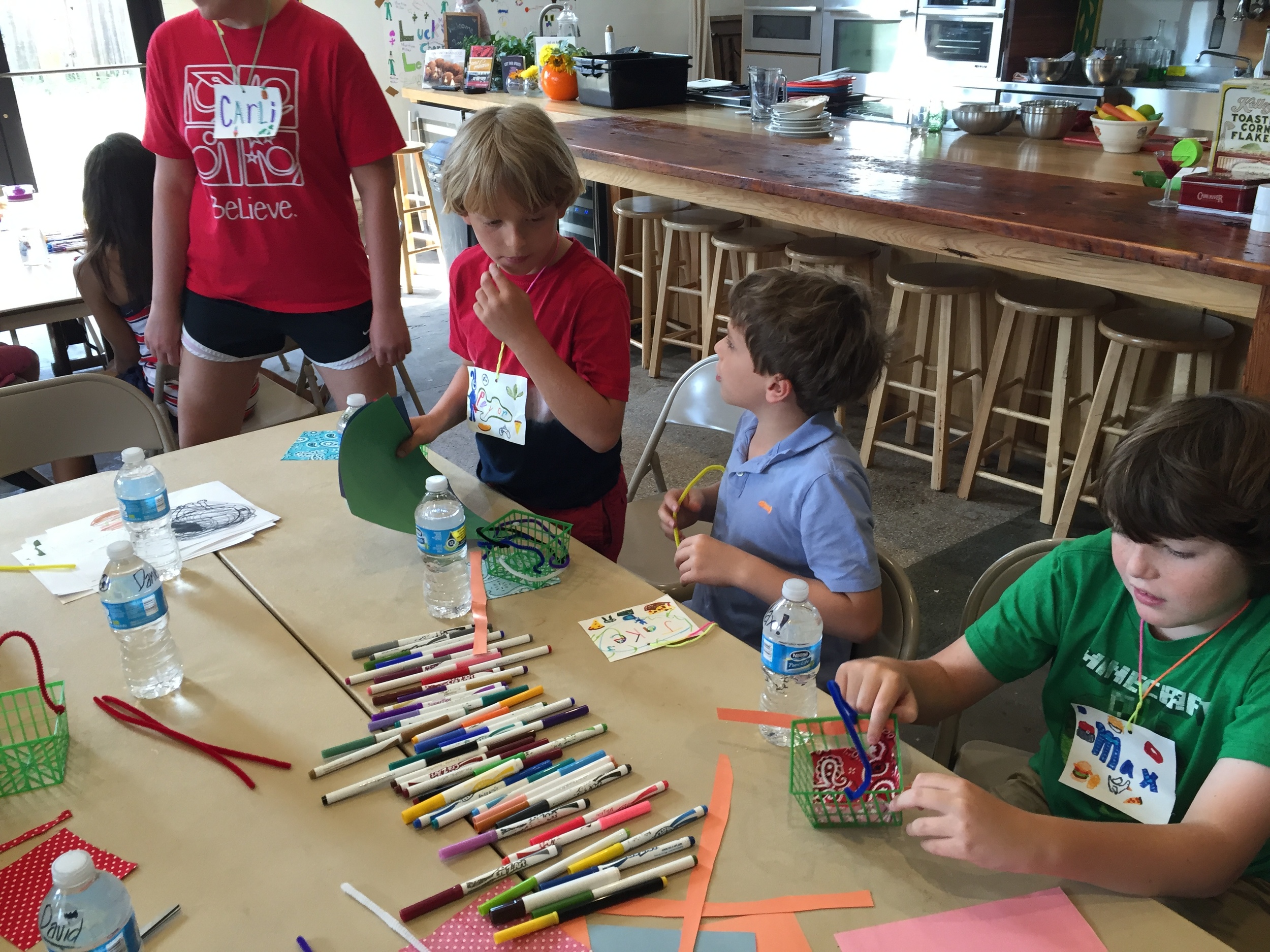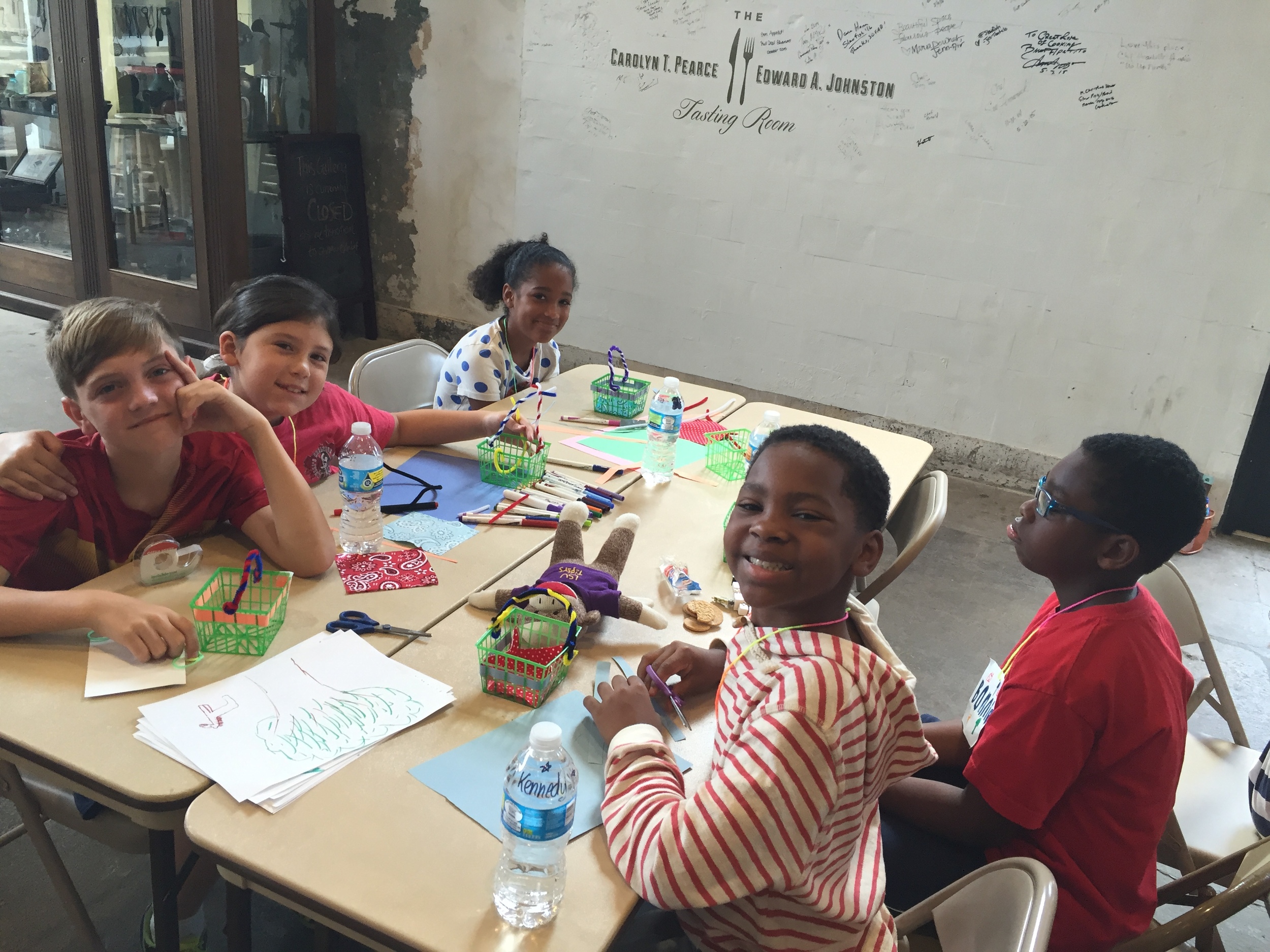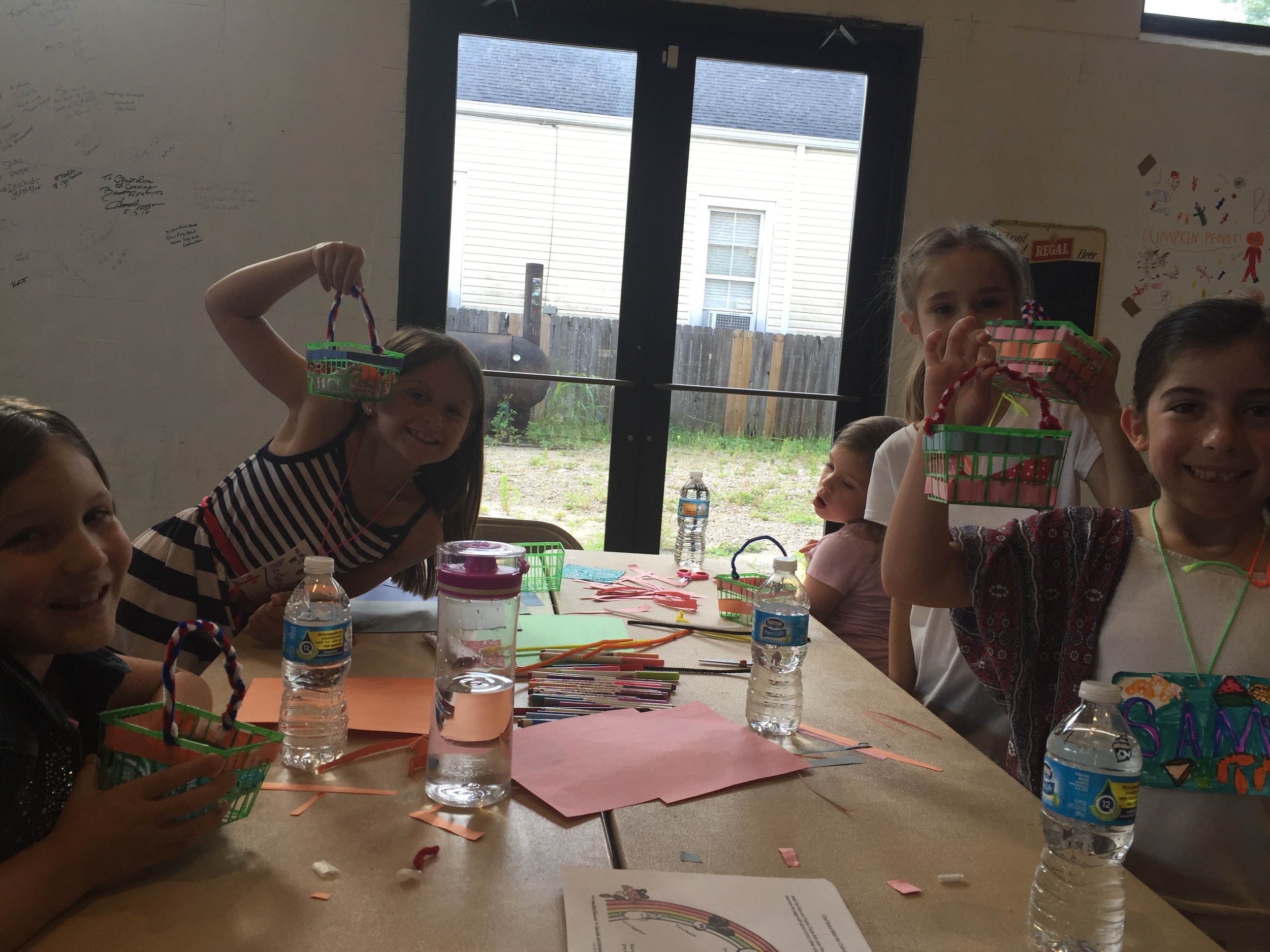 Some wove the cloth instead of the coloured paper into the baskets' sides. Some braided the pipe cleaners and some wove them around the edge of the basket.
Following crafts, camp counselor Chandler lead an exercise on the nutritional value of different coloured foods. She talked through, in particular, what red, white and blue foods tend to be rich in. In addition to noting how nutrients like vitamin C, calcium and antioxidants can do for your body, she also highlighted that a lot of white foods are stripped of essential fiber.
Kids then put together a red, blue and white signature dish that they would serve in their future restaurant, making sure that they incorporate the different food groups. They named their dishes and presented to the rest of their table team.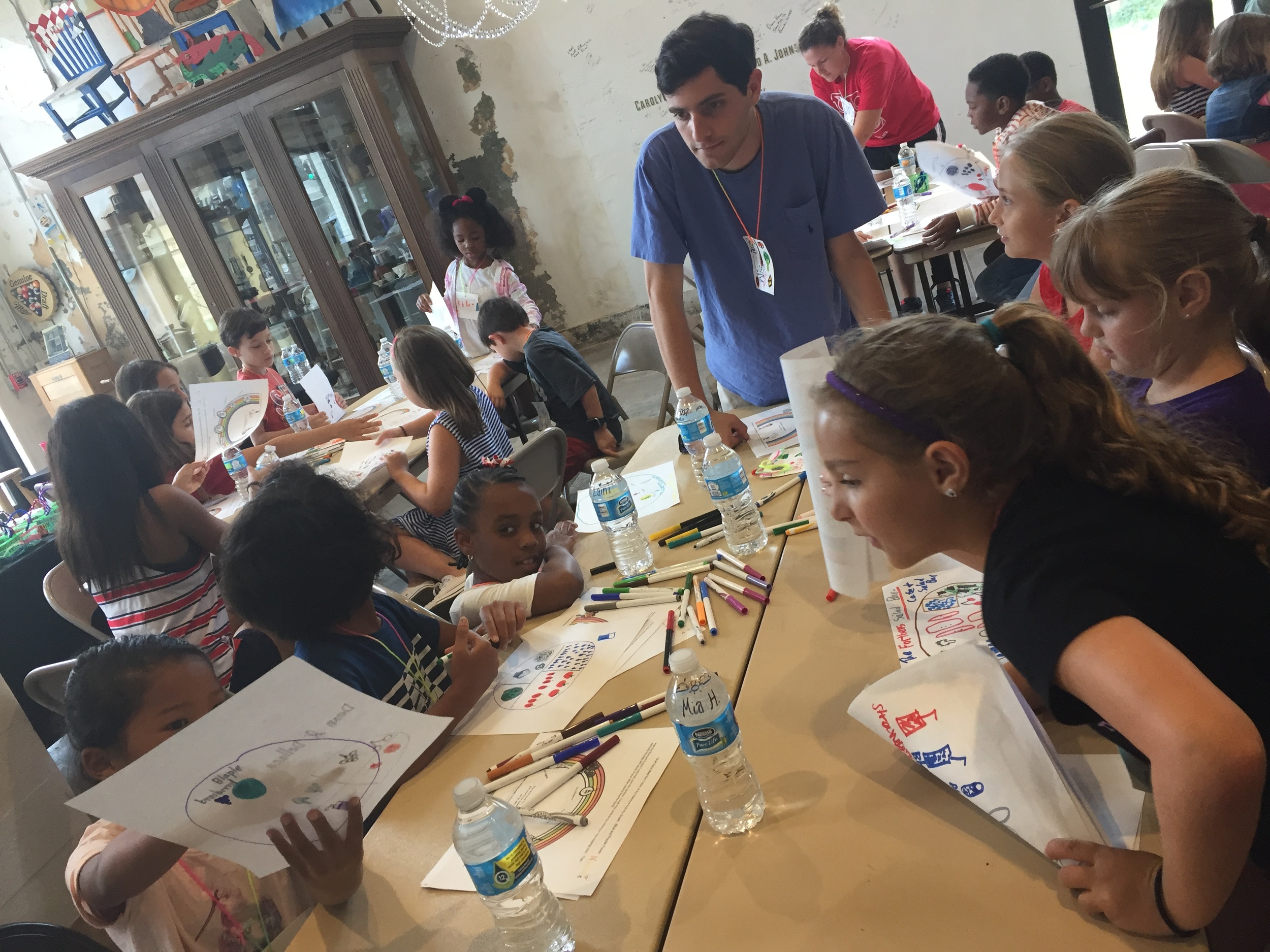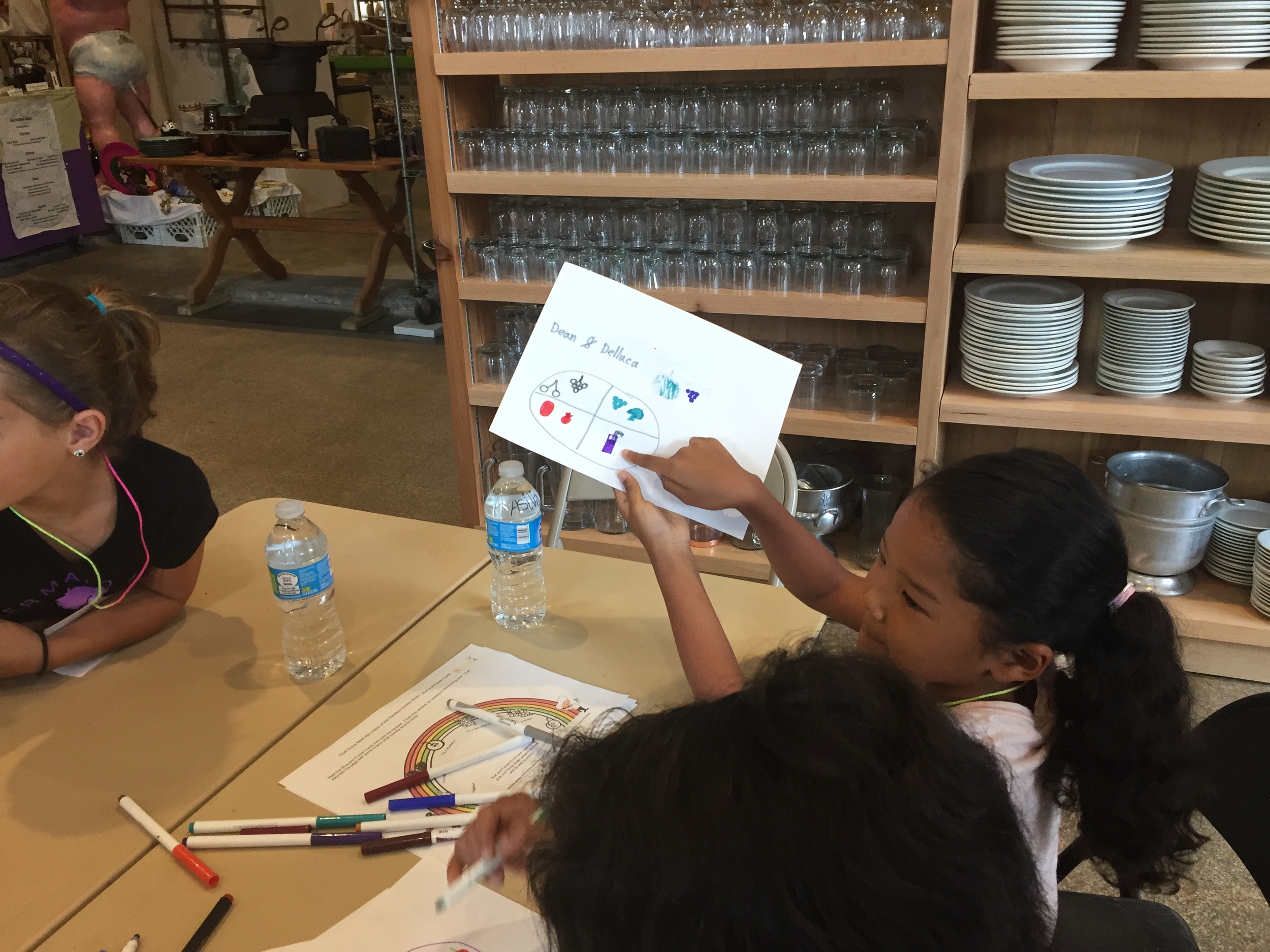 In the spirit of America's great holiday, cooking today consisted of making lemonade, barbeque chicken and fruit kebabs. They learnt about how to make simple syrup (and why we do it: to dissolve the sugar) and how to make BBQ sauce from ingredients like ketchup, mustard, red wine vinegar etc..
Joey, another camp counselor, then brought all groups except the Fantastic Fourths outside to play Sharks and Minnows with a food twist. He dubbed it, "Cheese Graters." All kids except one who is 'it' stand along one side of the yard. The person who is 'it' then has to yell "Cheesy! Cheesy! Come across the table!" and everyone has to run to the other side of the yard without getting caught by 'it'. Everyone who is caught, then becomes 'it'.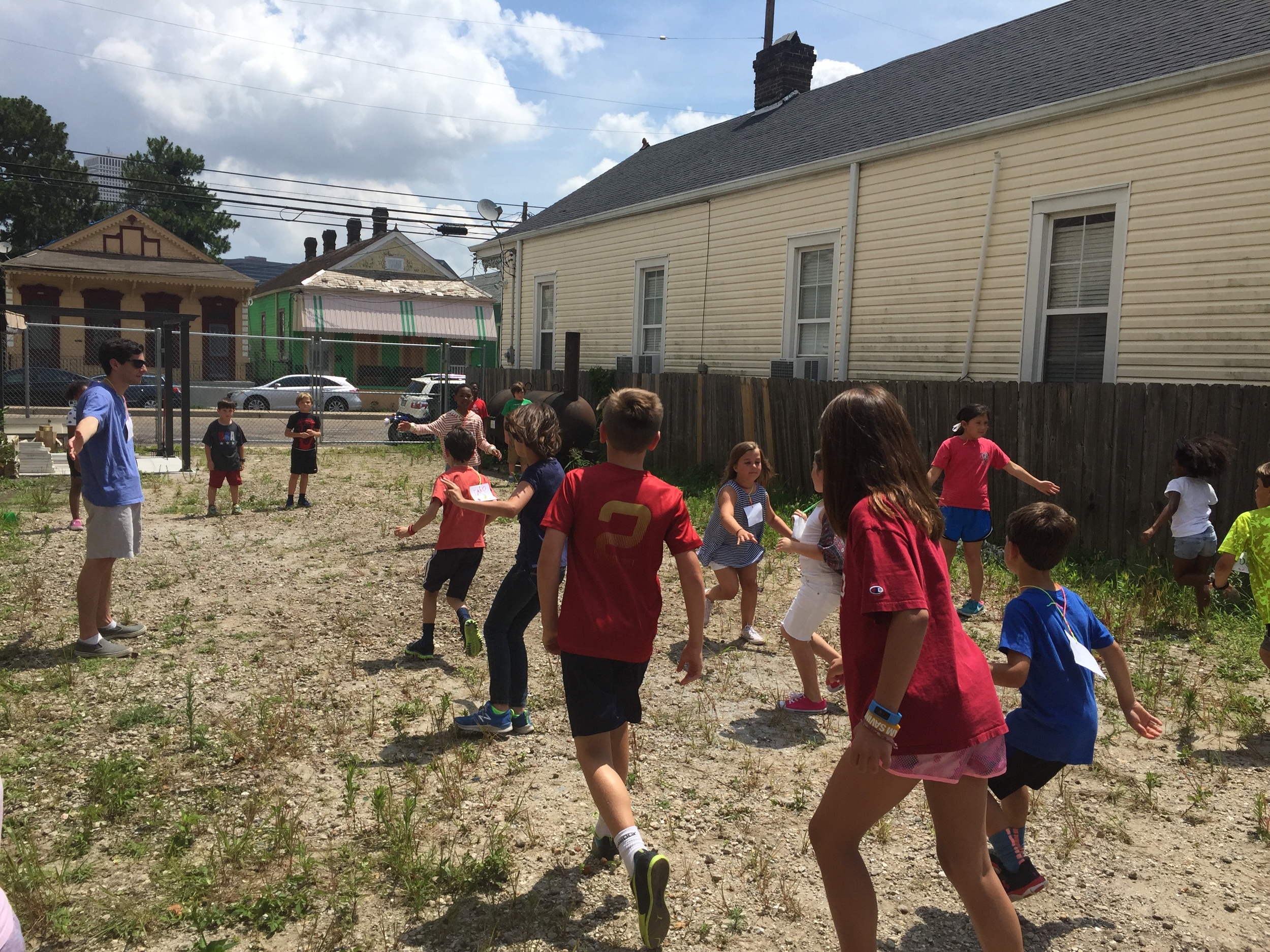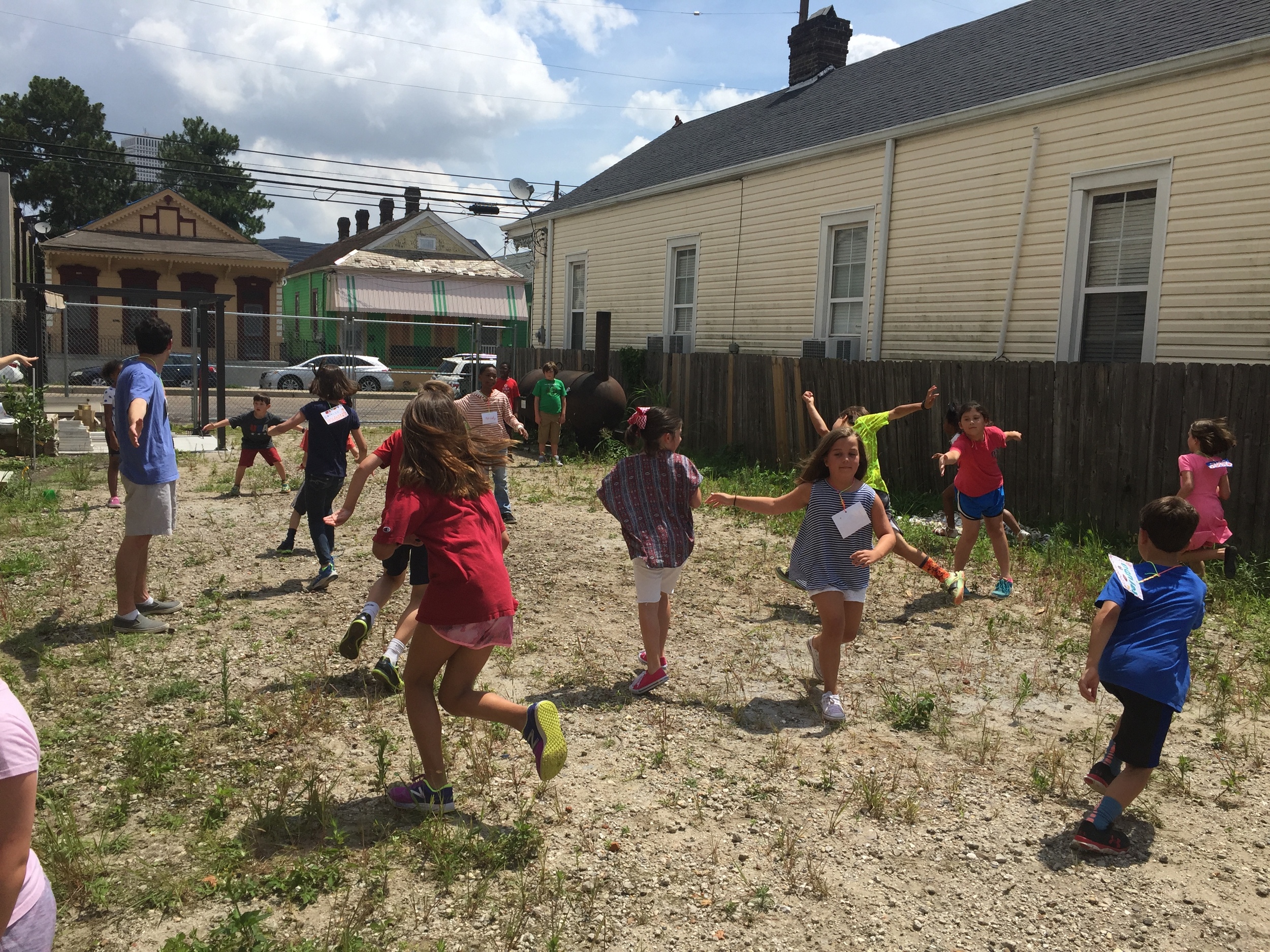 Meanwhile, inside Museum headquarters, the Fantastics Fourths brushed the BBQ sauce creations onto chicken wings and popped them in the oven. When all the kids from outside came in, they enjoyed roasted chicken wings with fruit kebabs and a refreshing cup of lemonade!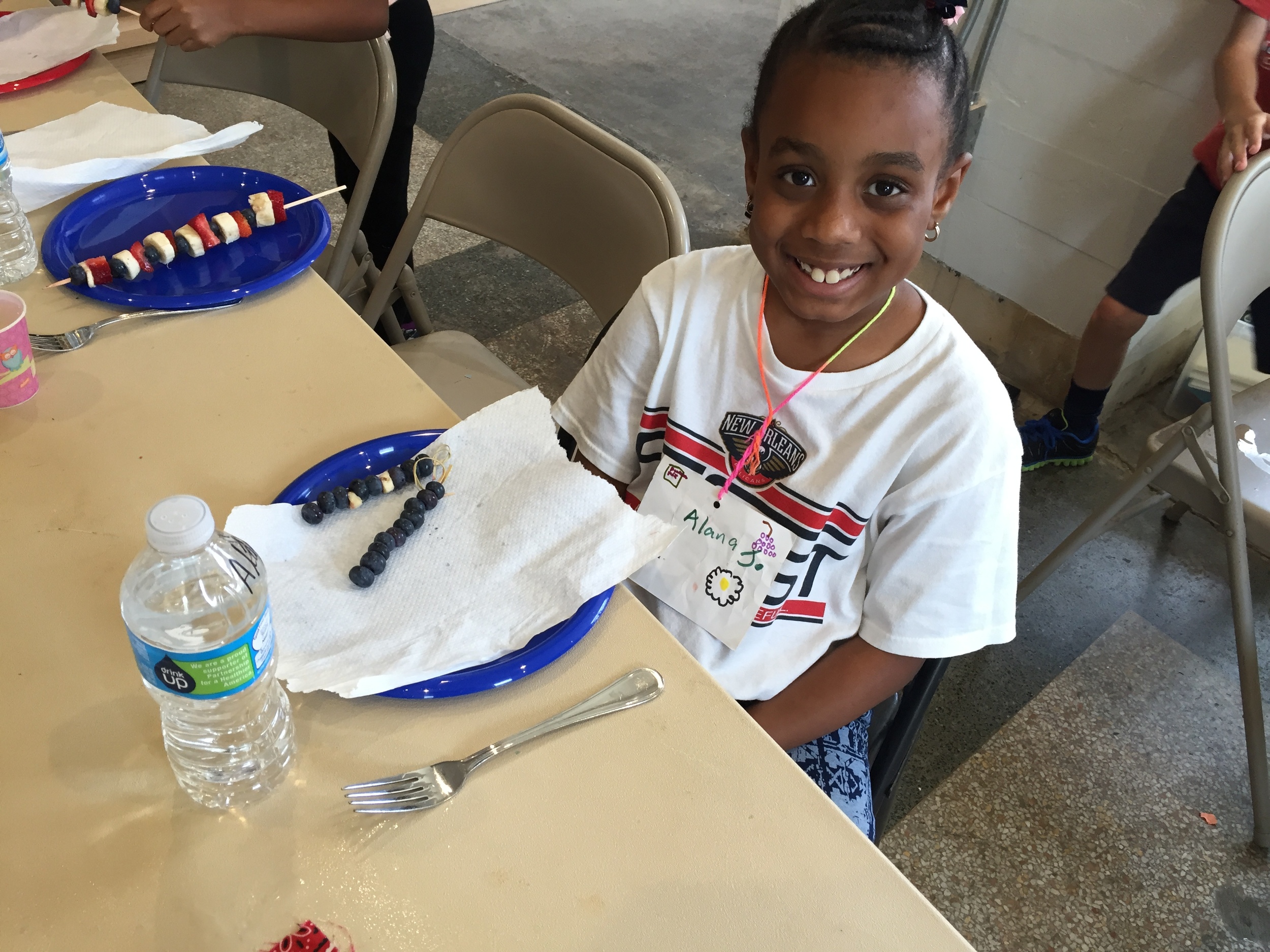 Recipes to look out for: BBQ Chicken; Lemonade; Red, White and Blue Fruit Kebabs
Wednesday, Halloween
Today was packed with tasty, spooky activities. It began with mask crafting. Some crafted scary masks, like the Jester boys who made villainous masks. Others made Mardi Gras masquerade-style masks or a pretty kitten mask.
Kids tasted mystery sour and sweet treats and guessed what they were. There were 6 stations with samples of naturally-occurring sweet treats (mango, coconut milk and sweet potato) and naturally sour foods (grapefruit, buttermilk and lemon). The children learnt about the natural alternatives to sweet and sour candies that are typically filled with fat and sugar to taste good.
The children also made spooky-face pizzas from scratch. Carli explained the process of yeast digestion and why it's essential for the pizza dough to rise. Then each camper kneaded their ball of dough and shaped it into a round (or heart-shaped) pizza. Then they dressed it with tomato sauce, cheese, vegetables and pepperoni to make a spooky face!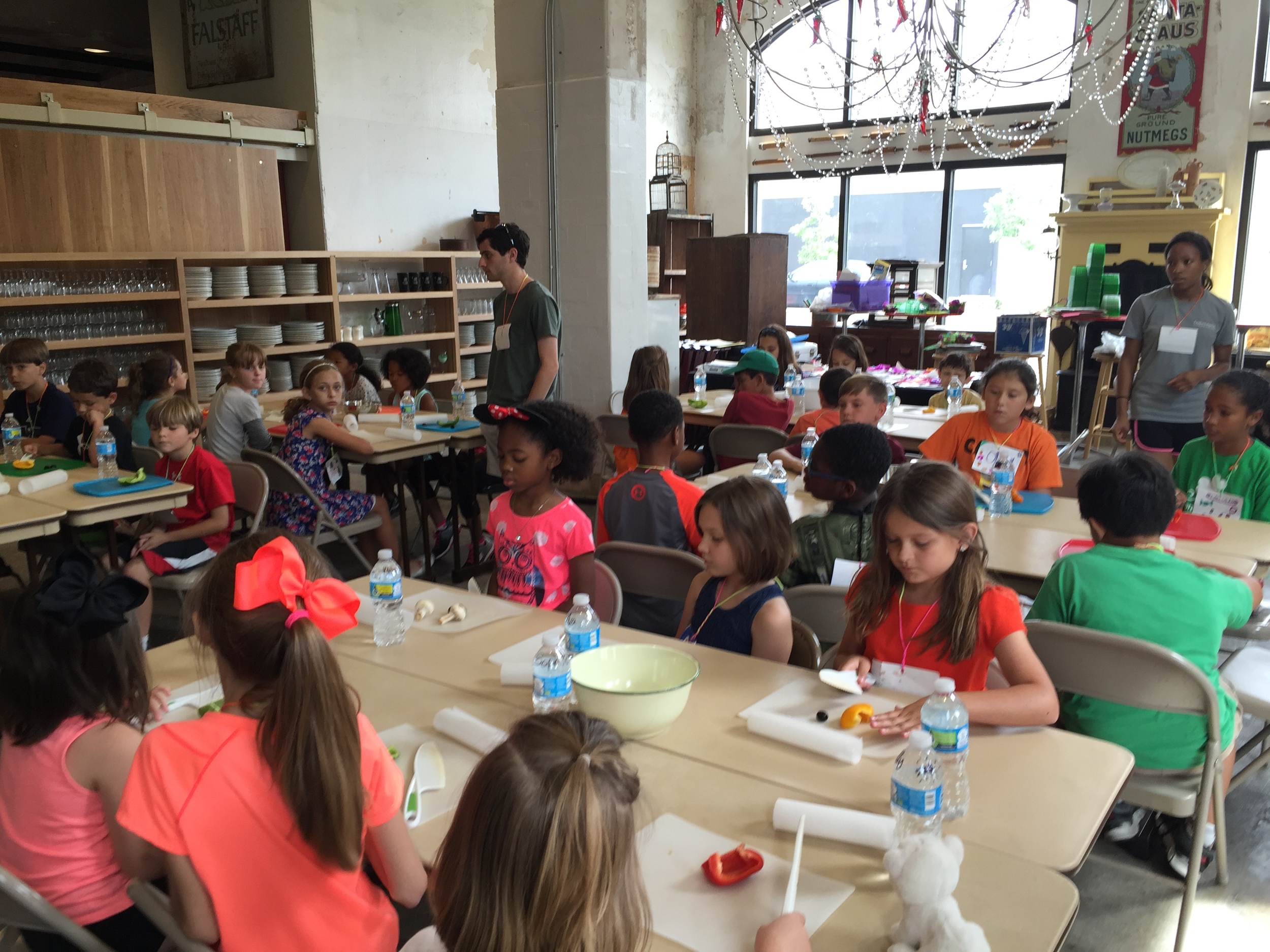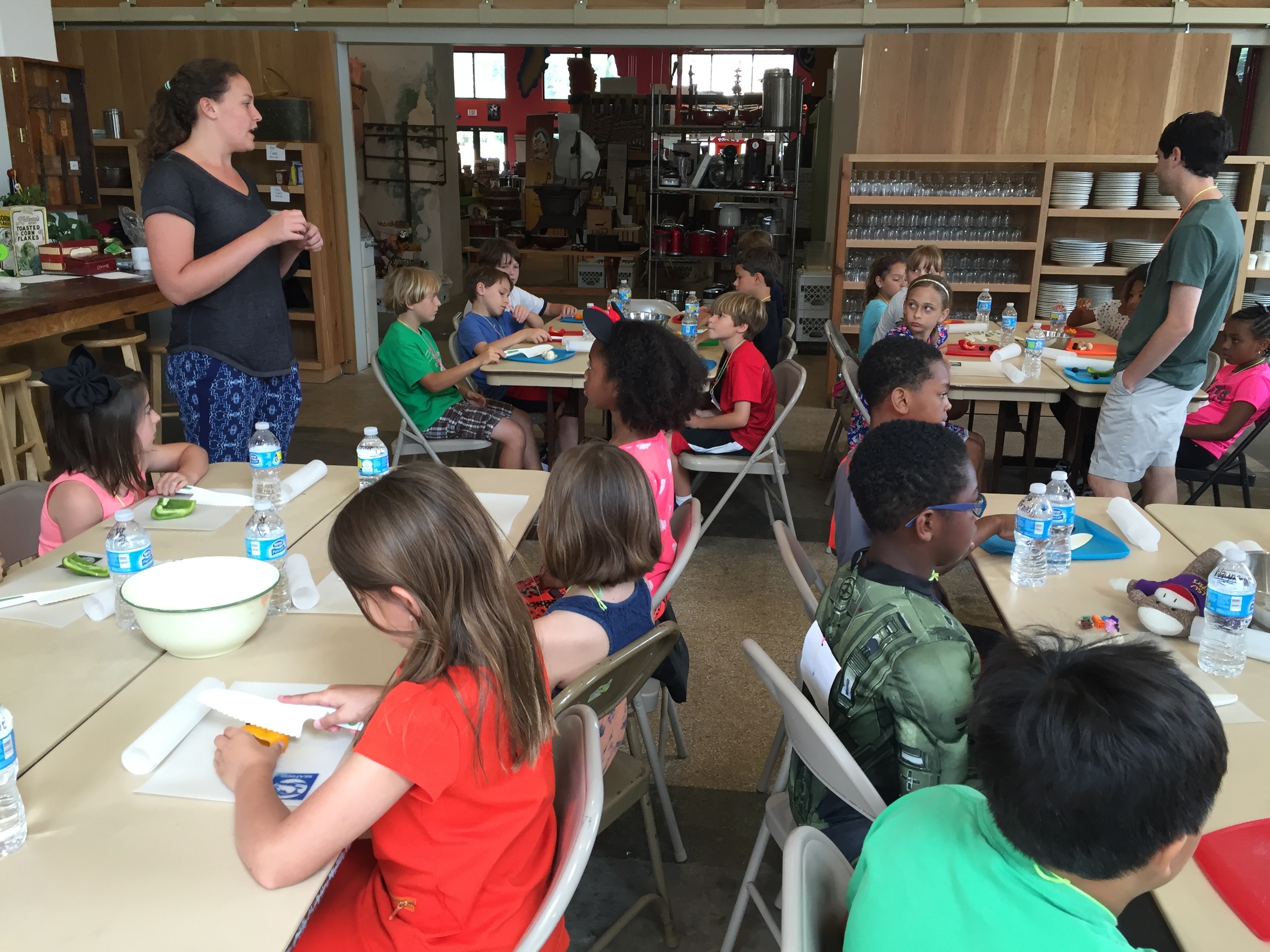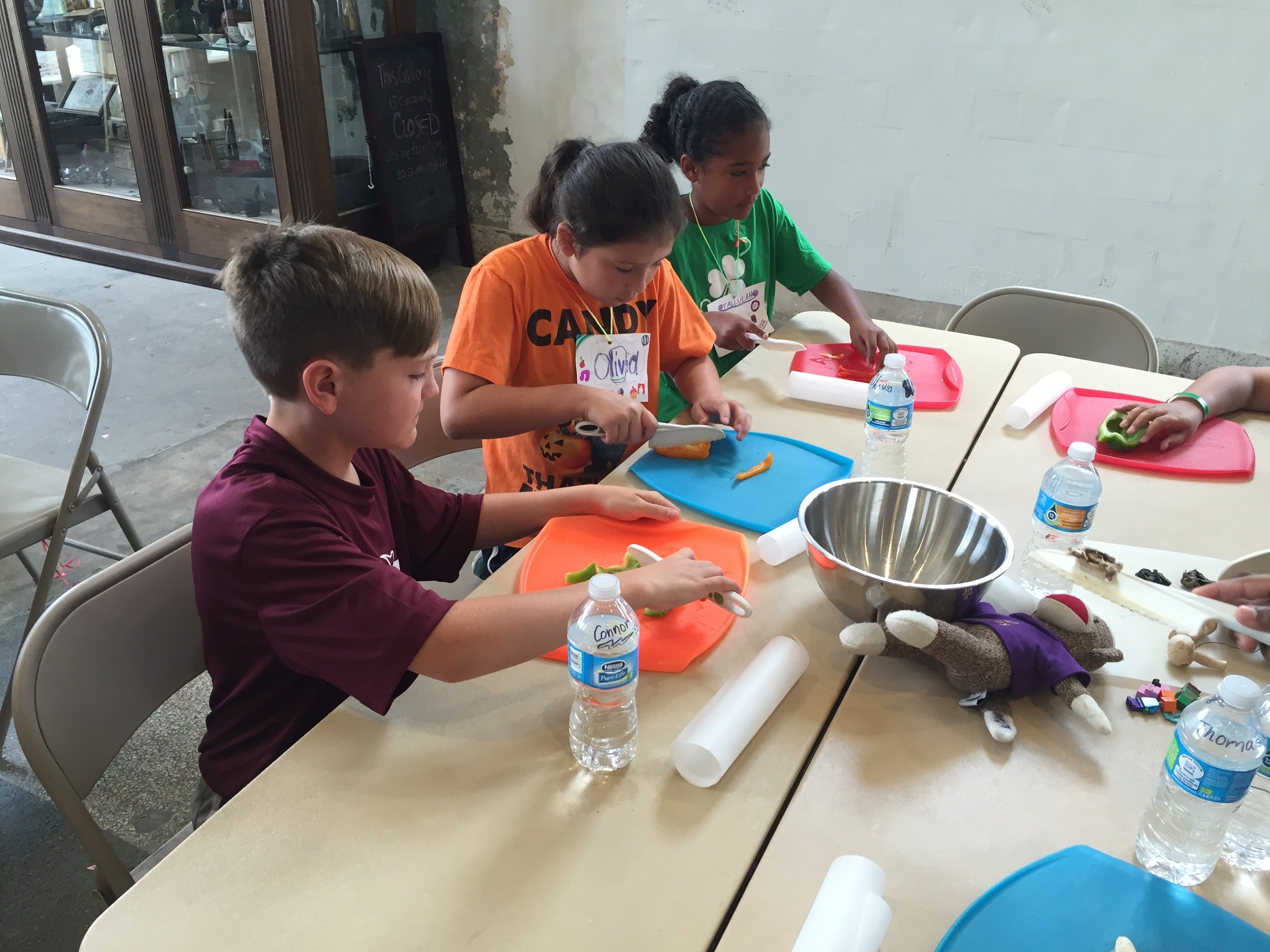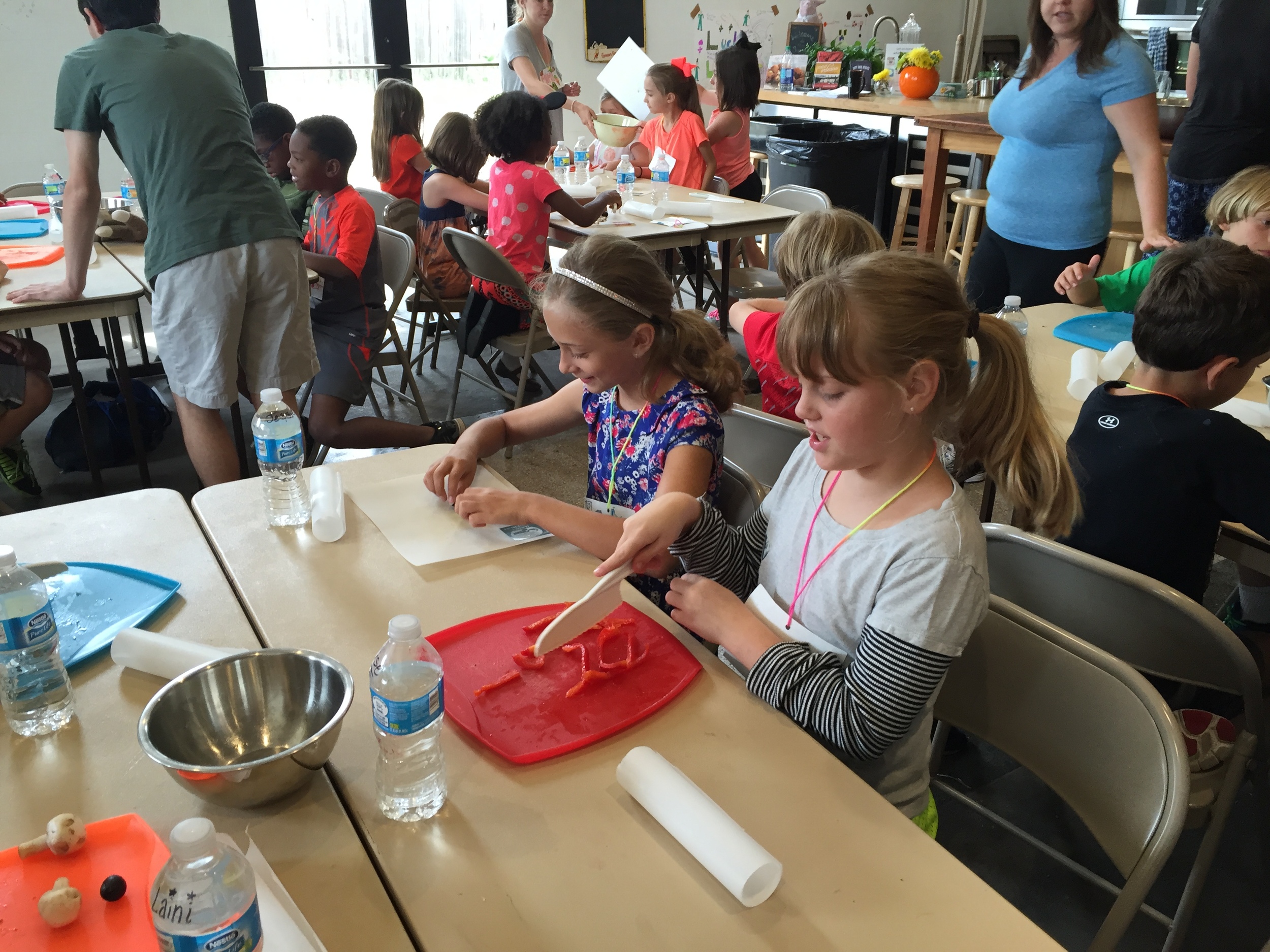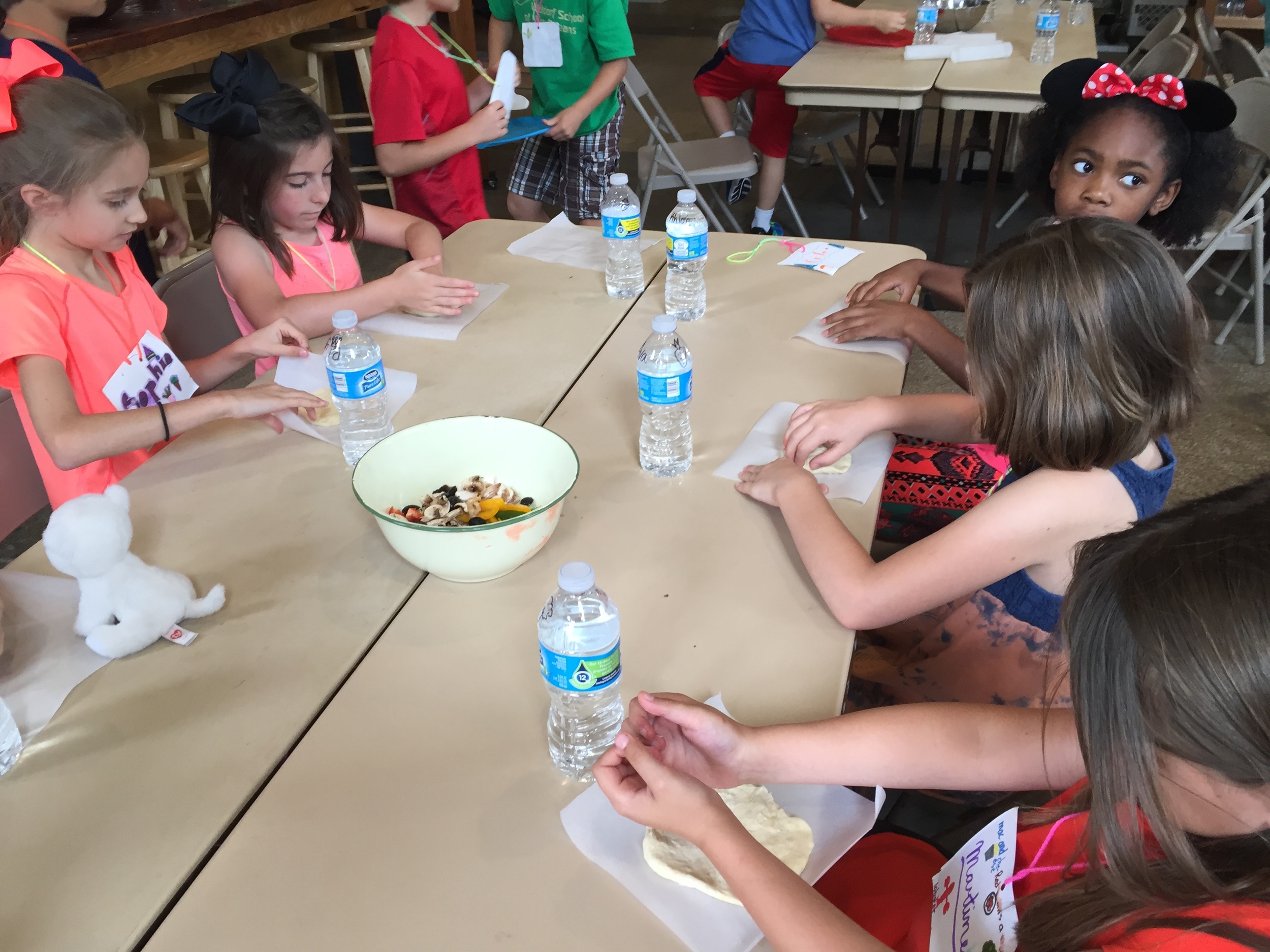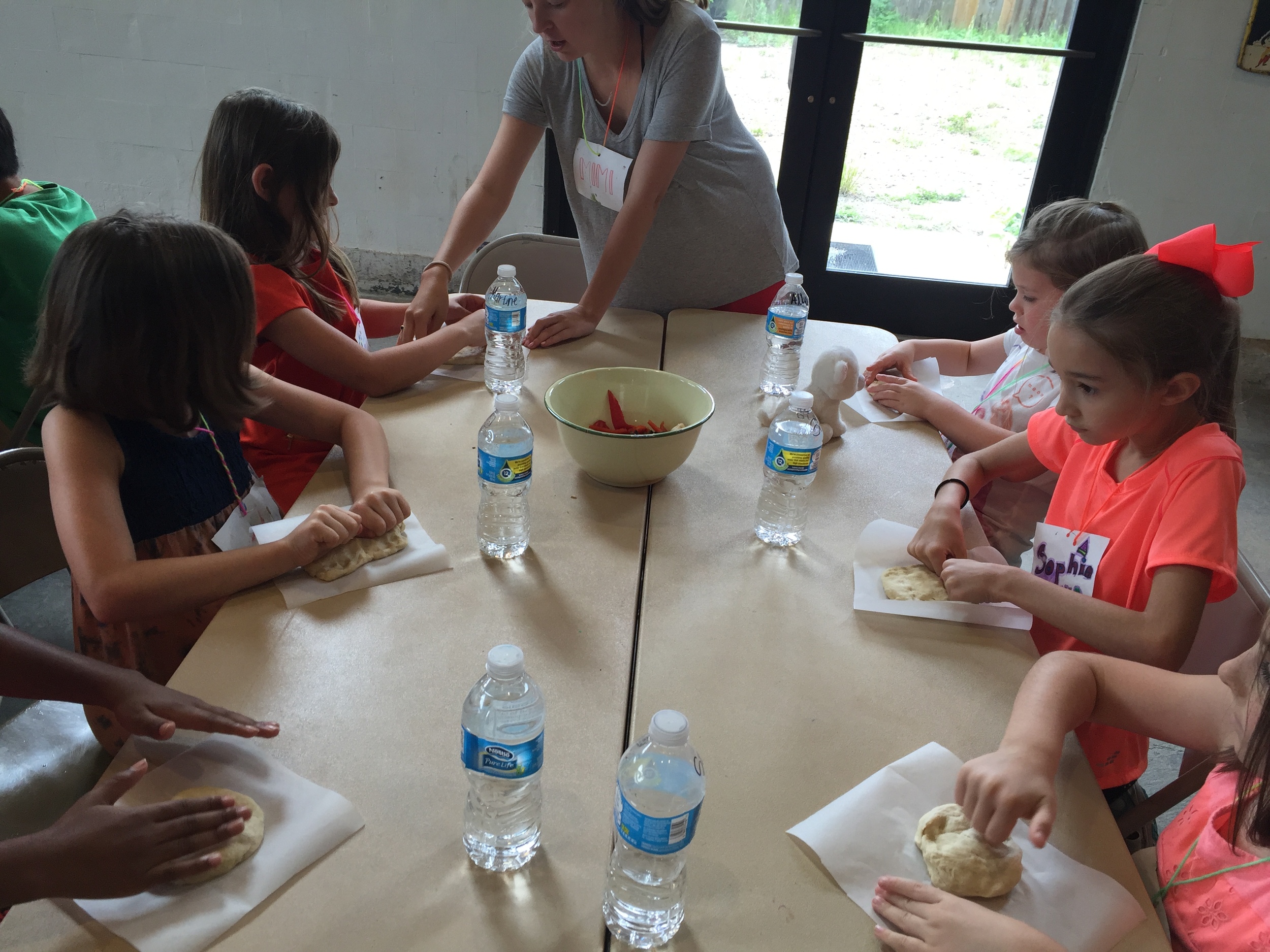 Finally, the campers enjoyed the outside sun, playing a version of Red-Light-Green-Light.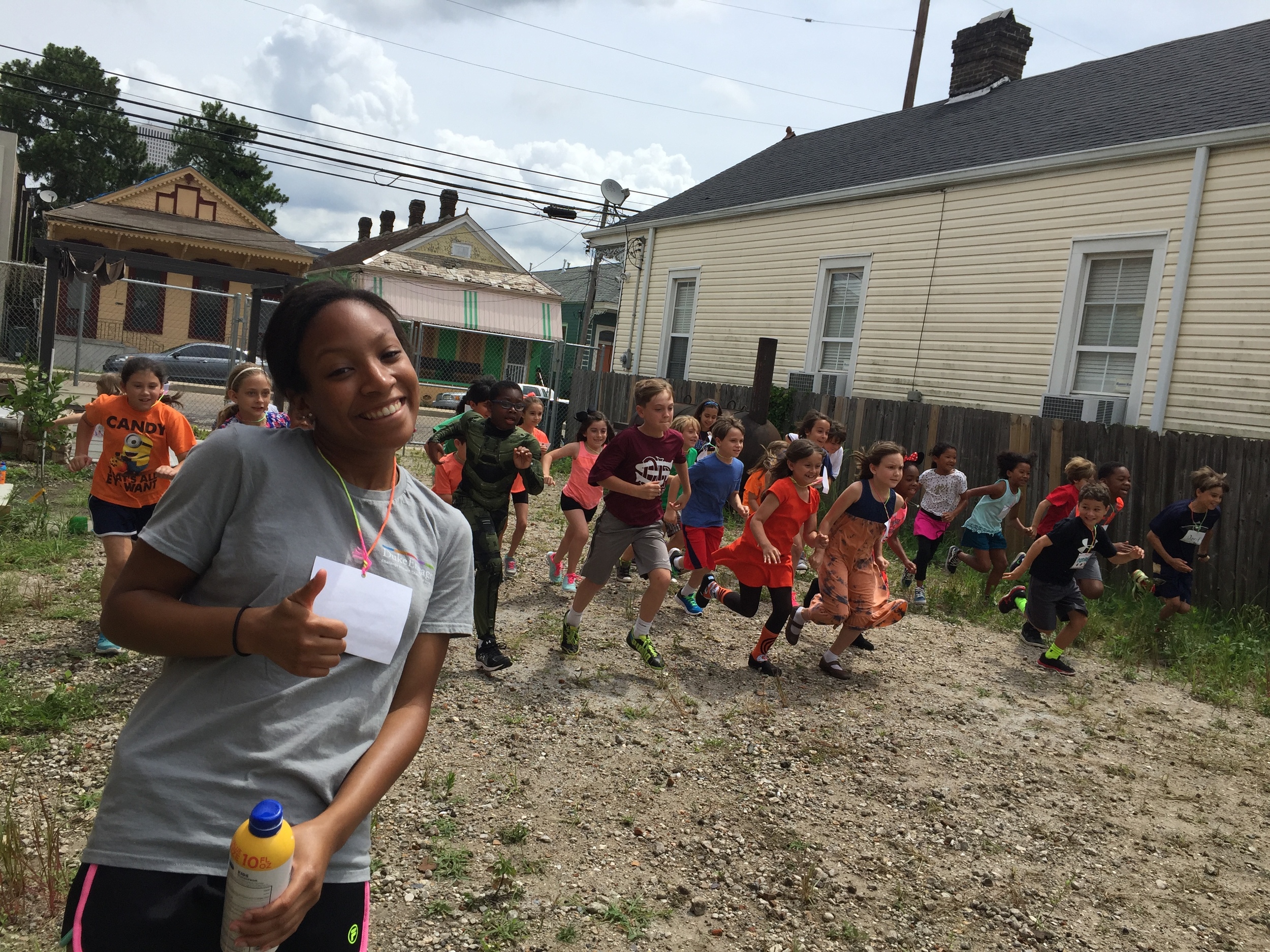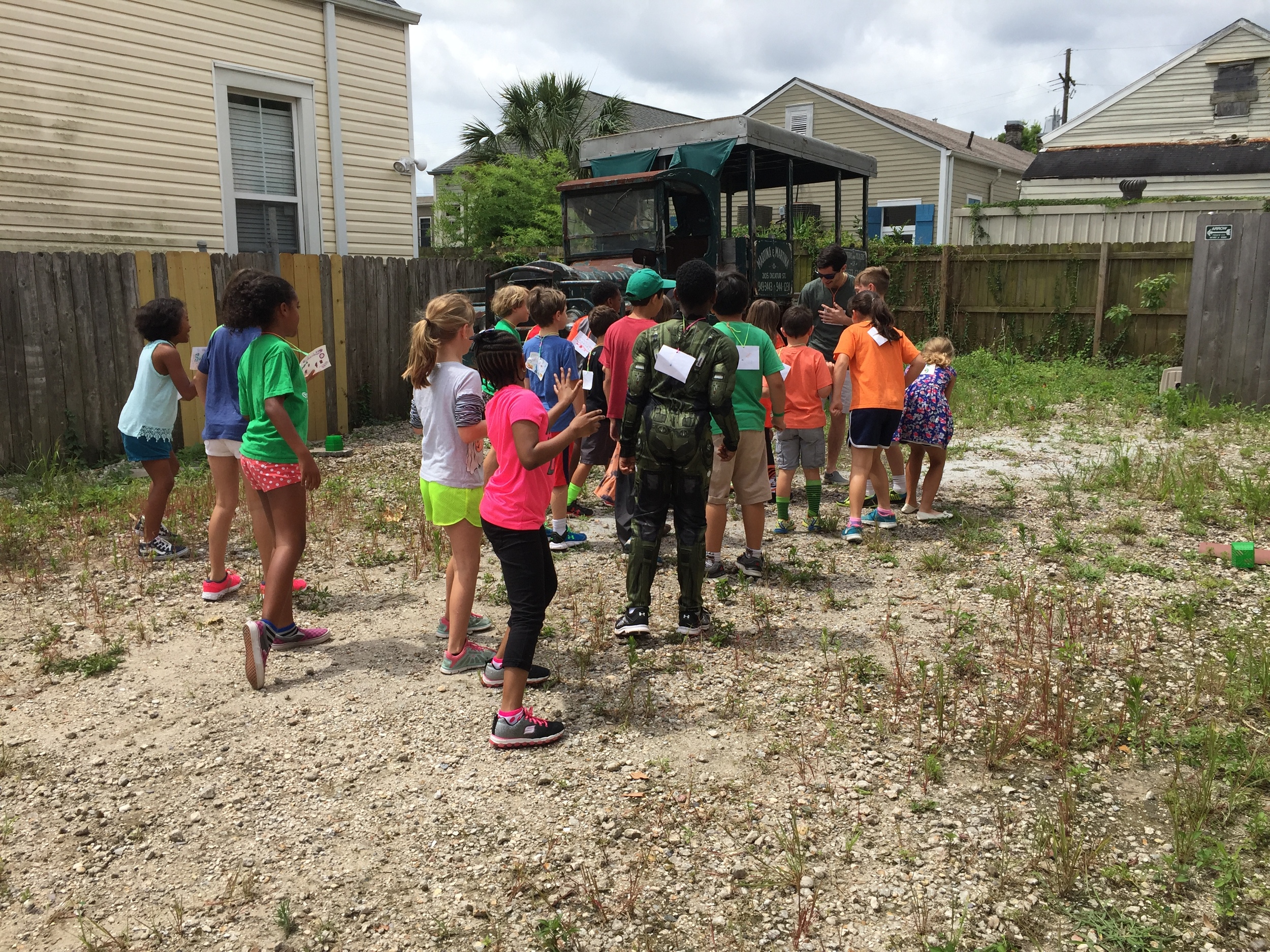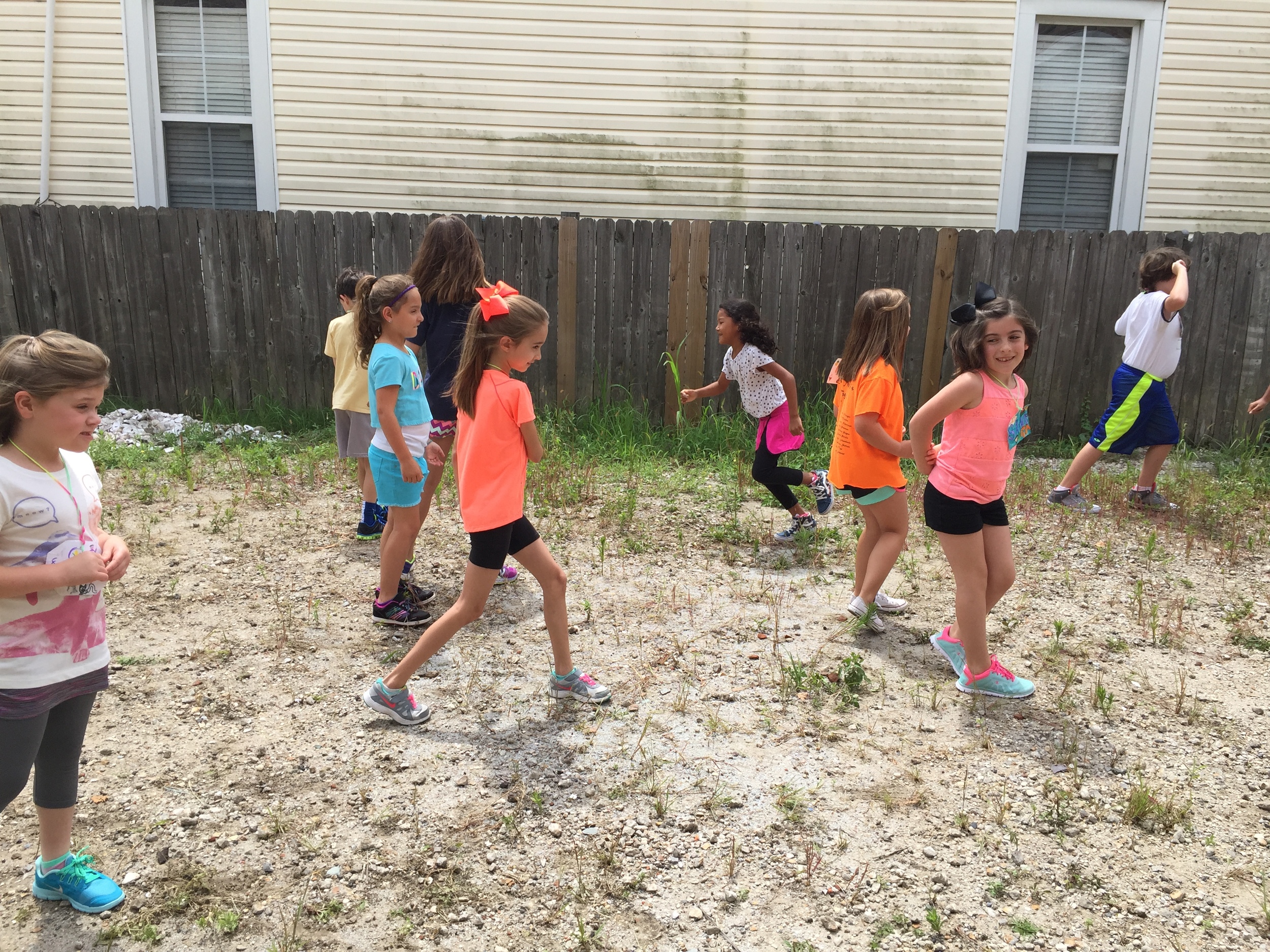 Some girls went on a nature hunt with camp counselor Tara, making a beautiful bouquet of flowers from the backyard.
Everyone returned to the intoxicating smell of oven-baked pizzas. Many had messy, pizza smiles at the end.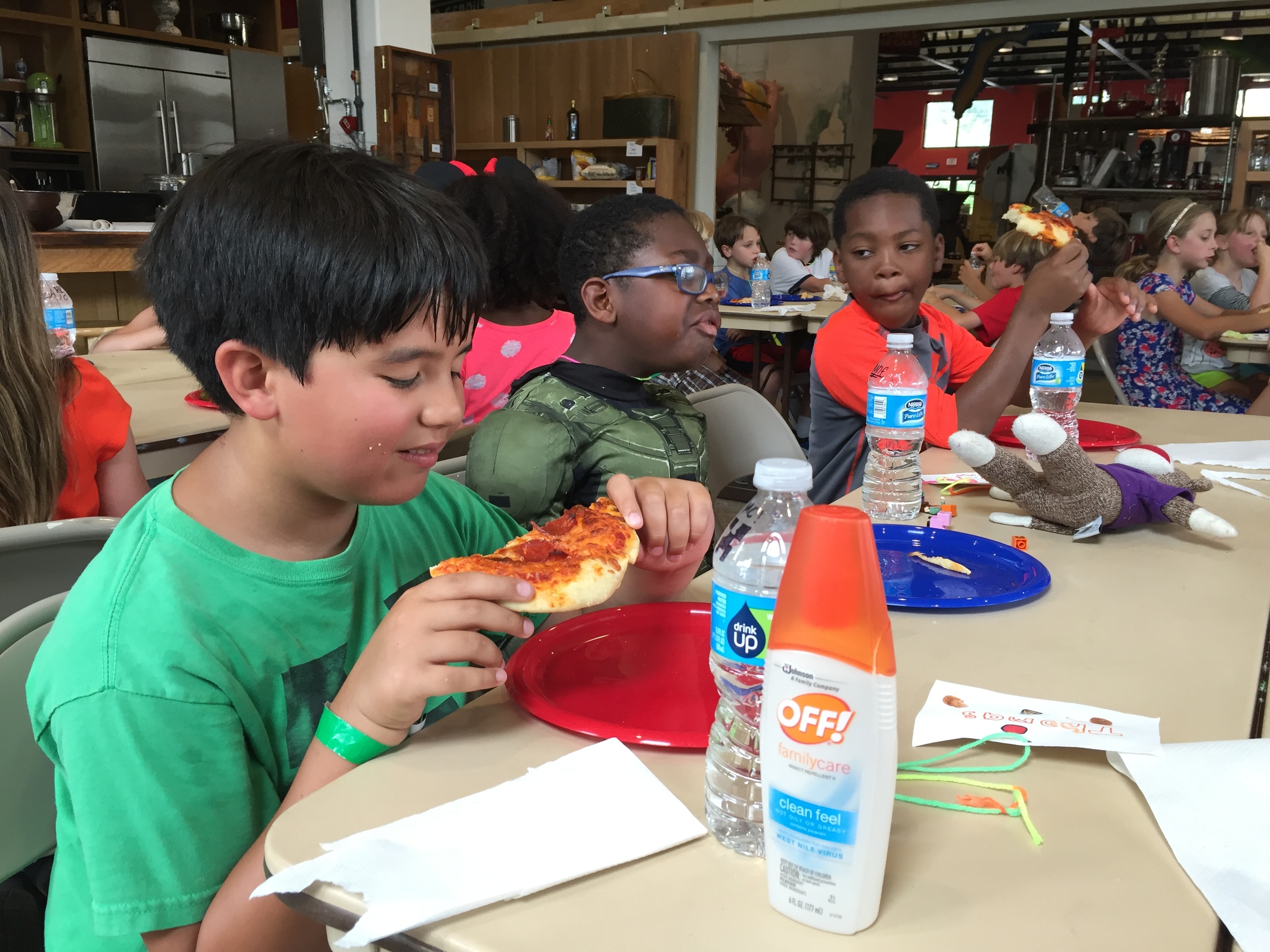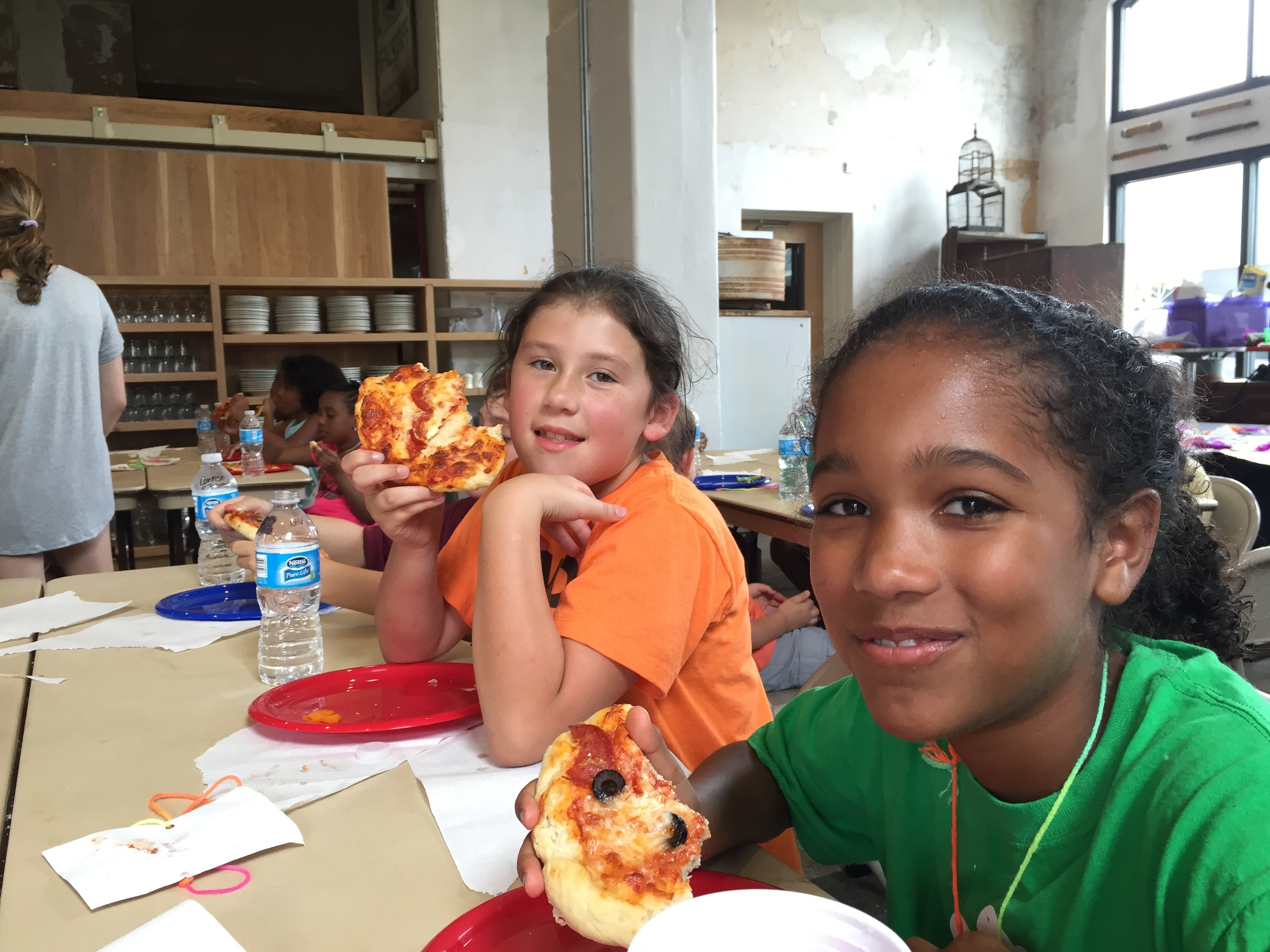 Recipe to look out for: Spooky Face Pizza
Thursday, Thanksgiving
As it is Thursday, it seemed appropriate to make the theme of the day Thanksgiving. Camp began with kids decorating their own ceramic mug with whatever holiday theme they wanted. It was a great gift for kids to take away and remember their camp experience.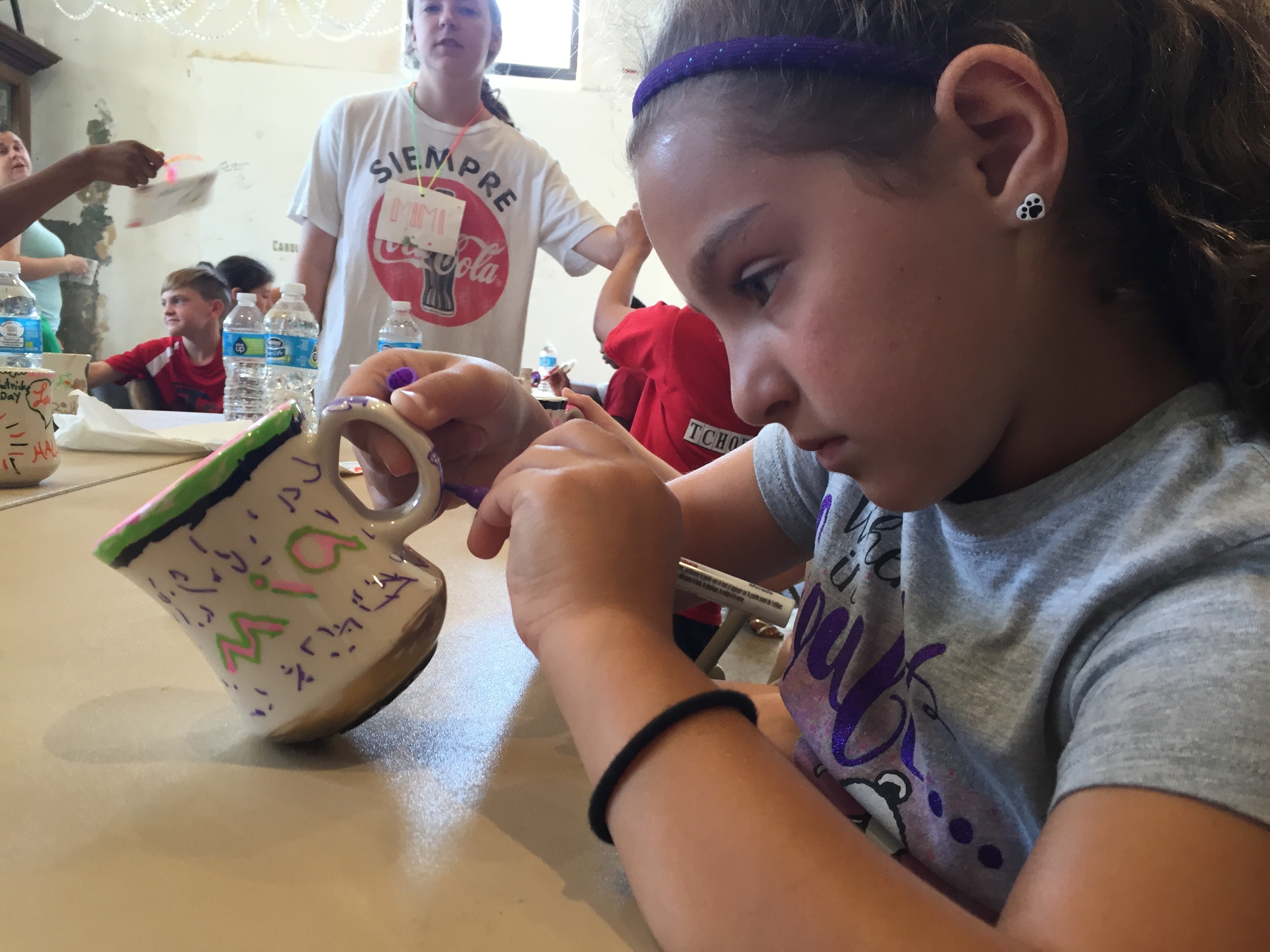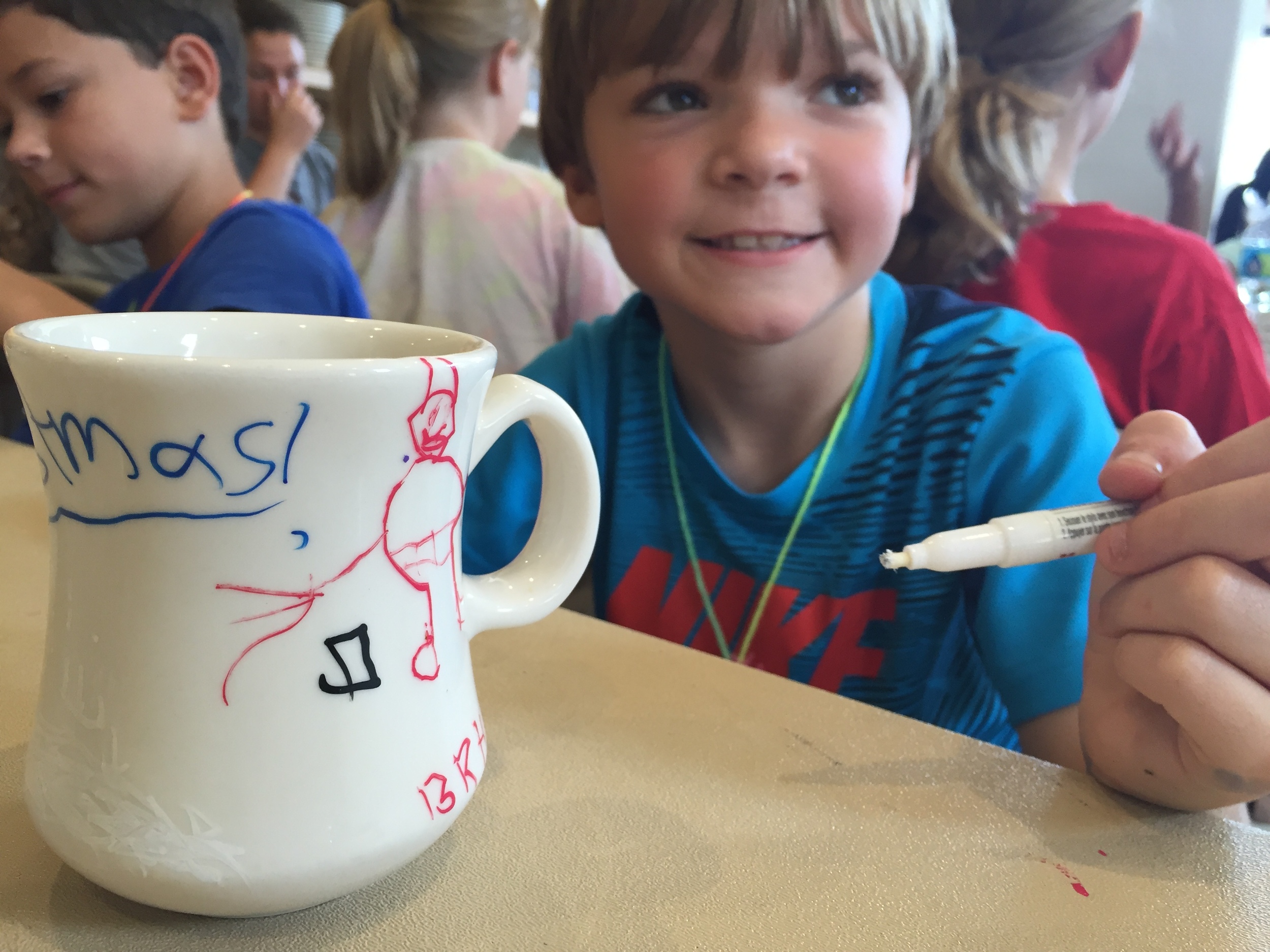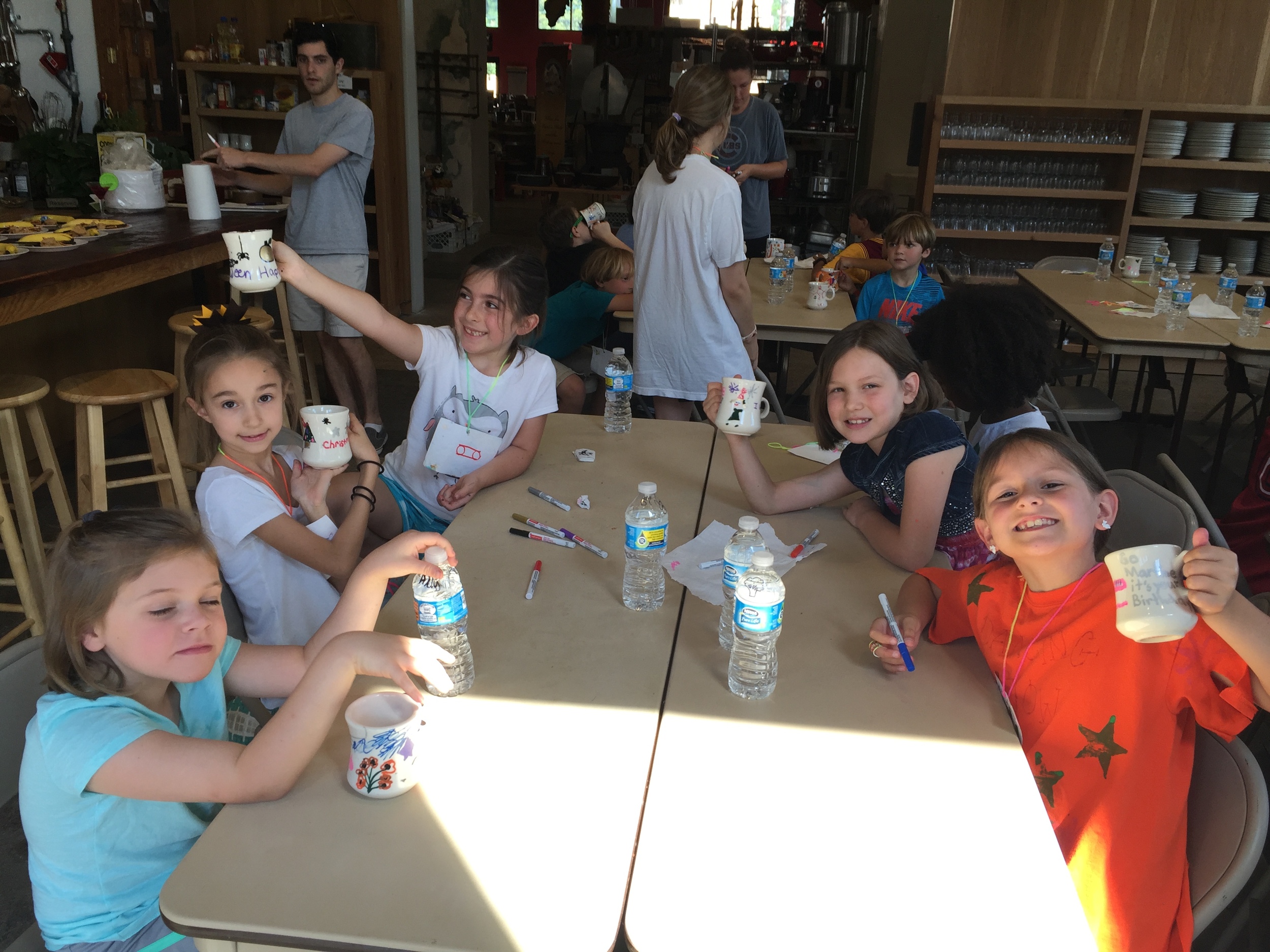 The nutrition/history portion of the day was dedicated to the camp classic: Snack Wars!!! In teams of pairs, campers used a banana, pretzel sticks, raisins, almonds and peanut butters to create a creature. Camp counselors judged to see who had the best name, most creative creature, best creature overall and best teamwork.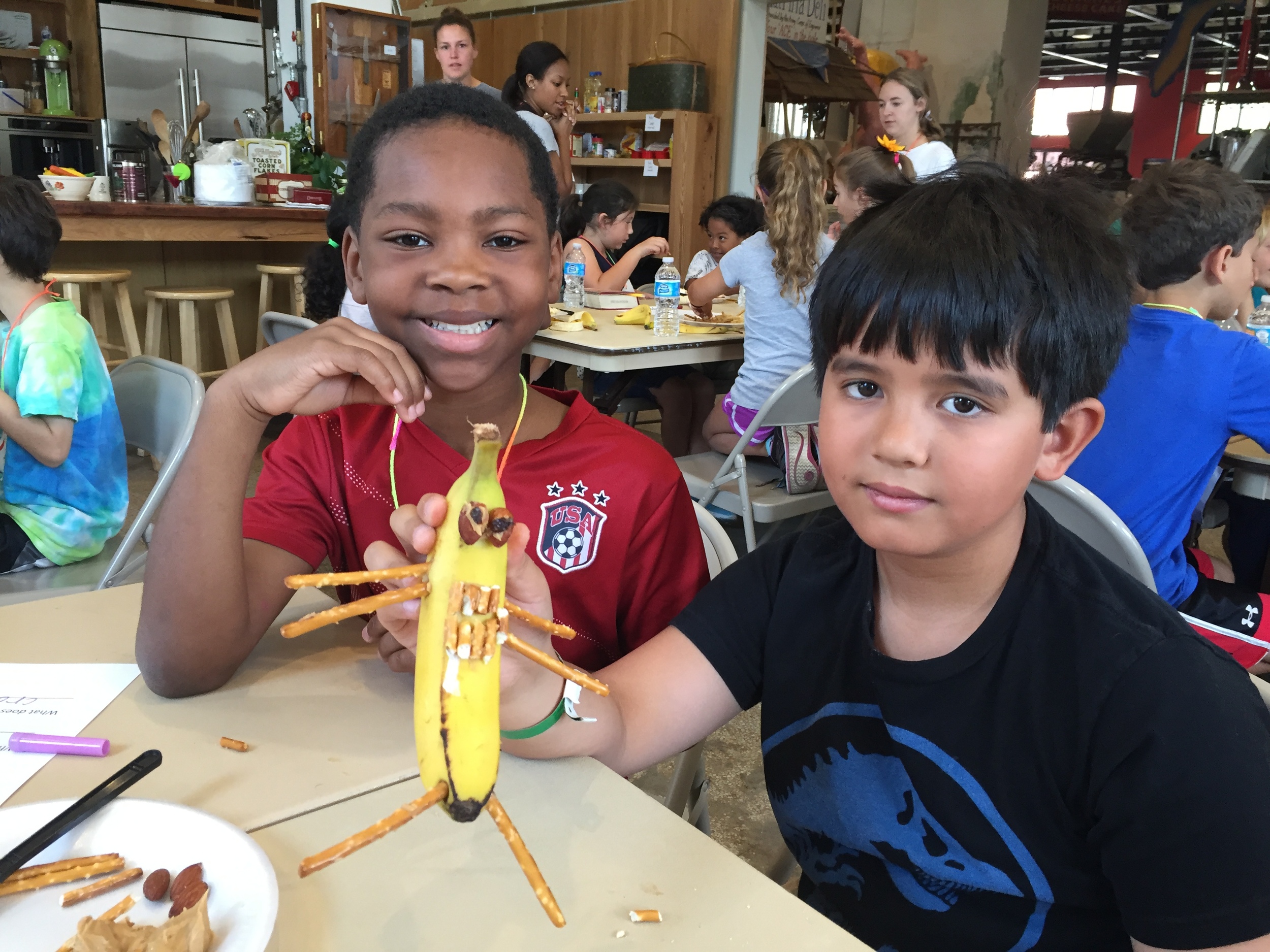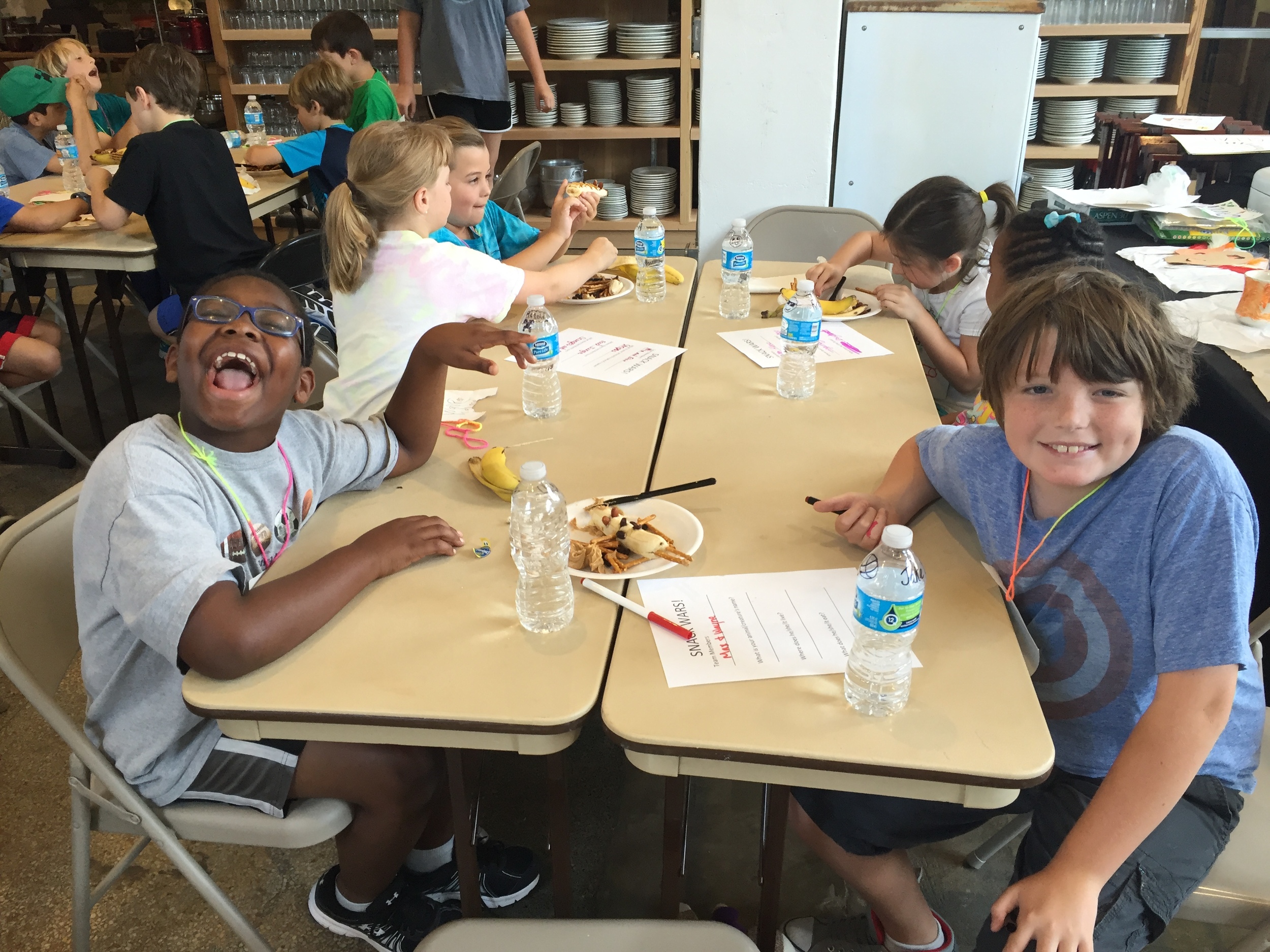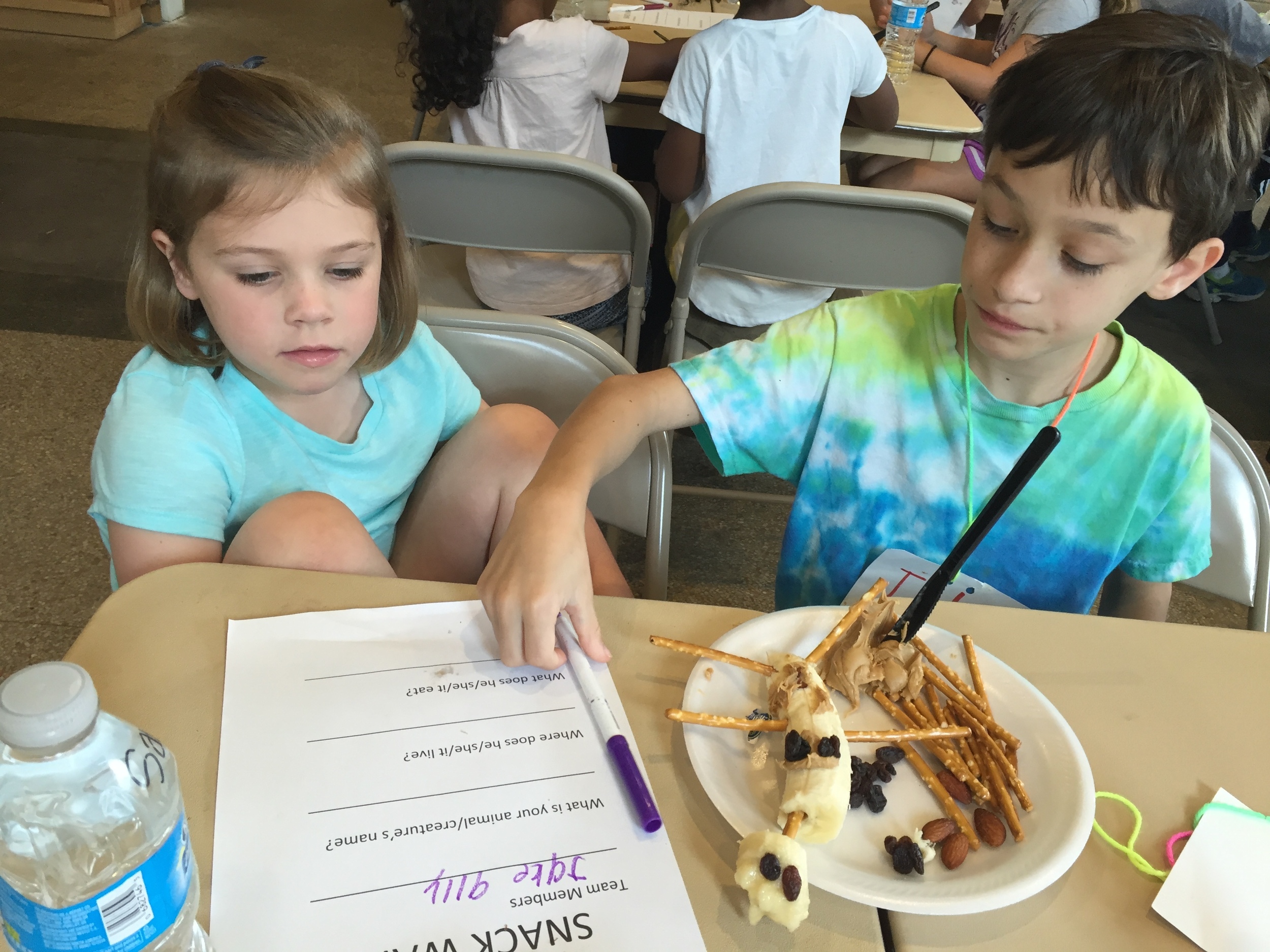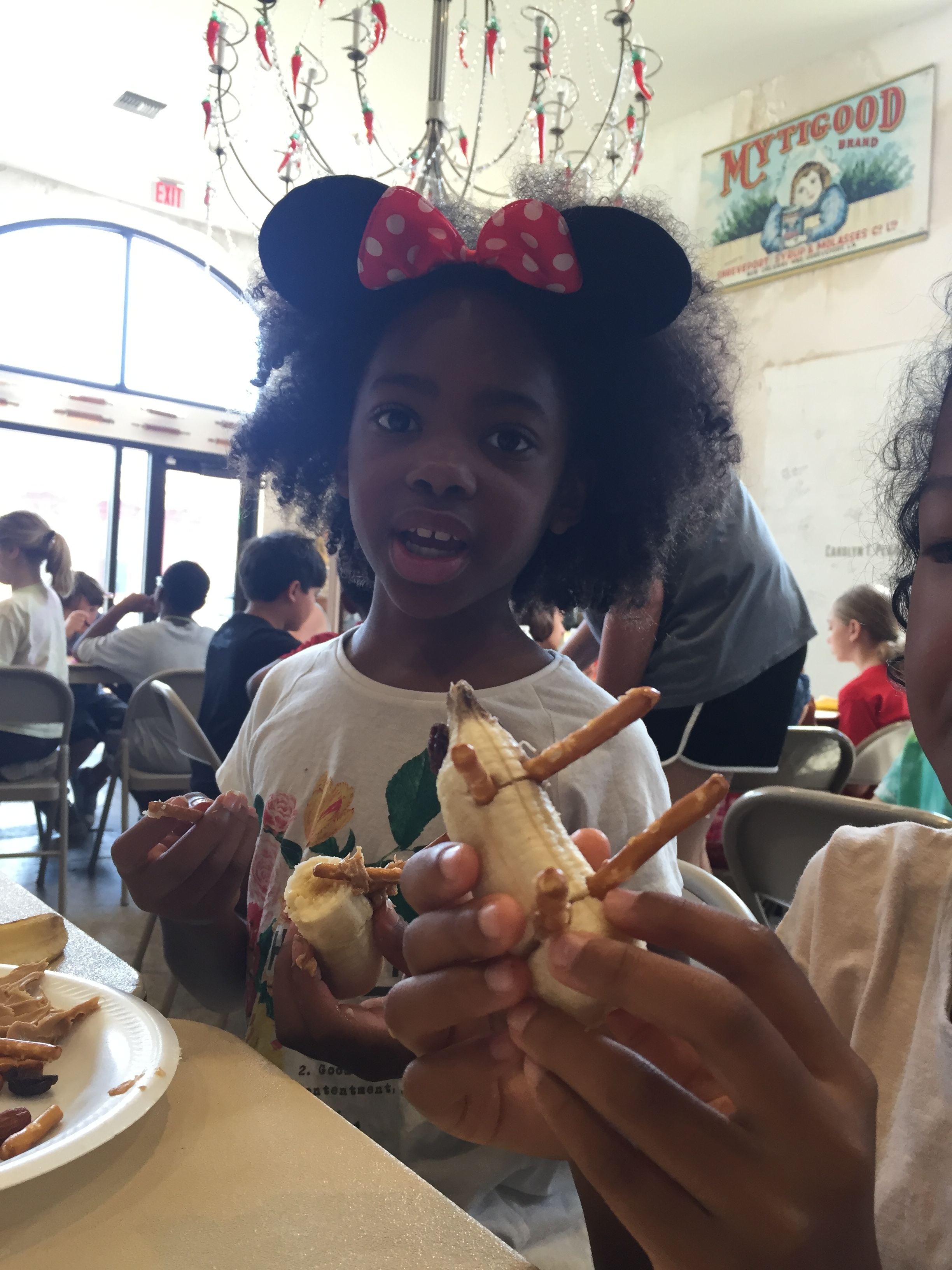 Here's Ava and Jessy's cannibalistic banana man:
And Mia and Elise's tiger:
And Sam and Alana's turkey:
Today, we cooked turkey meatballs and oven-baked sweet potato fries for our Thanksgiving meal. All children had a hand in dicing the sweet potatoes, mixing them in spices, chopping up vegetables and rolling up meatballs made from scratch.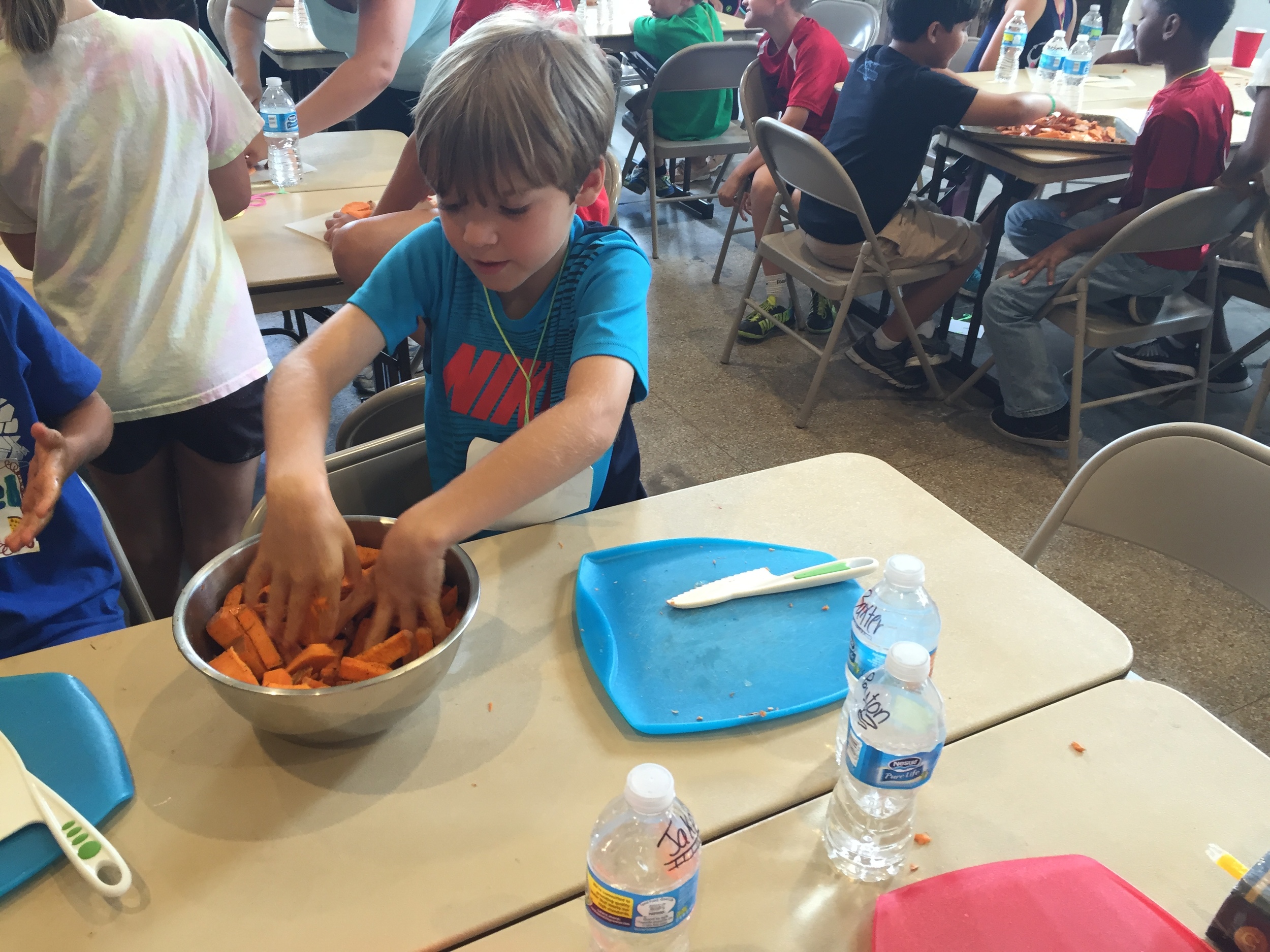 One meatball batch didn't have bread crumbs in it. Although an accident, kids learnt how different the meatballs were even though they were missing just one ingredient.
Joey's outdoor activities were interrupted today by rain, but we managed to play Four Corners inside. Each of the four corners of the room was designated as a food for each round, and children had to move to the post that they thought Joey wouldn't like. Then Joey would call out his favourite food, and everyone at that post would be out! A perfect game to play inside and out.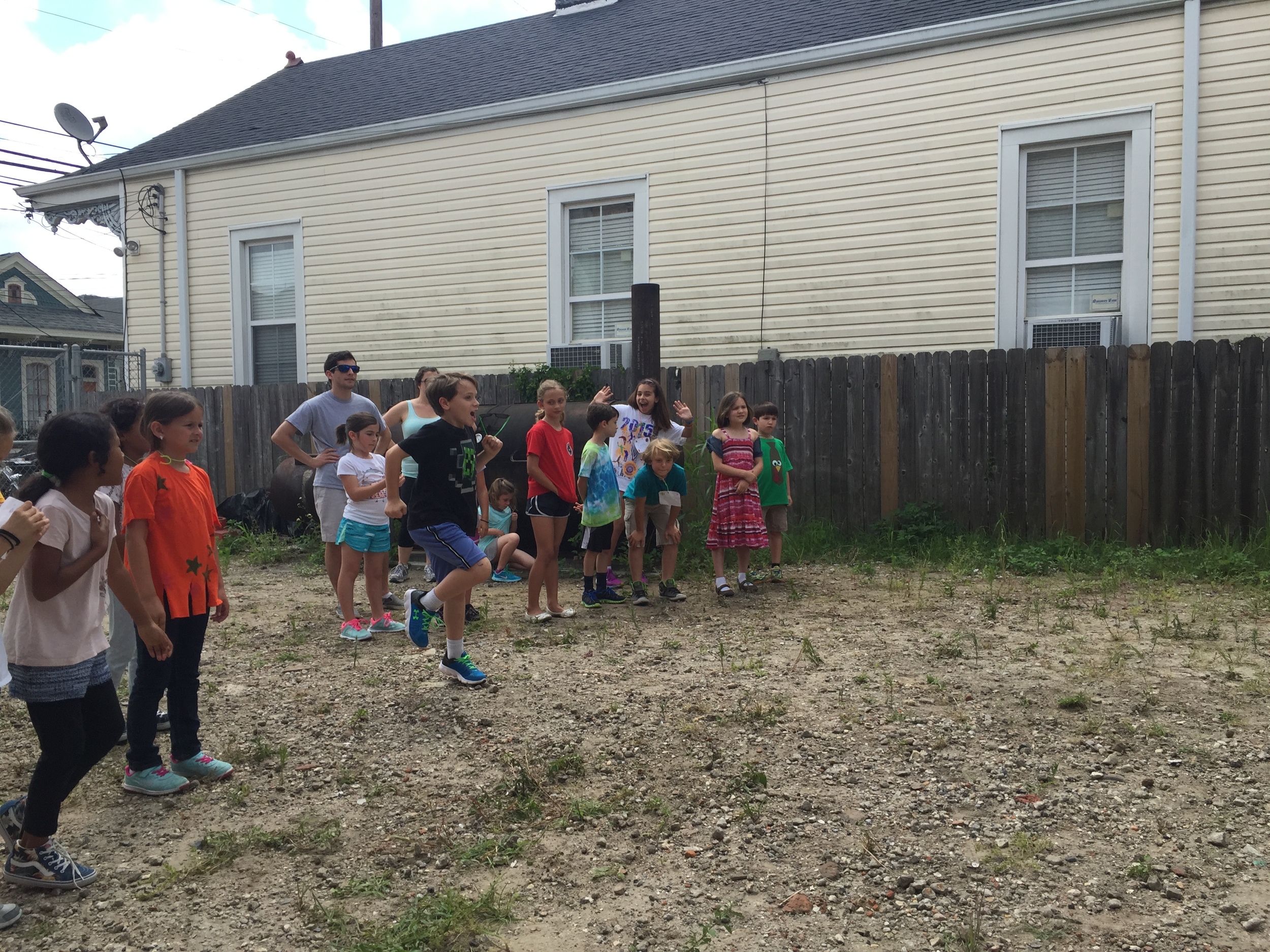 Playing inside also made for a quick transition to eating time! Yummy sweet potatoes and meatballs were gobbled up - except many kids didn't take a liking to the meatballs that did not have bread crumbs in them.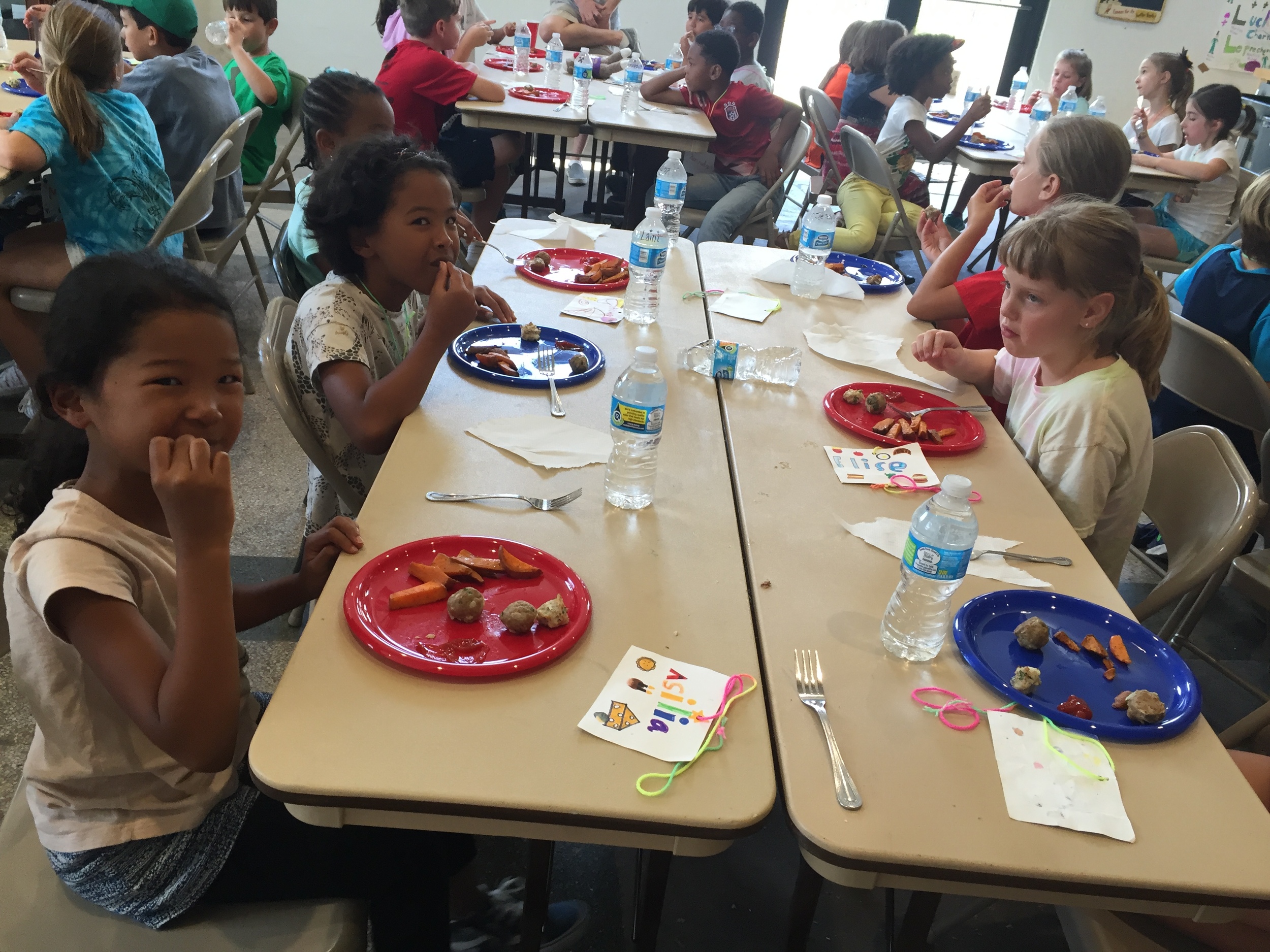 Recipes to look out for: Turkey Meatballs, Sweet Potato Fries
Friday, St. Patrick's Day
Camp counselors and students came in in wonderful green outfits to celebrate both St. Patrick's Day and the last day of camp. To wrap up, everyone decorated cookbooks that contained recipes for all the foods they ate this week. They got to adjust the recipes by swapping out ingredients they didn't like.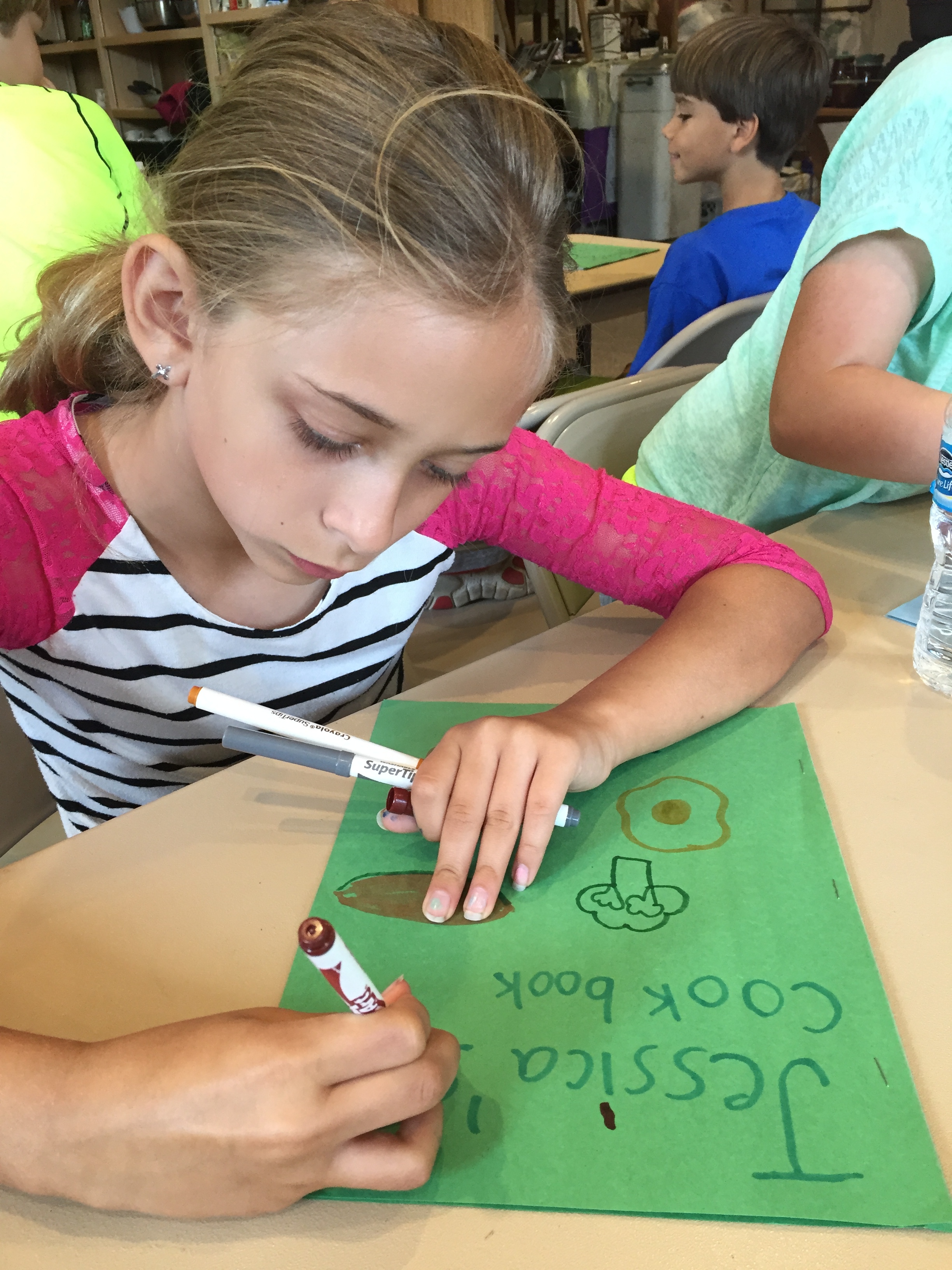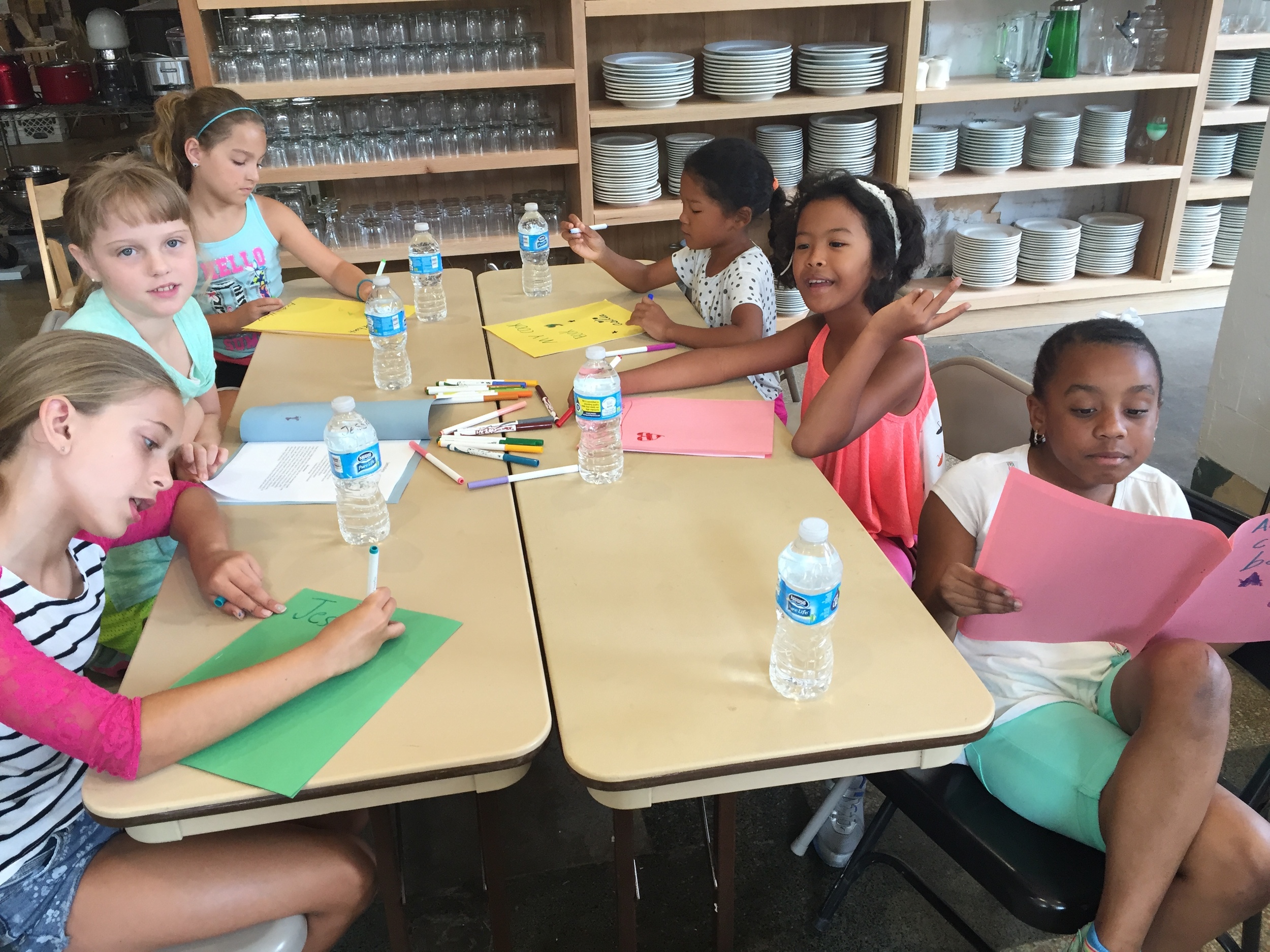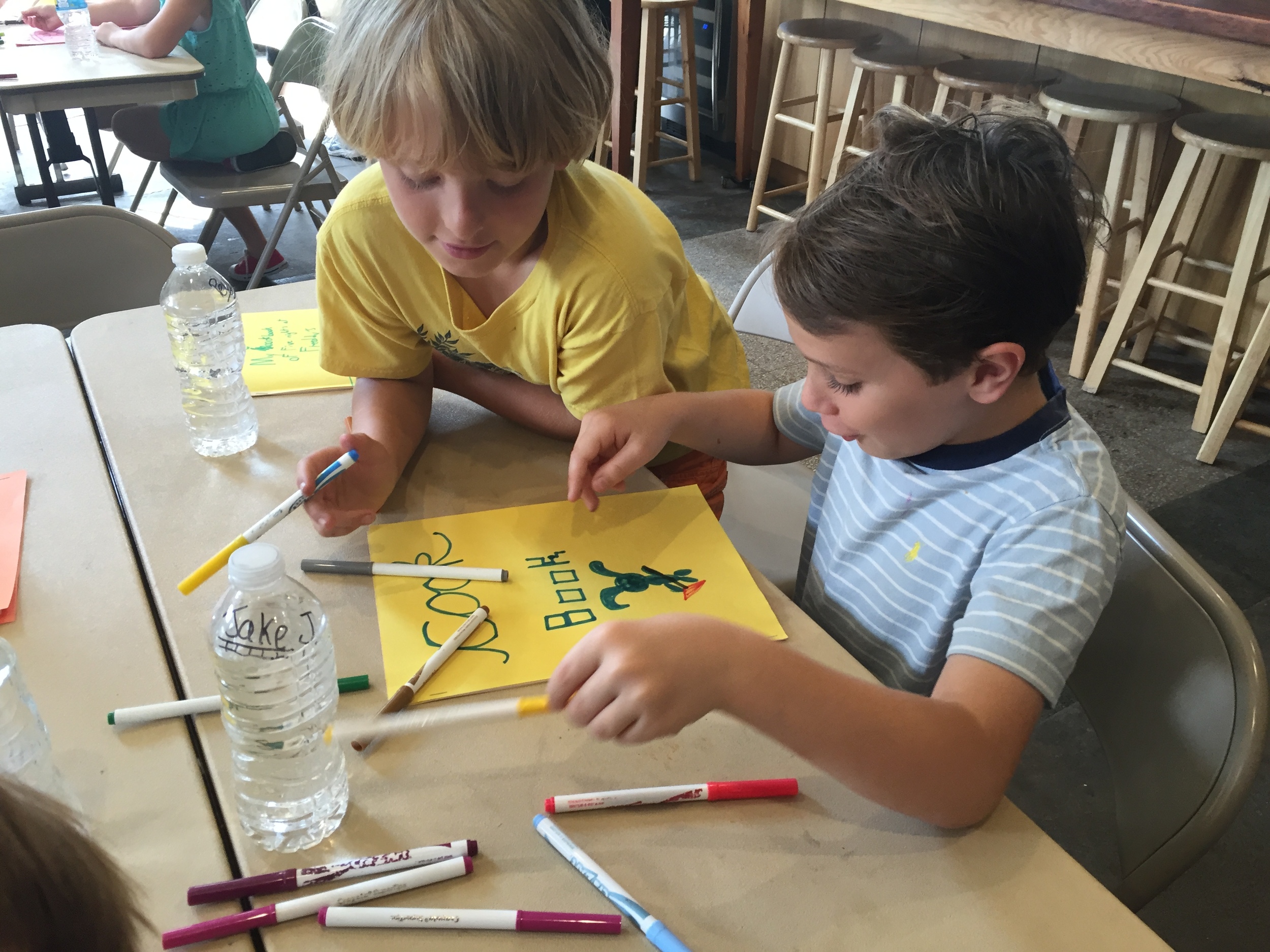 For the nutritional/history portion of today's camp, we all played Irish Jeopardy! There were 4 categories: orange foods, white foods, green foods and Irish dishes. They learnt about orange, white and green foods found in Irish dishes, and also found out fun facts about the different foods.
Cooking today was vegetarian - green and good. They had a myriad of roasted parmesan vegetables and hash browns. The dish took a lot of prep work from the kids. They all chopped the fresh vegetables and seasoned them with a parmesan aioli. They also all had a hand in grating onions, potatoes and the skin of lemons for lemon zest.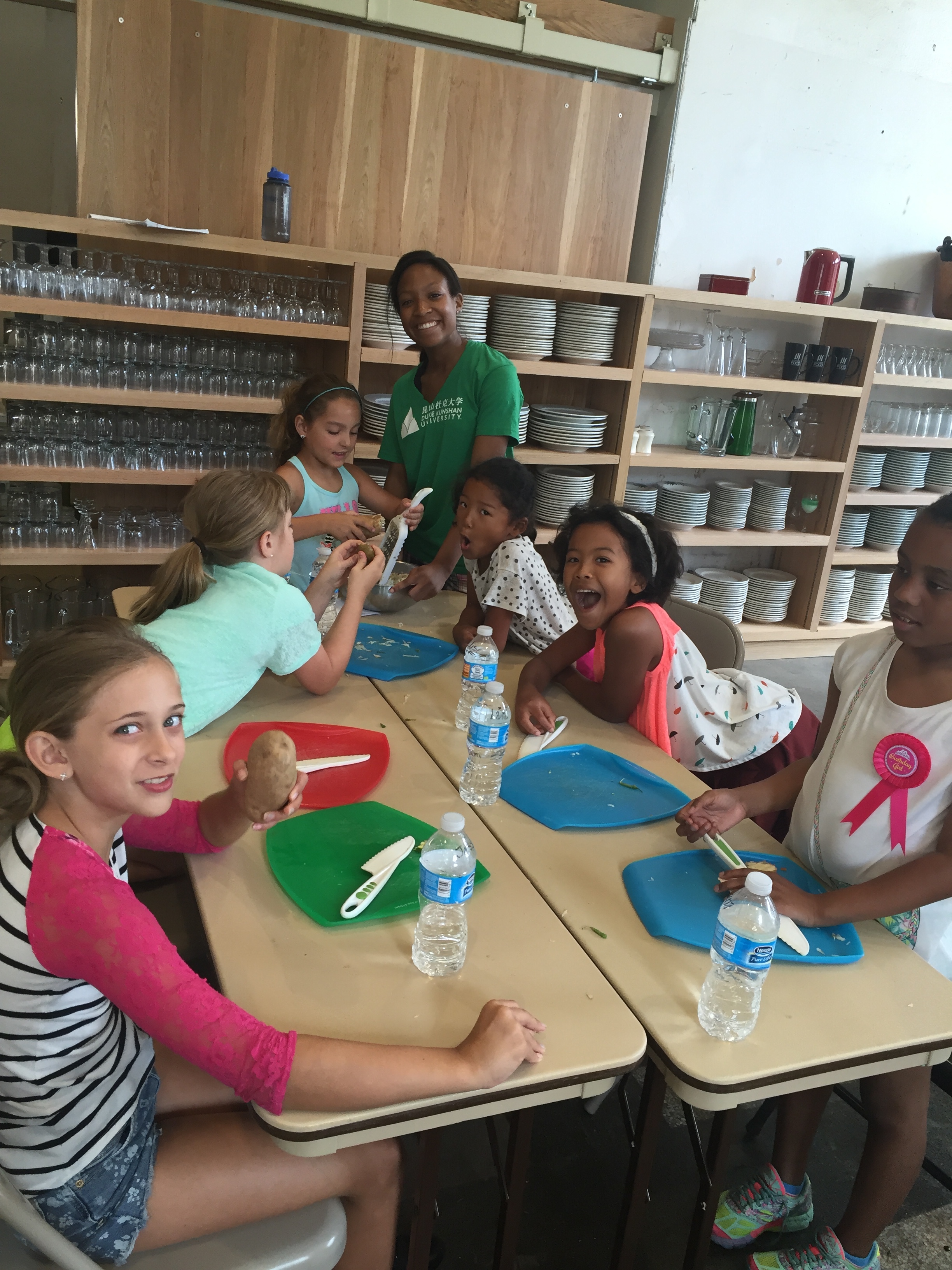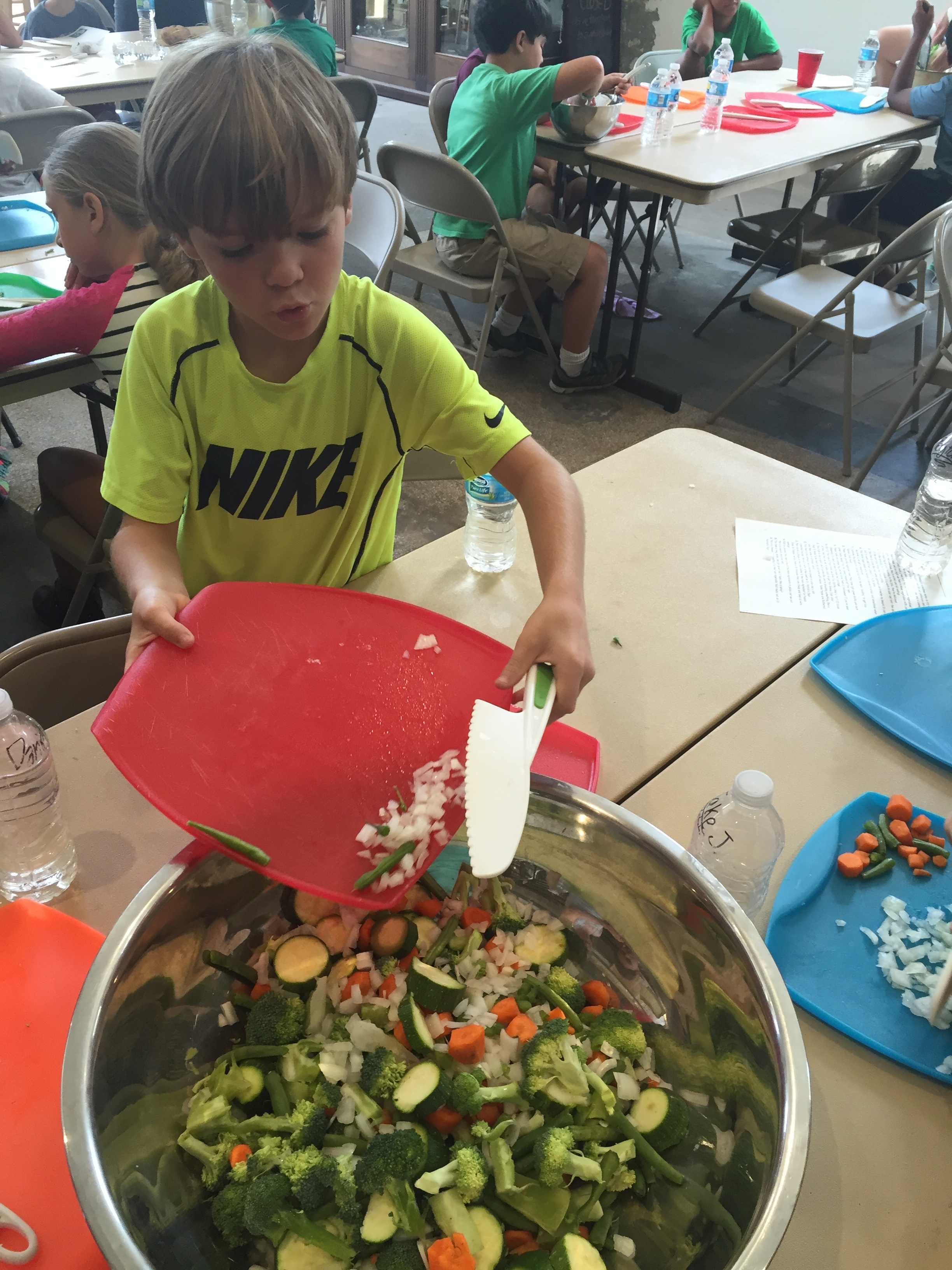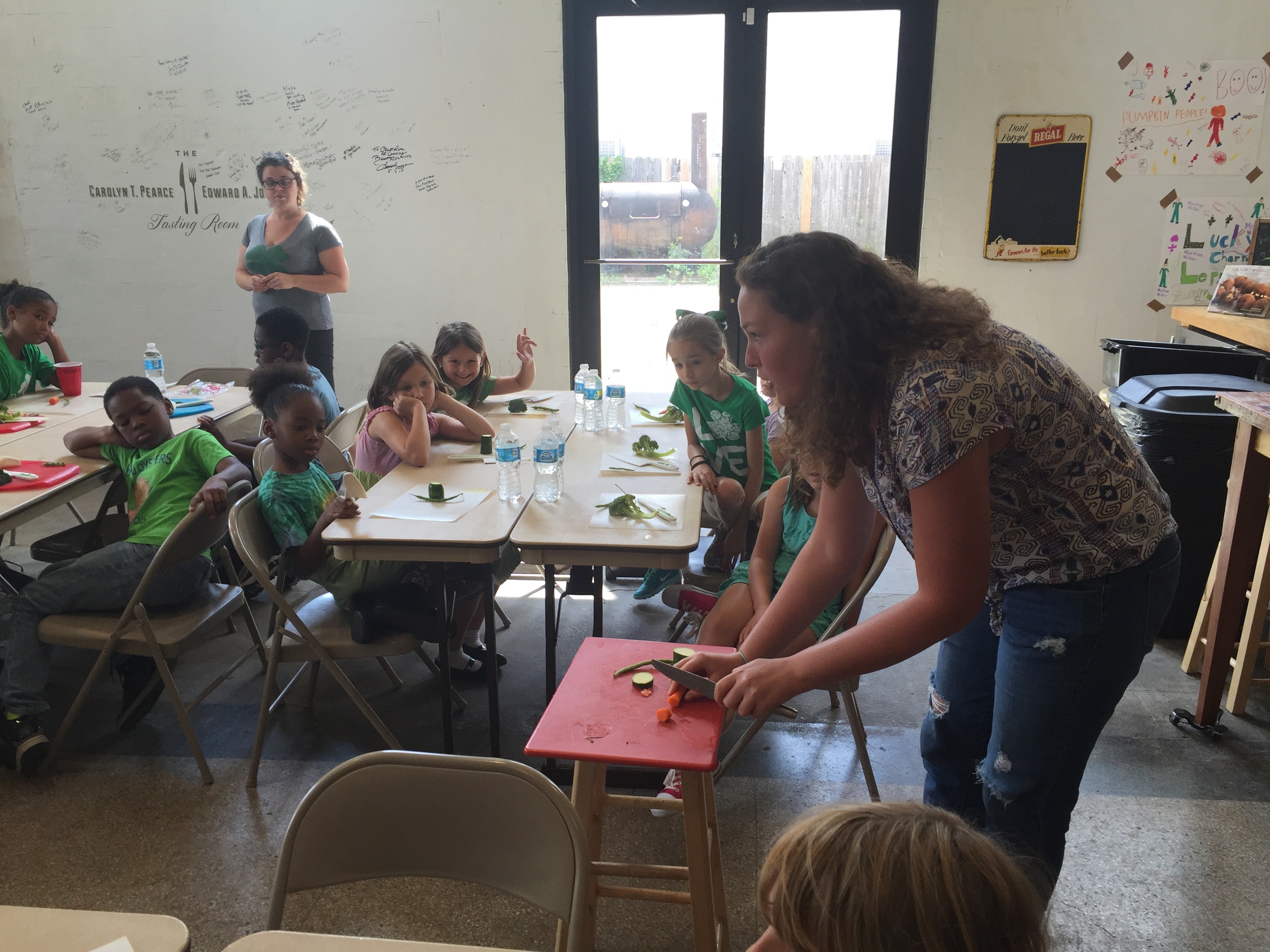 The Lucky Charms Leprechauns finished the hash browns by mixing egg, flour and onions with the grated potatoes.
Games outside was again Four Corners.

They returned to "surprisingly good vegetables" (Quoting the kids of Kids Camp 2016) and then reflected on the week: thinking about what their favourite day was, what surprised them, and what they've never done before. Snack Wars (as always) was a crowd favourite.
Recipes to look out for: Green and Orange Roasted Veggie Medley, Hash browns
Fundamentals of Cooking
At the end of each blog we will be teaching a fundamental cooking tip/skill/technique, like how to cut different types of vegetables, the tips and tricks of roasting meat, how to cook rice etc.
The first fundamentals of cooking lesson will be...
How To Cook Stir-Fry Foods:
Use a frying pan or wok. Why? because you want space for the food to always be moving
Cut all vegetables in advance. Why? because stir fry cooks fast so things will go quickly
Put the burner on high heat
Start with oil and then the flavouring vegetables (garlic and onions) Why? So that all ingredients following these vegetables will soak up the flavour.
First put meat and then vegetables. Why? Meat takes longer to cook.
Work your way through the vegetables starting with the hardier vegetables first (e.g. carrots, broccoli) and softer vegetables last (e.g. mushrooms). Put vegetables that you want to leave last. Why? Because hardier vegetables take longer to cook.
Finish off with a sauce. Good sauces for stir fry are: soya sauce, rice vinegar, a bit of tahini and canola oil, or hoisin sauce.
This information was found on the Cooking Channel. Click on this hyperlink for a video explaining Stir-Fry.
Recipes
Jambalaya
Ingredients (Serves 6):
2 teaspoons vegetable oil
1 Rotisserie chicken
1/4 teaspoon salt
1/4 teaspoon freshly ground black pepper
1 cup chopped onion
1/2 cup chopped green bell pepper
1/2 cup chopped celery
1 garlic clove, minced
1 1/2 cups uncooked long-grain white rice
2 3/4 cups fat-free, less-sodium chicken broth
2 teaspoons paprika
1/2 teaspoon dried thyme
1/4 teaspoon ground red pepper
1 (14.5-ounce) can diced tomatoes, undrained
1 Andouille sausage
Directions:
Heat oil in a large skillet over medium-high heat. Add sausage to pan; cook 5 minutes or until lightly browned, stirring occasionally. Add 1 cup onion, bell pepper, celery, and garlic; cover, reduce heat to low, and cook 12 minutes or until vegetables are tender, stirring occasionally. Stir in rice; cook 2 minutes, stirring constantly. Add broth, paprika, thyme, salt, pepper, and red pepper; bring to a boil. Cover, reduce heat, and simmer 15 minutes. Add chicken and tomatoes; cook, uncovered, 10 minutes or until liquid is absorbed. Remove from heat, and let stand 5 minutes. Fluff with fork.
Lemonade
Ingredients (Serves 4 /Makes 4 cups):
1/2 cup sugar
1 cup fresh lemon juice (from about 6 lemons)
3 to 3 1/2 cups water
Directions
In a small saucepan, combine the sugar and ½ cup water. Bring to a boil, stirring occasionally, until the sugar is dissolved; let cool. In a pitcher, combine the syrup with the lemon juice and 2½ to 3 cups water. Serve over ice.
Homemade Barbeque Sauce
Ingredients (Serves 32):
1 ½ cups brown sugar
1 ½ cups ketchup
½ cup red wine vinegar
½ cup water
1 tablespoon Worcestershire sauce
2 ½ tablespoons dry mustard
2 teaspoons paprika
2 teaspoons salt
1 ½ teaspoons black pepper
2 dashes hot sauce
Directions:
Put all ingredients in a blender and blend until smooth.
Red, White, and Blue Fruit Kebabs
Ingredients (Serves 6):
3 bananas
1 pint strawberries
1 pint blueberries
6 wooden kebab skewers
Directions:
Cut up the fruit in any fun way you would like. Carefully put fruit on skewers in any pattern you would like.
Spooky Pizza Faces
Homemade Pizza Dough Ingredients (Makes a 12 inch pizza):
1 (.25 ounce) package active dry yeast
1 teaspoon white sugar
1 cup warm water (110 degrees F/45 degrees C)
2 1/2 cups bread flour
2 tablespoons olive oil
1 teaspoon salt
Topping Ingredients:
1 onion
1 bell pepper
1 cup of Pizza Blend Shredded Cheese
2 tablespoons pizza sauce
Directions:
Preheat oven to 450 degrees F (230 degrees C). In a medium bowl, dissolve yeast and sugar in warm water. Let stand until creamy, about 10 minutes. Stir in flour, salt and oil. Stir until smooth. Let rest for 5 minutes. Turn dough out onto a lightly floured surface and pat or roll into a round circle. Transfer crust to a lightly greased pizza pan or baker's peel dusted with cornmeal. Spread sauce and cheese. Design the pizza face with toppings (other examples include black olives, mushrooms, and broccoli). Bake in oven for 15 to 20 minutes, or until golden brown. Let baked pizza cool for 5 minutes before serving.
Turkey Meatballs
Ingredients (Makes 30 meatballs):
1 lb lean ground turkey
3 garlic cloves, minced
1⁄4cup onion, finely chopped
1⁄4cup parsley, chopped
1⁄2teaspoon salt
1⁄2teaspoon pepper
1⁄2teaspoon oregano
1 egg, beaten
1⁄2cup dry breadcrumbs
Directions:
Preheat oven to 375 degrees. Mix all the ingredients and shape into 30 meatballs approximately 1" across. Spray a nonstick pan lightly with veggie oil. Bake for 20-25 minutes or until golden.
Oven Baked Sweet Potato Fries
Ingredients:
3 sweet potatoes
2 T olive oil
½ tsp salt
½ tsp pepper
¼ tsp paprika
¼ tsp garlic powder
Directions:
Cut sweet potatoes into fry size and put in a bowl. Add all ingredients to bowl and toss until all fries are evenly coated. Lay single layer onto baking sheet and bake at 450 F for around 20 minutes or until lightly browned.
Hash browns
Ingredients:
2 shredded russet potatoes
½ medium onion, finely chopped
¼ cup all-purpose flour
1 egg
1 cup oil for frying
salt and pepper to taste
Directions:
Rinse shredded potatoes until water is clear, then drain and squeeze dry. Place shreds in a bowl, and mix in the onion, flour and egg until evenly distributed. Heat about 1/4 inch of oil in a large heavy skillet over medium-high heat. When oil is sizzling hot, place potatoes into the pan in a 1/2 inch thick layer. Cover the whole bottom of the pan, or make separate piles like pancakes. Cook until nicely browned on the bottom, then flip over and brown on the other side. It should take at least 5 minutes per side. If you are cooking them in one big piece, it can be cut into quarters for easier flipping. Remove from pan, and drain on paper towels. Season with salt and pepper and serve immediately.
Green and Orange Roasted Veggie Medley
Ingredients:
2 cups fresh broccoli florets
1 pould trimmed fresh green beans
1 zucchini
2 medium carrots, cut into pieces
1 medium onion, sliced
3-5 minced garlic cloves
4 T olive oil, divided
½ cup grated Parmesan
2 tablespoons minced fresh parsley
2 T lemon juice
1 T grated lemon peel
¼ tsp salt
¼ tsp pepper
Directions:
Preheat oven to 425°. Place the first seven ingredients in a large bowl; drizzle with 2 tablespoons oil and toss to coat. Divide between two 15x10x1-in. baking pans coated with cooking spray. Roast 20-25 minutes or until tender, stirring occasionally. Transfer to a large serving bowl. In a small bowl, mix remaining oil with remaining ingredients; add to vegetables and toss to combine. Yield: 12 servings (3/4 cup each).