On Thursday, December 17, The Museum of the American Cocktail held its 8th Annual Holiday Cocktail Seminar before a sold-out house at the Melrose Georgetown Hotel. The evening was a great success, and helped to put everyone on hand in the holiday spirit.
As is traditional for this event, the evening featured some of Washington, D.C.'s finest mixologists. Presenting on this evening were Gina Chersevani (of Buffalo & Bergen - Gina not only conceived of the event, but has also presented every year but once), Morgan Stana (Le Diplomate), JP Fetherston (DrinkCompany, The Columbia Room, Southern Efficiency), Duane Sylvestre (Collectif 1806), Aaron Joseph (Wit & Wisdom, Four Seasons Baltimore), and Matthew Stamper (Jardenea, the Melrose). The evening was emceed by MOTAC co-founder Philip Greene.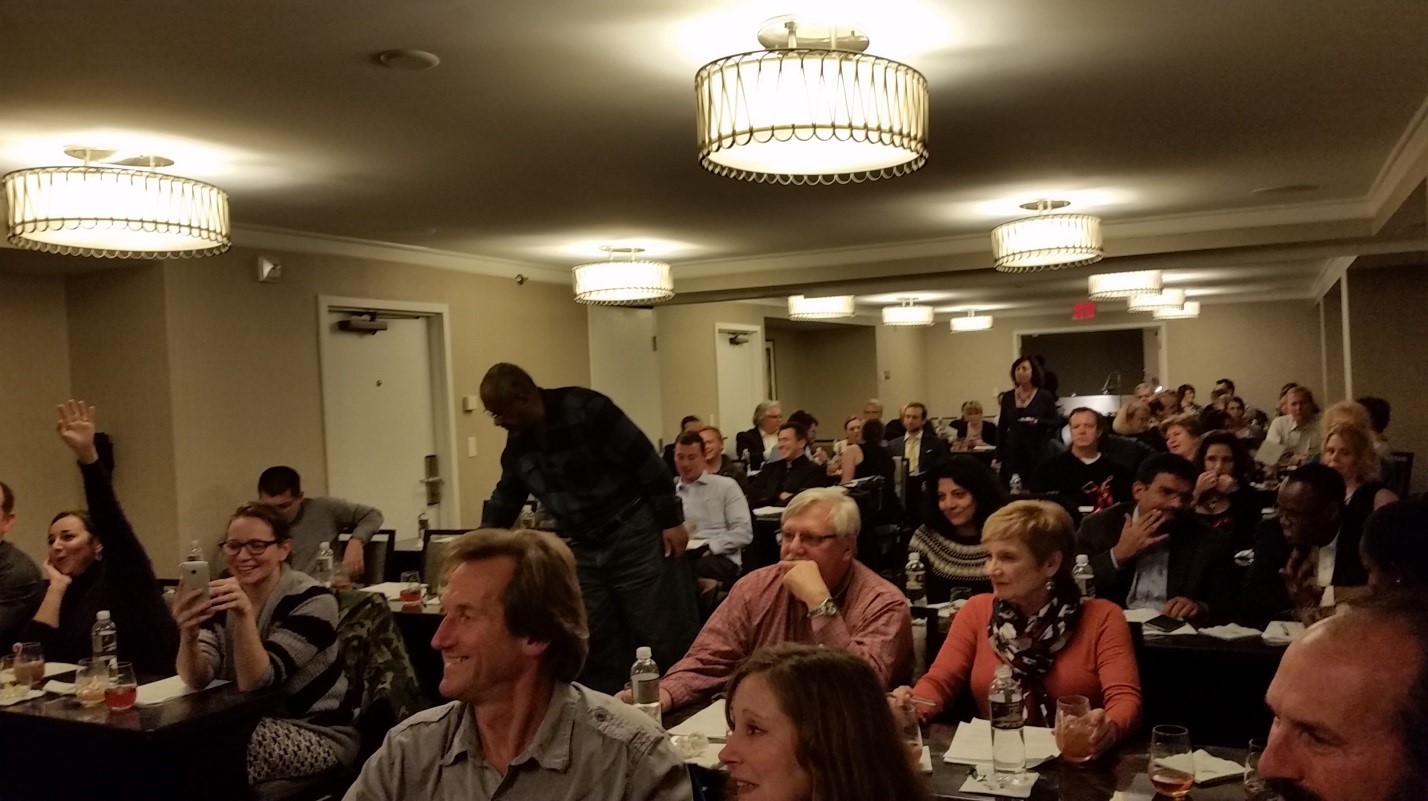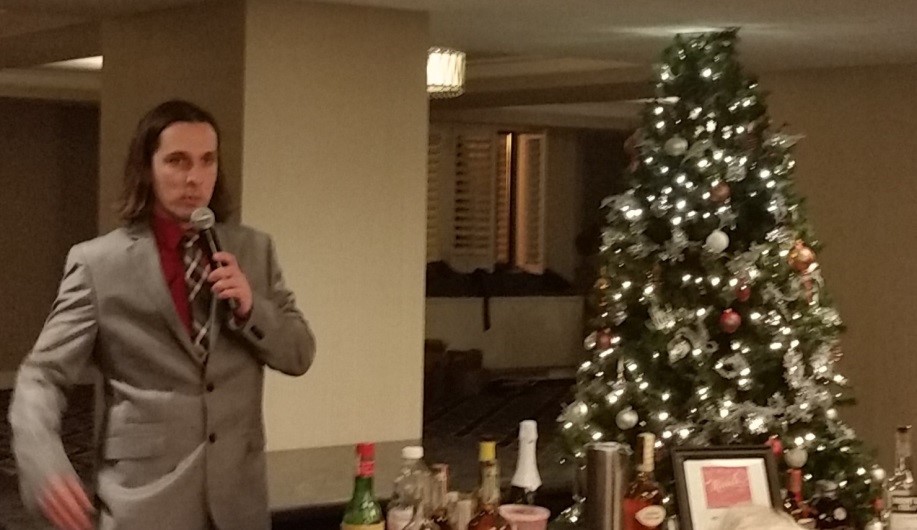 Photos courtesy of Dan Curtin and Philip Greene. All cocktail recipes are at the end!
Attendees were greeted by a hot mug of Hemingway Hot Rum Punch, while Phil Greene briefly talked about the Revised Edition of his book To Have and Have Another: A Hemingway Cocktail Companion. Hemingway wrote often of the hot rum punch he'd enjoy in the wintertime in Paris when he was a young writer in the 1920s, and included the drink in his 1926 classic The Sun Also Rises. In a letter Hemingway wrote to Sherwood Anderson just before Christmas, 1921, he spoke of having a hot rum punch at le Dôme Café in Paris, "and it's so damned cold outside and the brazier makes it so warm and we drink rum punch, hot, and the rhum enters into us like the Holy Spirit."
Gina Chersevani (Buffalo & Bergen, Union Market) then offered an original creation called the Bog Humbug, a delicious drink made with Wild Turkey 101 rye whiskey and her own homemade limoncello. Next up was Duane Sylvestre (Collectif 1806), who offered a simple but delicious variation on the 1850s New Orleans classic, the Brandy Crusta.
JP Fetherston (Columbia Room, Southern Efficiency, Drink Company) then presented one of the many holiday-themed drinks at Miracle on 7th Street, the fabulously popular Holiday-themed pop-up that has taken over Mockingbird Hill in Shaw. Matthew Stamper of Jardenea/the Melrose then offered a delicious seasonal drink created by head mixologist Millian Palma. Then Morgan Stana (le Diplomate) took the stage to offer her delicious but simple hot buttered bourbon recipe (which she calls the Snowbird), telling her story of inventing the drink for her Holiday visits to her home in Georgia.
And rounding out the evening's presenters, Aaron Joseph offered another delicious rum punch, his own original Gathering of Destinations.
This event would not be possible without the support of our sponsors, notably Dale DeGroff's Pimento Bitters, Wild Turkey 101 Bourbon and Rye Whiskey, Pierre Ferrand 1840 Cognac, Papa's Pilar Rum, Cointreau, Mount Gay, and Gonzalez-Byass Sherry. We also are so appreciative of our amazing volunteers for the evening, Luke Johnson (WhatsMyDrink.com) and Dante Datta (Miracle on 7th Street). Even Derek Brown chipped in to help prep and serve drinks.
Nearly 80 people were in attendance for the 8th annual holiday seminar, and in addition to the amazing drinks, they enjoyed delicious appetizers from the chefs at the Melrose's amazing restaurant, Jardenea.
Cocktail Recipes
Phil Greene's Hemingway Hot Rum Punch:
1 25.5 oz bottle Papa's Pilar Dark Rum
15 oz. Water
7.5 oz fresh squeezed lemon juice
5 oz fresh squeezed lime juice
5 oz brown sugar simple syrup (1:1 ratio)
Add all ingredients to a pot and simmer on low heat for 30 minutes, stirring occasionally. Serve in a small coffee cup or Irish coffee mug. Garnish each cup with a lemon peel. Optional: Add a dash of Dale DeGroff's Pimento Bitters to each serving for extra spice.
Gina Chersevani's Bog Humbug:
2 oz Wild Turkey 101 Rye
1 oz cranberry vanilla limoncello **
2 dashes orange citrate
2 dashes Angostura aromatic bitters
In a stirring glass, combine all ingredients, add ice, stir for 30 rotations. Garnish with orange peel and couple of fresh cranberries
To make the cranberry vanilla limoncello: Take the skin of 20 lemons and infuse into 3 bottles overproofed vodka or neutral grain spirit for 5-6 days. The color should be a bright golden color. When the lemons are done infusing remove the peels. Then set aside. In a pot, add 64 oz water, 24 oz fresh cranberries (2 bags), 2 scraped vanilla bean pods, 1 cinnamon stick, 80 oz sugar, cook over medium heat until cranberries are translucent, remove from heat and strain when hot, keep the liquid and pour into glass jar (s) and discard the rest. Allow to cool before next step.
Take the infused spirit and slowly marry the syrup into the mix. Tasting it as you go along to add the amount of sweet that is to your palate's liking. Then pour into glass bottles to use for cocktails or give as gifts.
Duane Sylvestre's Baker's Crust(a)
2 parts Mount Gay Black Barrel Rum
.5 parts Cointreau Orange Liqueur
.5 parts Luxardo Maraschino Liqueur
.75 parts fresh squeezed lemon juice
Moisten them rim of your glass with lemon juice and generously coat the outside with Spiced Sugar. Add all liquid ingredients to a cocktail shaker with ice. Shake and double strain into your prepared cocktail glass that has been lined with a lemon peel.
Derek Brown & JP Fetherston's Mele Kalikimaka
2 oz González-Byass Vina A-B Amontillado Sherry
2 oz González-Byass 1847 Cream Sherry
1.5 oz Pierre Ferrand 1840 Cognac
1.5 oz Roasted plum syrup*
.5 oz Bigallet China-China
1.75 oz Super-charged orange juice**
2 oz. Whole Milk
Mix all ingredients together, including the milk. Curdling should be visible quickly. Strain through a coffee filter overnight to strain out milk curds and clarify the punch. Pour over crushed ice in volcano bowl to serve. Garnish, and light overproof spirit in depression in the "volcano" part of the volcano bowl.
Roasted Plum Syrup
10 Italian plums
Brown sugar
4 Cloves, whole
8 Allspice berries, crushed
8 Juniper berries, crushed
2 Cinnamon sticks
Preheat oven to 350°F. Cut plums in half, and remove the pits. Char plum halves on a grill until the skin is blackened. Transfer plum halves to a baking sheet and roast in oven for around 20 minutes, or until the plums are soft and the sugars begin visibly caramelizing. Toast the spices and juniper berries in a pan over high heat. Weigh the plums, then chop them thoroughly. Add an equal weight of brown sugar, then spices. Cover and macerate overnight.
Super-charged Orange Juice Recipe
1 liter Fresh orange juice
32 g Citric acid
20 g Malic acid
Blend together until acids are dissolved.
Millian Palma's Poinsettia
1 1/2 oz of Calvados brandy
2 bar spoon of cranberry and apple purée
2 bar spoon of spiced simple syrup
Dash of lemon juice
1/2 of cranberry juice
Topped with Prosecco
Mix all ingredients except Prosecco in a Collins glass. Top with Prosecco. Garnish with 3 frozen cranberries and rosemary sprigs
Morgan Stana's Snowbird
2 ounces Wild Turkey 101 Bourbon
.5 ounce ginger vanilla liqueur*
2 Tablespoons batter**
5 ounces hot apple cider
garnished with honey whipped cream and grated nutmeg
In a small wine glass or rocks glass mix batter with bourbon and vanilla liqueur. Top with hot apple cider and garnish.
To make the ginger vanilla liqueur:
2 ounces ginger root, peeled and sliced
1 vanilla bean, split
1 cup sugar
1.5 cups water-zest from one orange
1.5 cups brandy
Add ginger, vanilla bean, sugar, and water to a saucepan and bring to a boil. Simmer for about 20 minutes, until ginger is soft. Combine in a bottle or jar with orange zest and brandy, let sit for at least two days, strain. Let sit for one day to allow flavors to mellow.
To make batter:
1 stick butter, softened
2/3 cup brown sugar
.25 teaspoon each of ground clove, ground nutmeg, and ground allspice
1 teaspoon ground cinnamon
1 pinch salt.
Mix all ingredients together in a bowl until well-blended. Can keep in the refrigerator for up to two weeks or the freezer for two months.
Aaron Joseph's Gathering of Destinations
1 bottle of Papas Pilar Dark Rum
8 oz sorrel *
4 oz of lime juice
4 oz Chinese Five Spice Syrup *
8 dashes of Bob's vanilla bitters
12 oz of whole milk
Combine rum, sorrel, lime juice, bitters, and syrup into large cambro. Heat milk up on a stove, bring to a roiling boil. Pour milk into punch mixture and let sit for 5 minutes. Using a coffee filter and chinwa strainer lightly pour mixture into strainer lined with coffee filter and allow mixture to drain into empty container. After punch has been strained place in refrigerator until ready to serve.
Serving instruction: place punch in punch bowl with garnishment of lime and orange wheels. Ladle out punch into double old-fashioned glass filled with ice. Grate nutmeg and add orchid.
Sorrel recipe:
64 grams of diced fresh ginger
10 g orange peels
7.5 quarts of water
286 g of dried hibiscus
16g cinnamon sticks
6 drops of Bob's vanilla bitters
1900 g of granulated sugar
5g of all spice pods
1/2 vanilla bean
2 g of cloves
1 bottle of Papas Pilar Blonde Rum
Add water to pot and bring to a boil. Add cinnamon, cloves, allspice, and ginger to boiling water. Turn heat down to medium and place cover on pot. Let spices simmer for 30 minutes. Add the rest of the ingredients and simmer for 30 minutes. Take pot off of stove and steep for 4 to 6 hours. For best results steep for 12 hours. After steeping, strain to discard solids. Store liquid in refrigerator until ready to use.
Chinese five spice syrup:
12g Chinese five spice
500 g of granulated sugar
500g of water
Add sugar, water, and Chinese five spice to a pot. Bring to a roiling boil. Turn heat down to med-low and simmer for 20 minutes. Remove from stove and strain syrup through chinwa strainer and store in refrigerator until ready to use.