Monday: Alice's Adventures in Wonderland
Alas the final week of camp! Us camp counselors were full of all kinds of bittersweet feelings but despite all the emotions we wanted to make sure this was our best week yet. What better way to start on such an undertaking than with a killer theme: Books! We racked our brains for some of our favorite books growing up and settled on what we think was a great and diverse list. We shared our choices with the campers Monday morning when they made their team posters. We got to meet the Alice in Wonderland Queens of Wonder, the Percy Jackson Golden Chefs, the Hunger Games District 12 Defenders, the James and the Giant Peach Perfect Peaches, and finally the Harry Potter Lightning Bolts.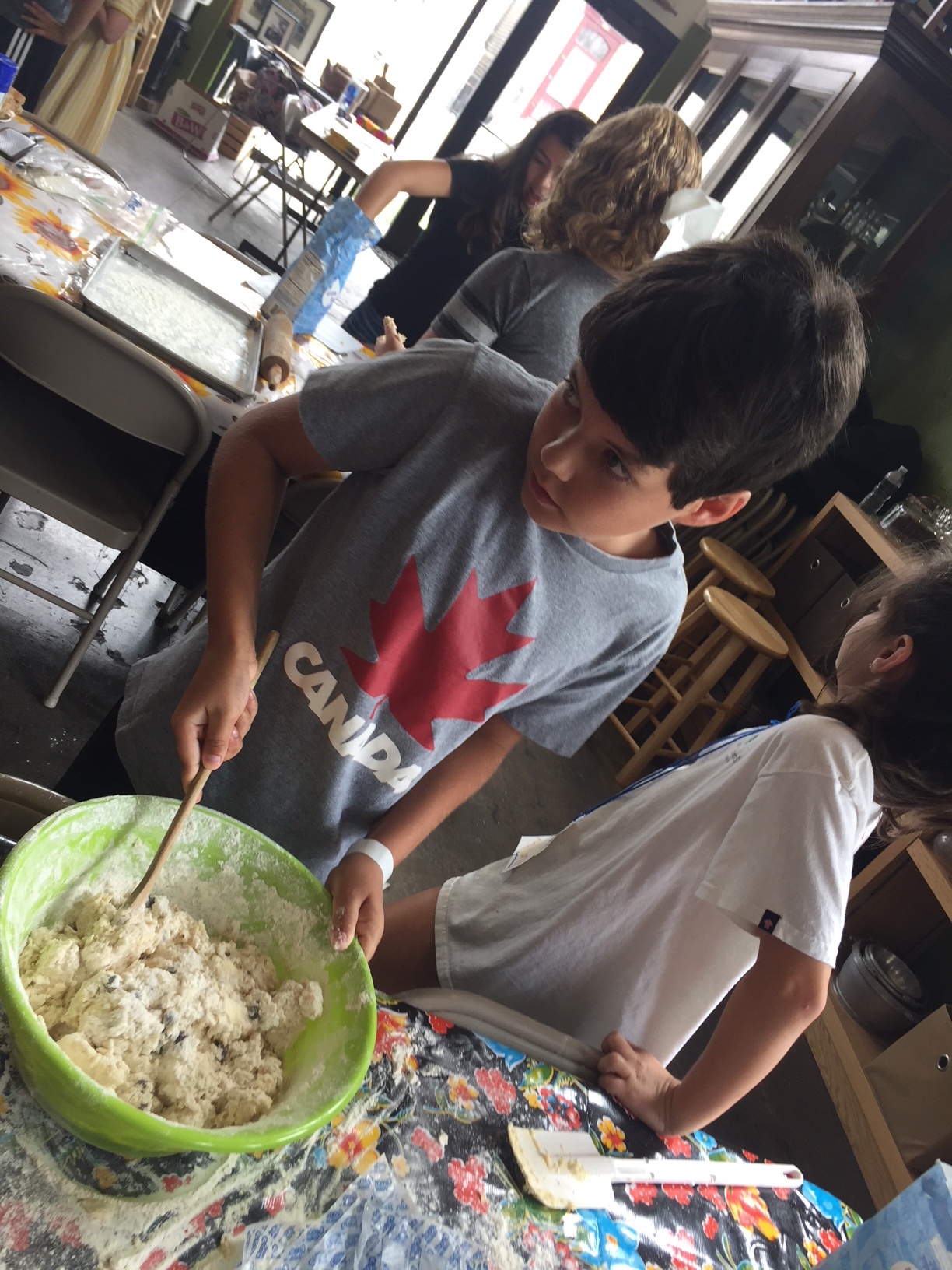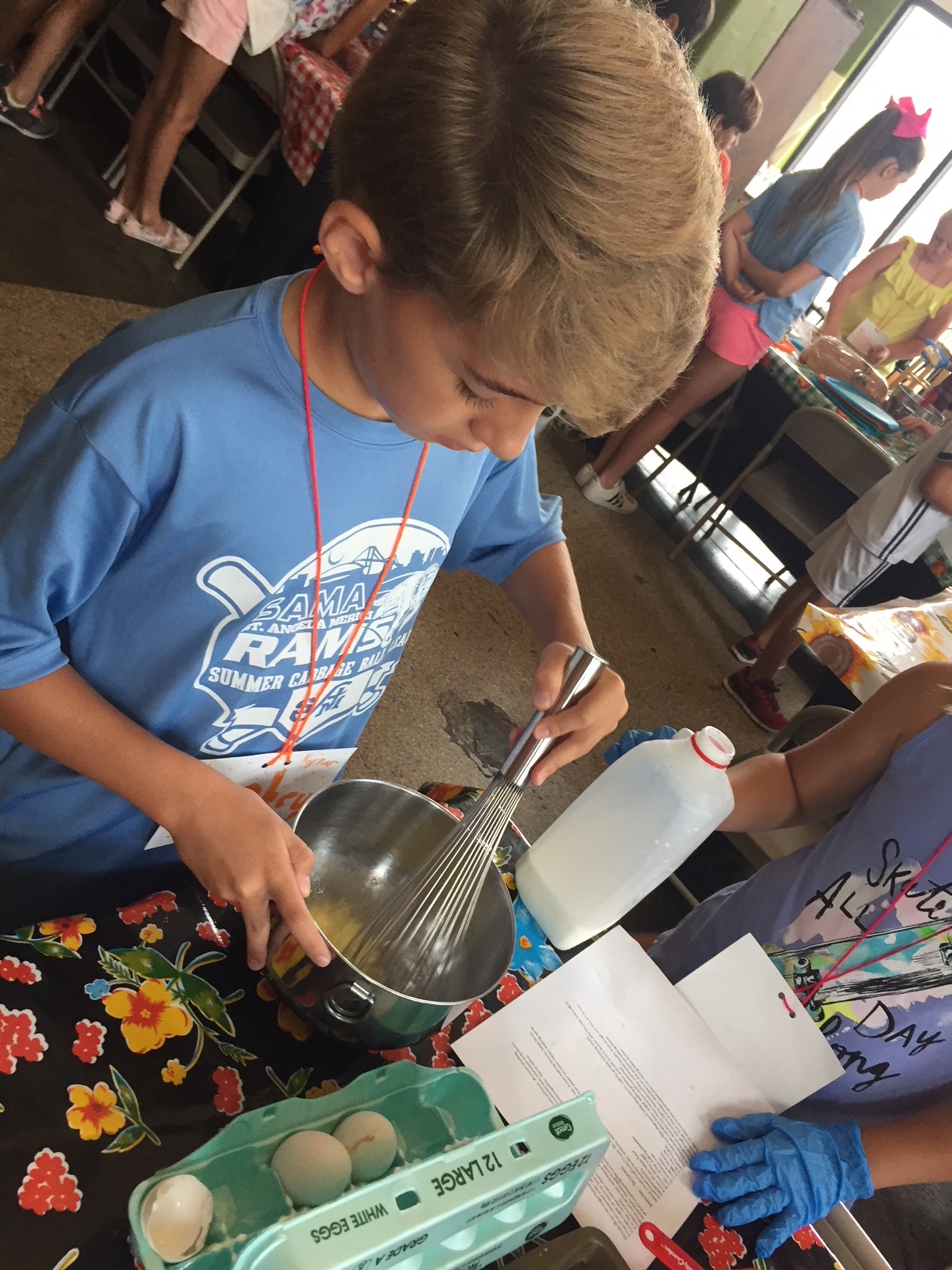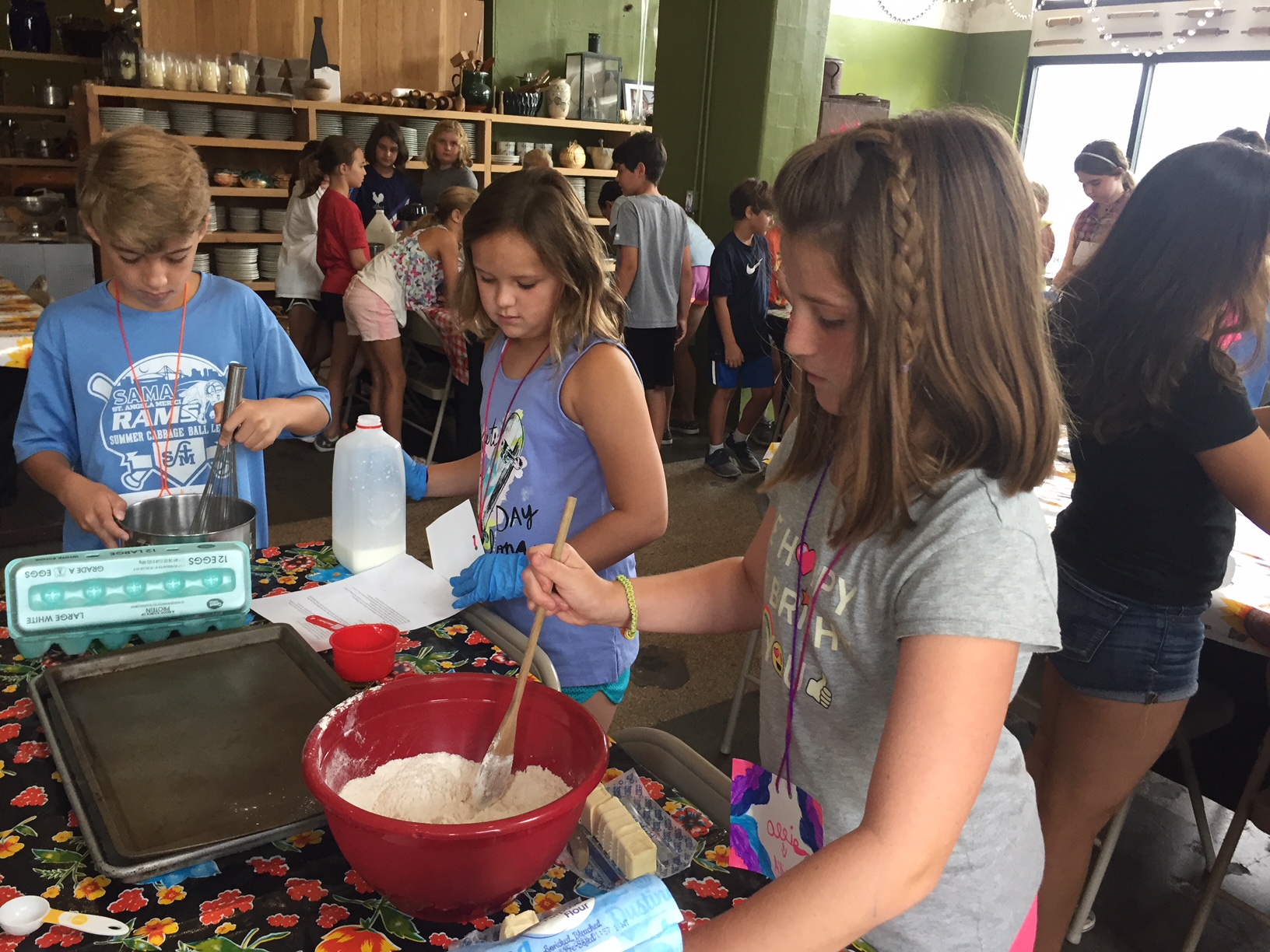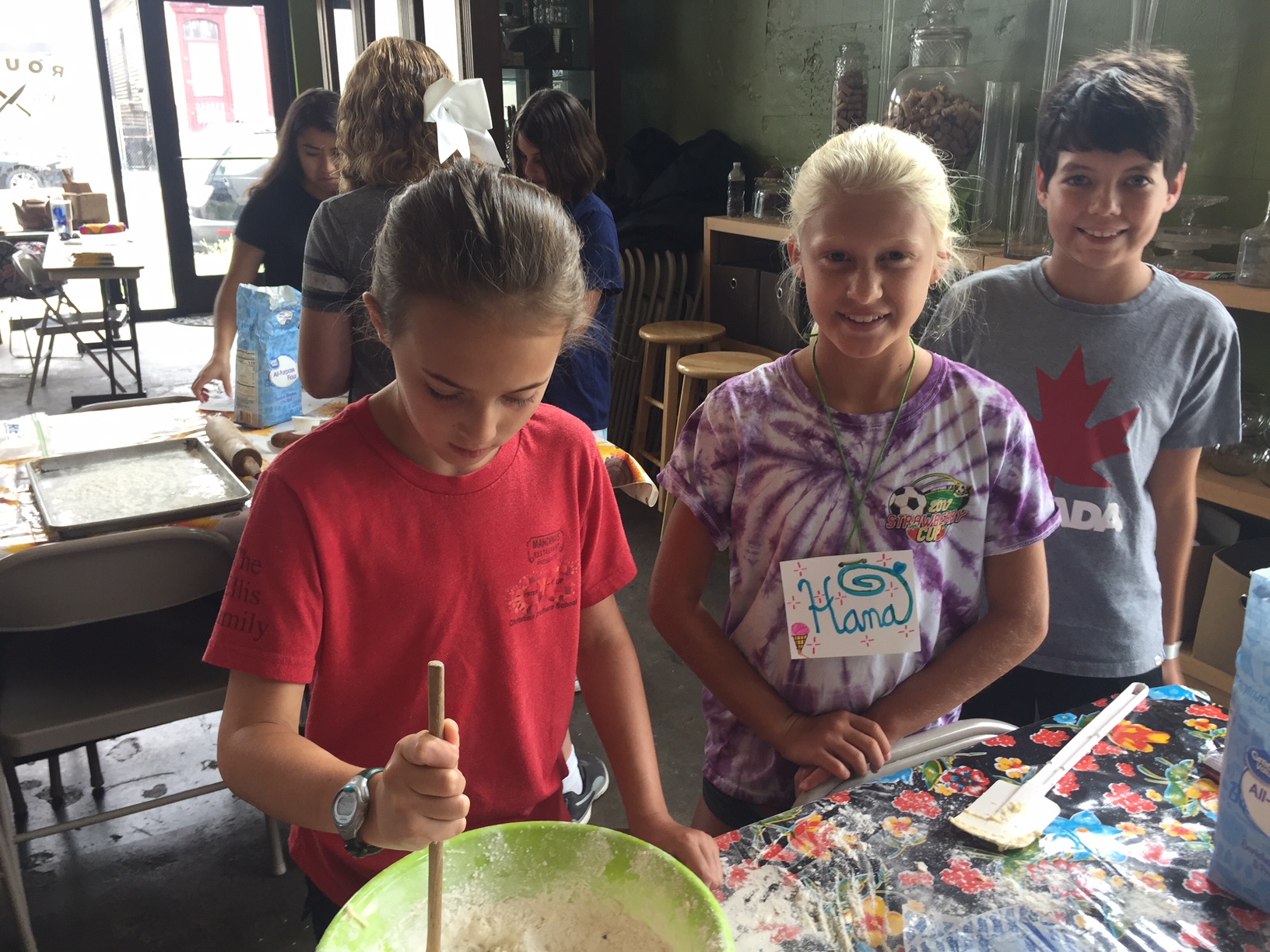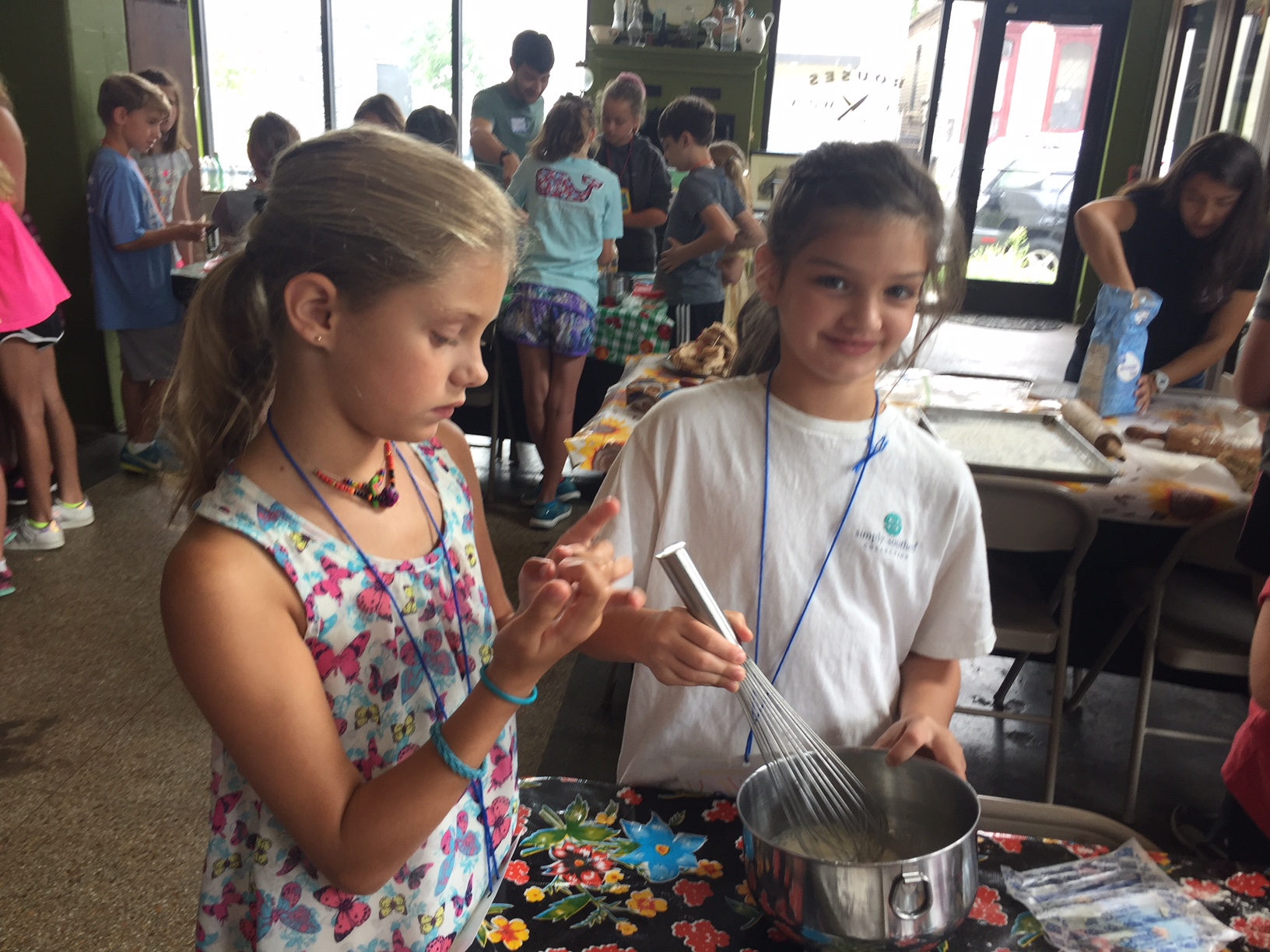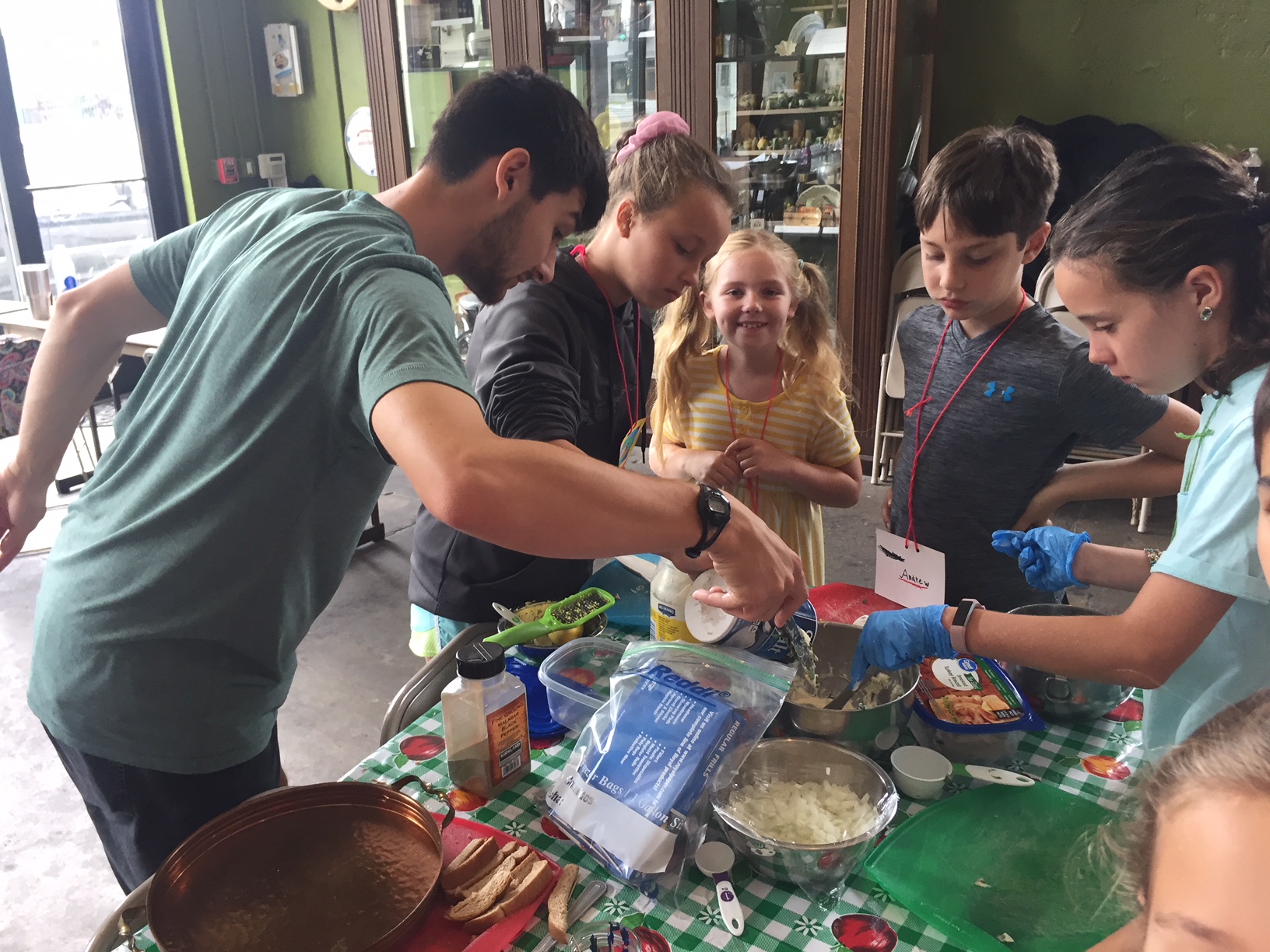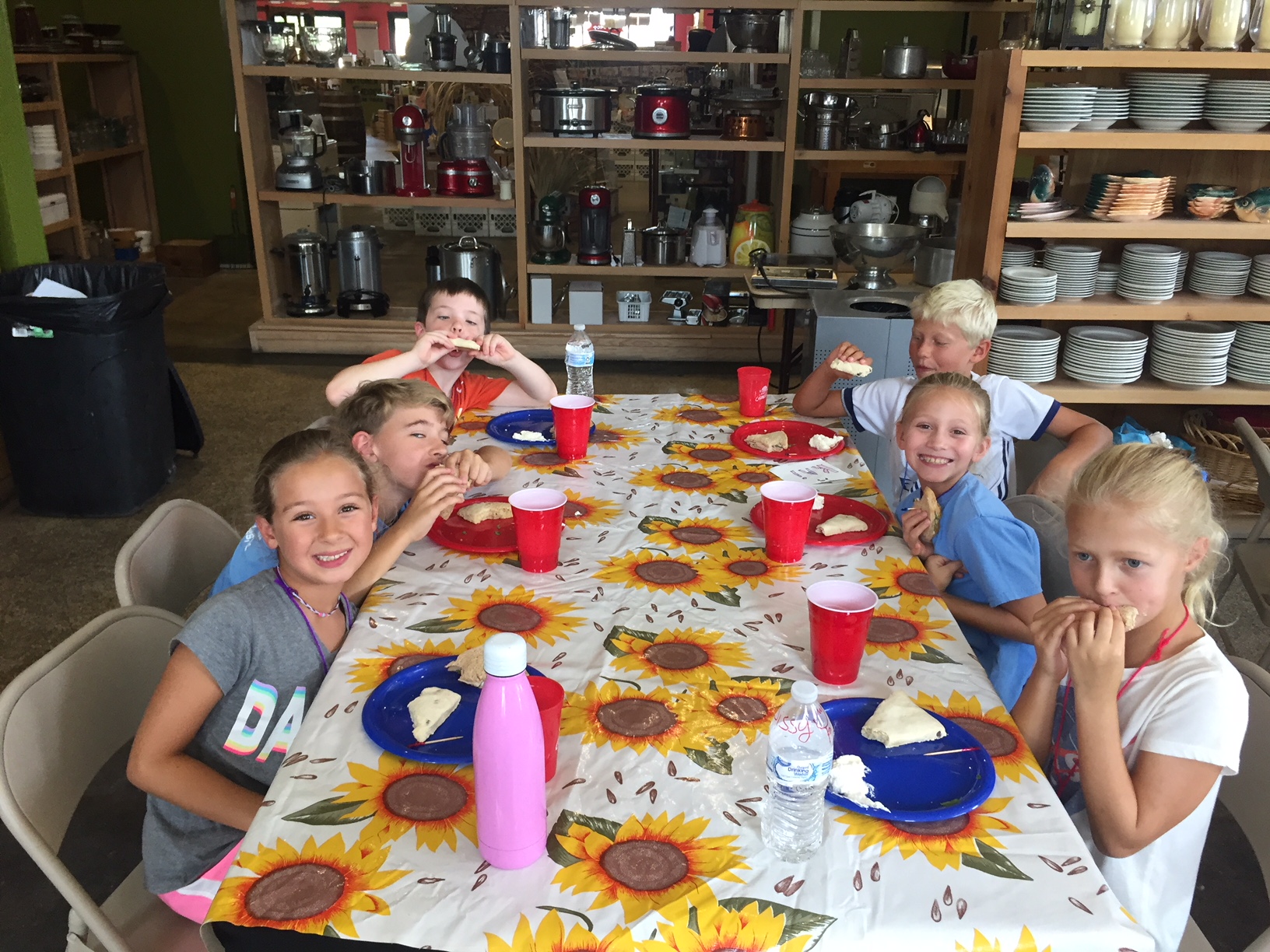 For Alice in Wonderland, what better menu than an English teatime ? The campers prepared Smoked Turkey and Arugula Tea Sandwiches on whole wheat, Chocolate Chip Scones, Devonshire Cream, and because what is teatime without tea, London Fog. While the Queens of Wonder oversaw the finishing touches on all these and got plates out to everyone, the rest of our crew went to play a couple rounds of Refrigerator Tag. When we all sat down and got to talk about the foods, I heard a lot of variety in favorites and a few changed hearts about arugula - success!
Tuesday: Percy Jackson and the Olympians
This counselor has not read Percy Jackson or seen the adaptation but might have been persuaded to give it a try! Percy Jackson is your average teenager until he realizes he is the son of Greek god of the sea, Poseidon. Then he heads to a training camp in New York to hone his divine powers in order to be equipped to prevent a battle among Olympians from becoming a war on Earth and to save his mother from god of the Underworld, Hades. Today's craft involved creating a menu befitting the Greek gods. The campers had to choose an entree, side, dessert, and drink from a posh menu to make a meal that might appease their assigned god. In our next activity we played Snack Wars! The campers had to create their own demigod with its own food-related powers. An interesting one we got was a demigod named Davius that could mind-control pumpkins!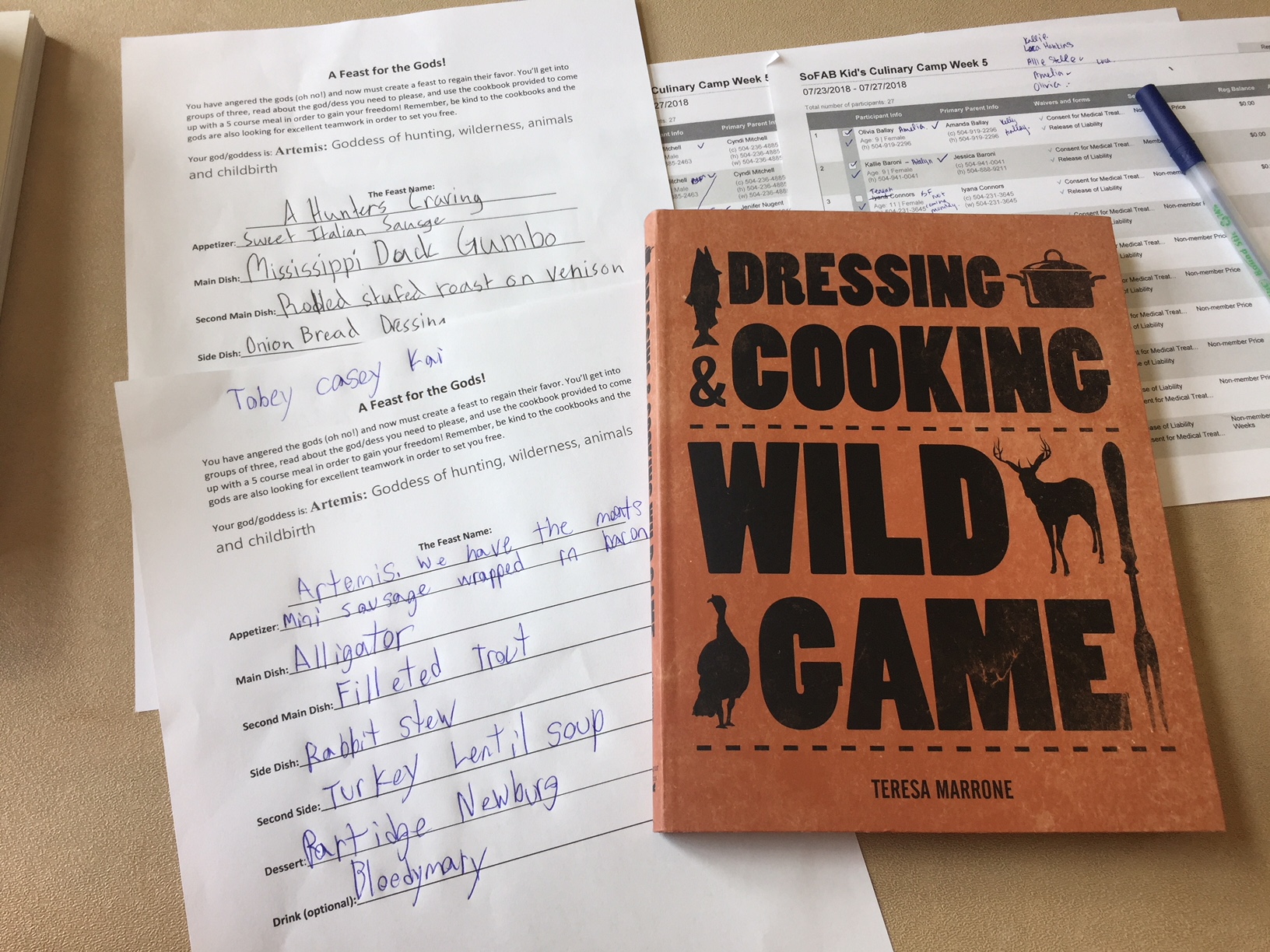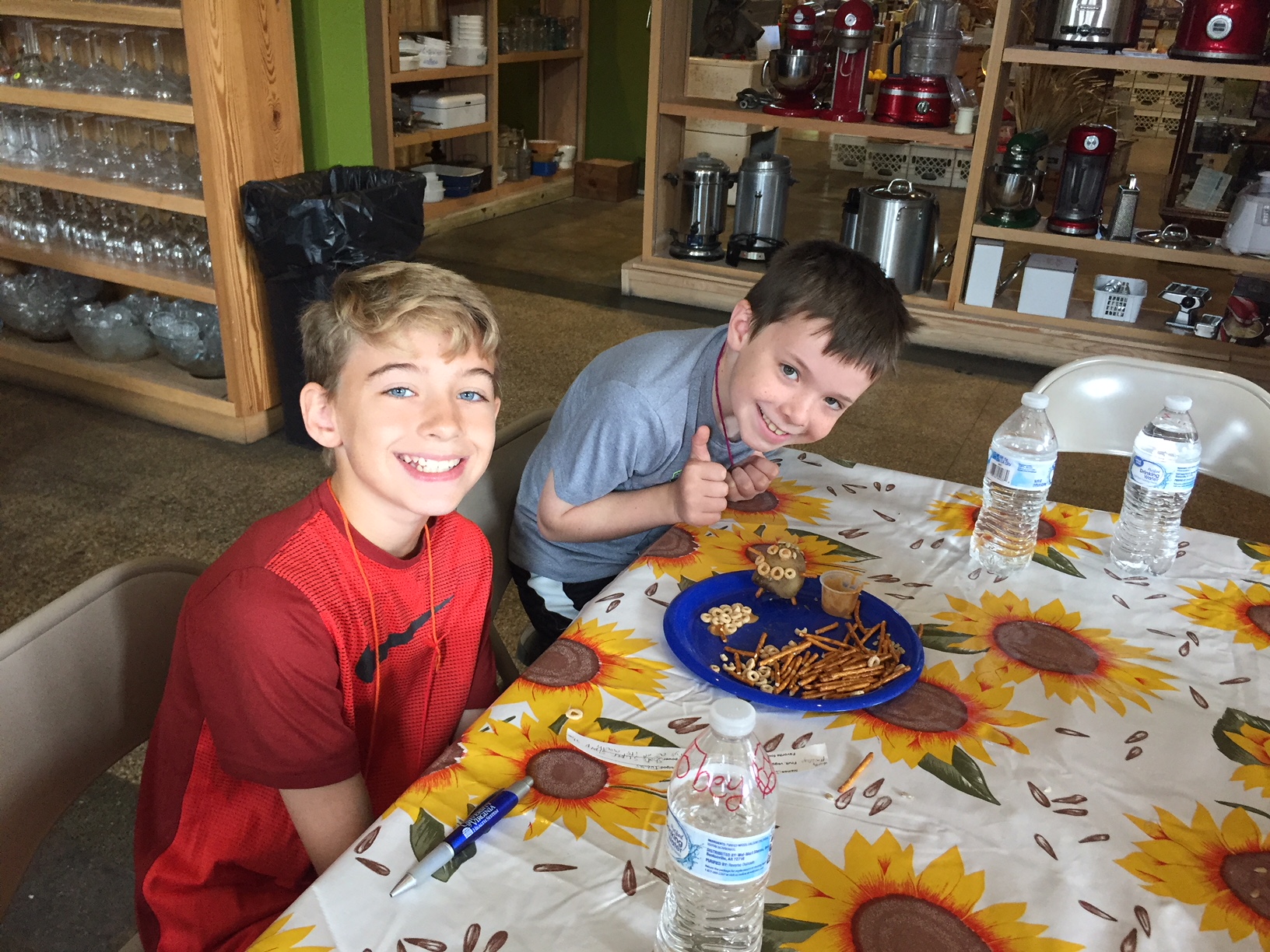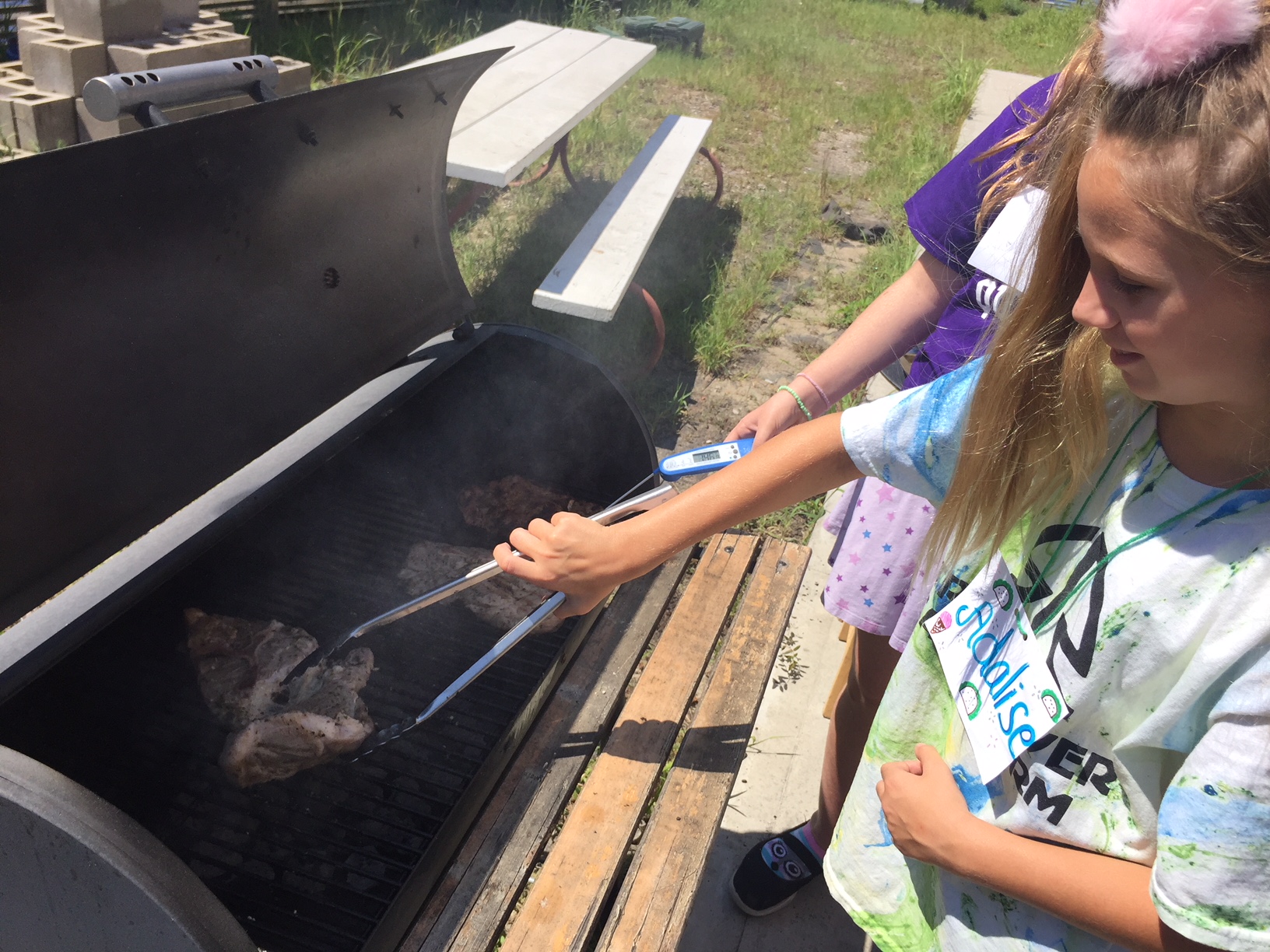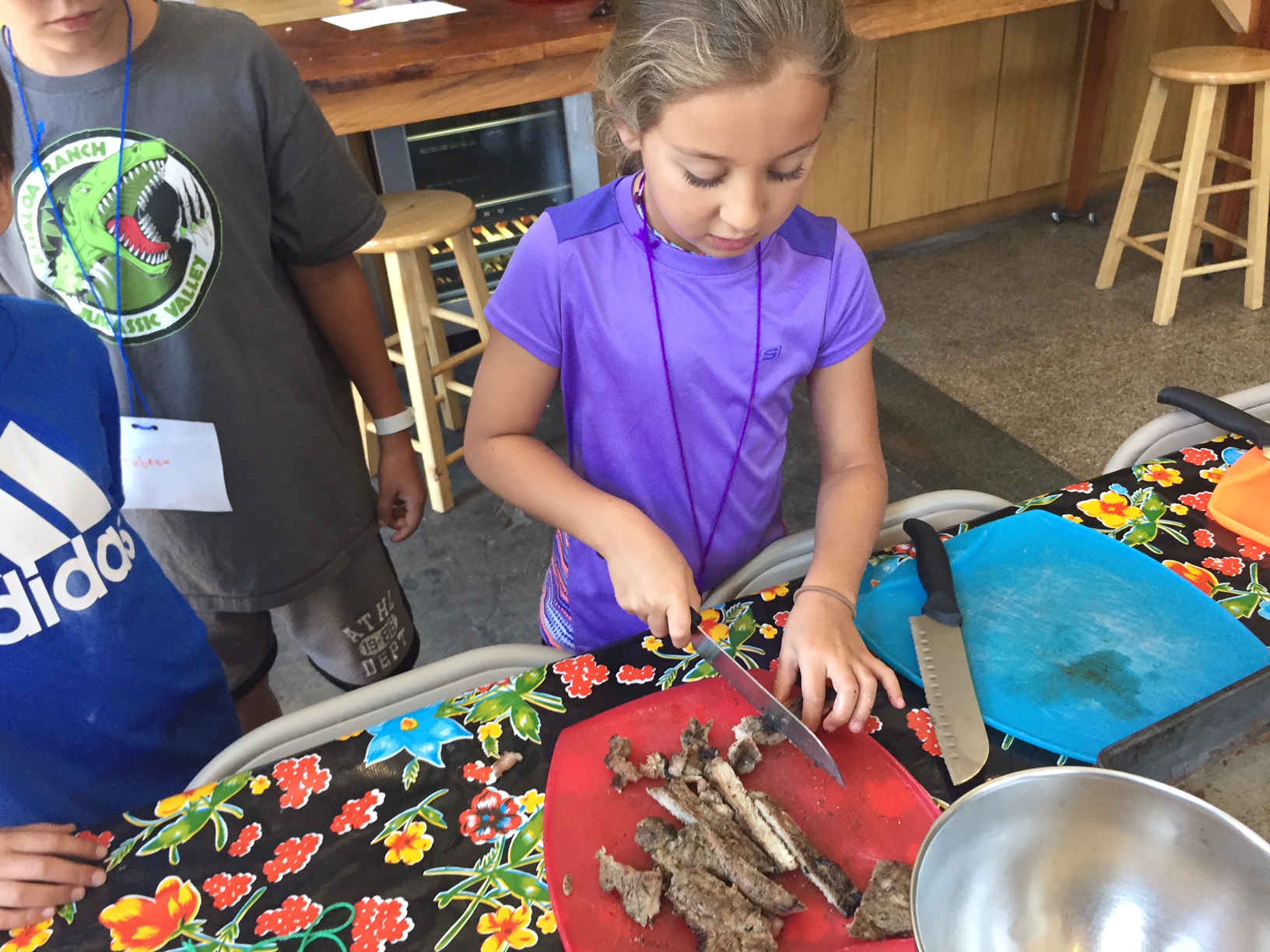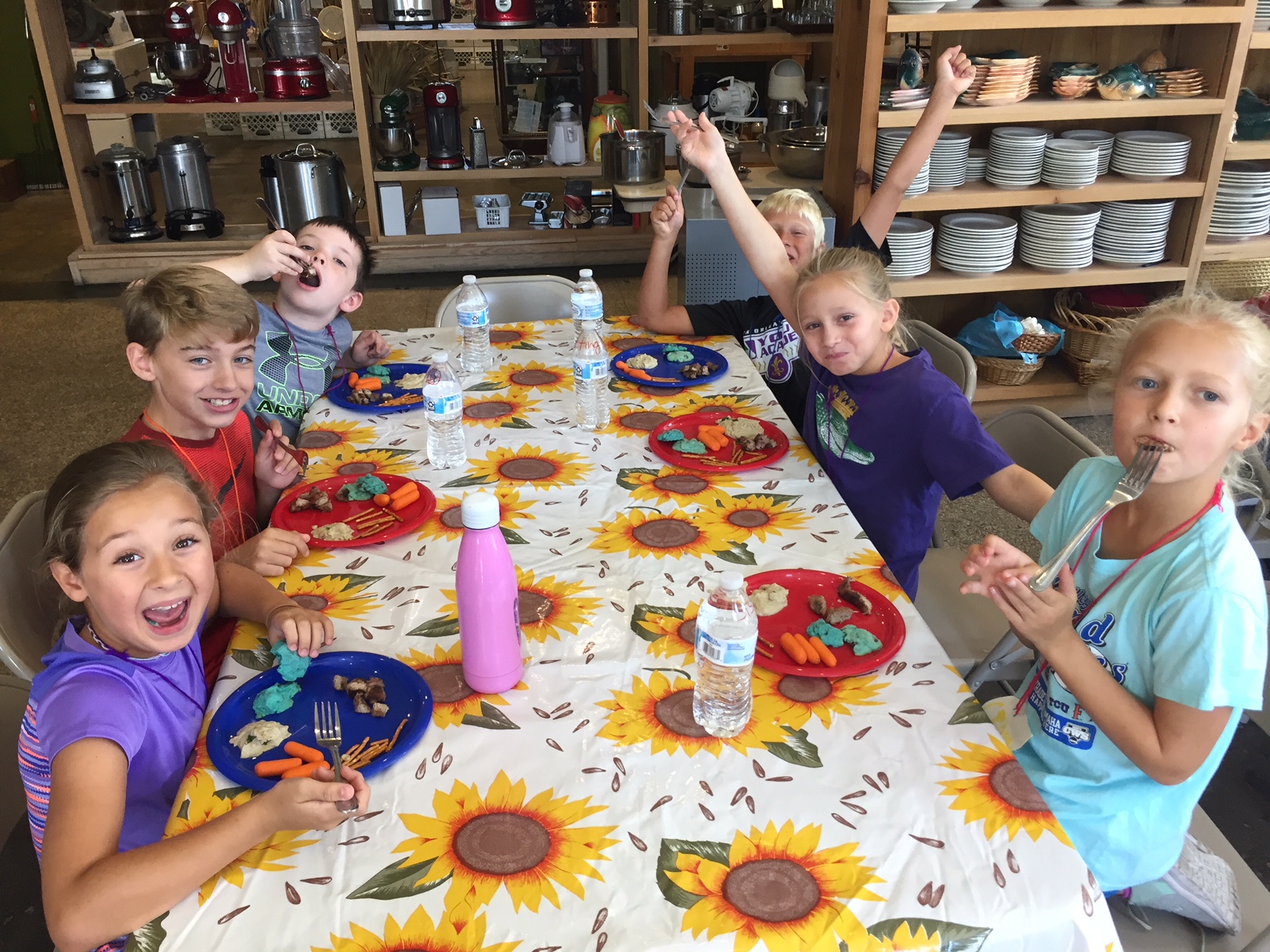 Next we split into groups to make Grilled Pork Souvlaki, Hummus, and Blue Cookies (blue is important in the book). Many campers had fun trying out grilling for the first time. After cooking stations, the Golden Chefs stayed inside to help clean and plate while the others also stayed inside to play Epidemic! At mealtime we all gathered 'round and again I was happy to hear how well-received the day's foods were.
Wednesday: The Hunger Games
On Wednesday, we celebrated a modern young adult classic-The Hunger Games by Suzanne Collins. This book imagines a dystopian United States divided into 12 districts, where each must send tributes to compete in an annual Hunger Games. Tribute Katniss Everdeen and her family are from District 12, which is likely located in modern-day greater Appalachia.
To start out the day, the campers learned about foods native to the Appalachian mountains such as gourds, wild berries, and, most importantly, wild game. Campers constructed meal plates out of paper foods, using scissors to simulate dicing or filleting and colors to simulate different cooking methods.
Next, the campers explored more of the food mentioned in The Hunger Games through a game of Jeopardy! The categories featured were Food Technology, which was an ode to the technology produced in District 3; Baking, chosen because the character Peeta works in a bakery; Game, again for District 12; and The Districts and Food, paying tribute to the agriculture of District 11, the fishing of District 4, and the livestock of District 10. It was a fierce battle, but the Queens of Wonder came out on top.
We then moved into the cooking stations, where the menu included a butternut squash risotto with wild turkey sausage and homemade herb rolls with quick, fresh strawberry jam. The risotto turned out to be a camp-wide favorite while the rolls and jam were the perfect compliment. While the rest of camp played a game of Epidemic, the District 12 Defenders stayed back to plate the food. All in all, everyone turned out victorious on this fun-filled day!
Thursday: James and the Giant Peach
Thursday brought us to another classic: James and the Giant Peach by Roald Dahl which features a fantastic story of an orphaned English body who makes a journey across the Atlantic in a huge peach with some garden bugs, eventually landing in New York.
To kick off the day, we played a camp favorite: Chopped! Campers were tasked with creating an appetizer or breakfast item using onions, carrots, rosemary, and canned tuna. Many groups chose to make a tuna patty, while one group in particular made a tasty tuna omelette. The competition was fierce, and Miss Kay Kay was a harsh judge, eventually choosing the Perfect Peaches as best dish. The Golden Chefs took home the award for best teamwork, Miss Jennie's absolute favorite award.
Next, we moved into cooking stations to make a dish paying homage to New York Italian culture: homemade spaghetti and meatballs with tomato sauce. The campers enjoyed rolling out the pasta dough by hand and cutting it with the electric mixer attachment. They also learned about meatballs and how filling agents like breadcrumbs keep the meatballs moist and hold them together. For dessert, the menu included a delicious peach vanilla cheesecake trifle, a nod to James's English origin. While the Perfect Peaches plated the food, the rest of camp enjoyed an indoor round of We're Sailing Across the Sea
From Chopped to cooking stations, the day was a smashing success!
Friday: Harry Potter
On the final day of camp, we celebrated a camp-wide favorite, a global phenomenon, an ultra classic which will go down in history--The Harry Potter Series by J.K. Rowling. Campers came dressed in their favorite Hogwarts House colors; one even brought a real wand!
At the end of camp, everyone received a cookbook containing all of the recipes, potions, and magical mixtures from the week. Campers made sure to note any changes they would make to the recipes such as adding more onion or baking for a little less time. The also starred recipes which they particularly enjoyed before collecting signatures from their new friends at camp. Next, they traveled to Diagon Alley and stepped through the doors of Weasleys' Wizard Wheezes where they made new, exciting wizarding treats to sell to the Weasley Brothers. Each candy was supposed to have a fictitious effect on the eater, the best of which was chosen for a prize. The winner for this round was one which sent the eater to the moon for an hour, then suddenly transported them back (with a supply of oxygen of course)!
Finally, we moved into cooking stations where we made Quidditch Player's Pie, a variant on the traditional shepherds' pie, Yorkshire puddings, and the ever-classic Butterbeer, this time as a smoothie. Yorkshire puddings are a very complicated dish to perfect, but our young witches and wizards cast a spell which made the puds bake to a perfect, puffed up golden brown. The Quidditch Players' pie featured a layer of turkey topped with bright carrots and creamy mashed potatoes, and the Butterbeer was a delicious blend of bananas, spices, and caramel sauce made from pureed dates and cashews.
The SoFAB ceiling was aglow with thousands of candles as the meal magically appeared (or maybe it was plated by the Lightning Bolts) while the other campers played Epidemic. It was a magical, mystical last day of camp full of laughter, food, and eye of newt. We here at SoFAB enjoyed this week and this summer immensely, and we know the kids did too! Watch out for SoFAB Kids Camp 2019 next year!