After our week off for Independence Day, Kids Camp came back and was as strong as ever. We had a great week of fun and cooking revolving around or theme of the week: European Countries.
Monday- Greece
To start the week, the campers made their nametags and decorated them with food and drink. Each table was a team based on the European country of the day, so they made team posters for their country. These teams were Greek Grandpas, the Spanish Spices, the Pizza Makers (Italy), the German Pretzels and Bon Appetites (France).
After the opening activities, we went through our culture setting acronym CHEFS (clean, helpful, experimental, friends, and safety). Then Nick put on a tasting station based on Greek foods: grape leaves, feta, baba ganoush, and tahini sauce.
To stick with the theme of Greece, we started to cook Greek staples. We made chicken souvlaki, tzatziki, and orzo pasta salad. While our Greek Grandpas finished the meal preparations, the other groups went outside and played Greek Mythology rock-paper-scissors. They came back inside and enjoyed delicious food! Our pictures from the opening day can be seen below!
Tuesday- Spain
Tuesday, we started with Audrey putting on a tasting station of Spanish mainstays. The kids got to try manchego cheese, pimiento peppers, paprika, and chorizo. Next we went into the always popular Snack Wars. Each pair got a basket of mystery ingredients to create a ruler of a country that they would come up with a biography for, and later get to enjoy as a tasty snack. The ingredients were a tortilla, a banana, peanut butter, raisins, and pretzel sticks. You can see some of their creations below.
Next, we went into cooking and made delicious empanadas and gazpacho. While our Spanish spices finished the food, the rest of the groups went with Jake to play Virus, which became a huge hit. Check out the pictures from our fun filled day!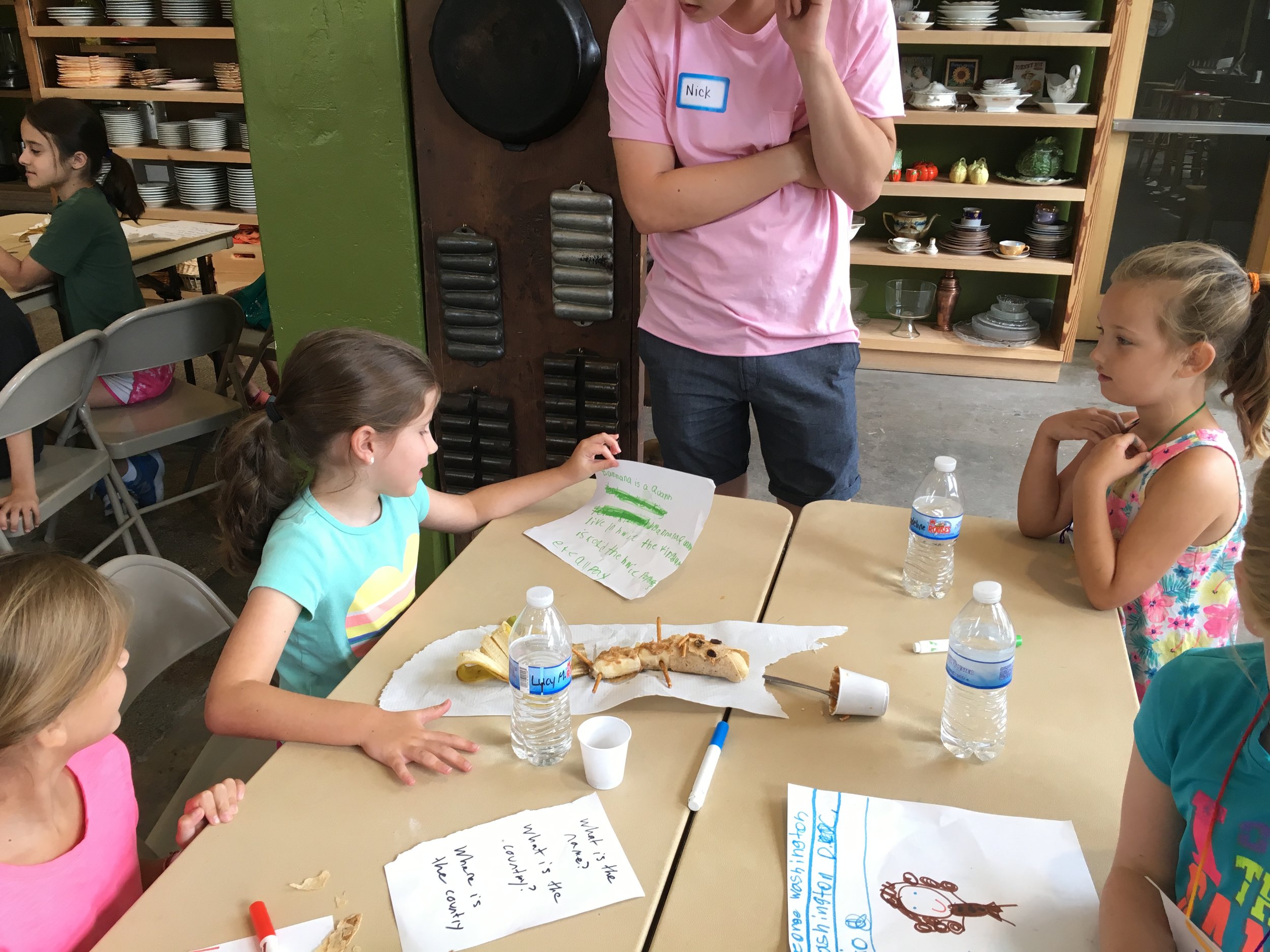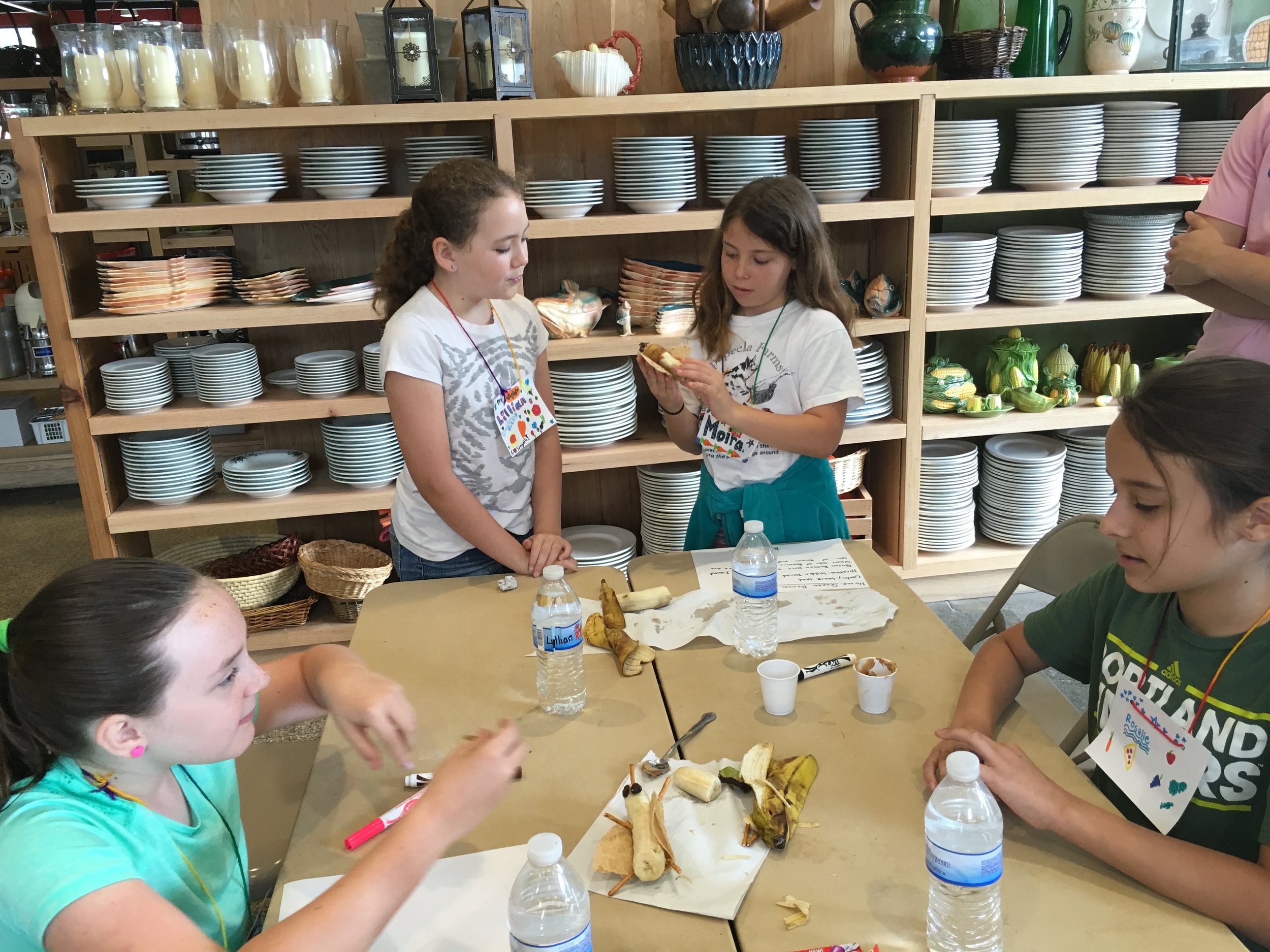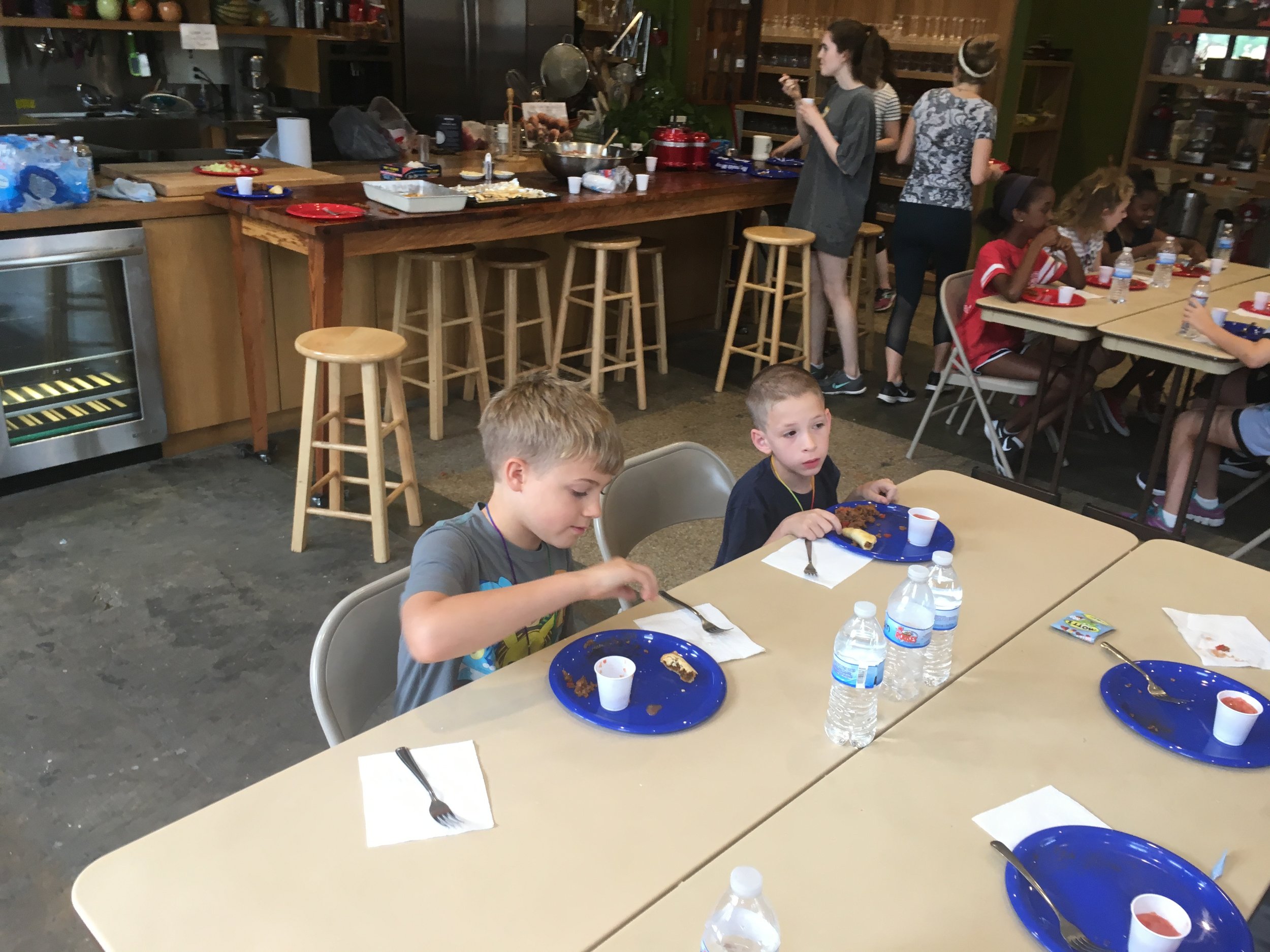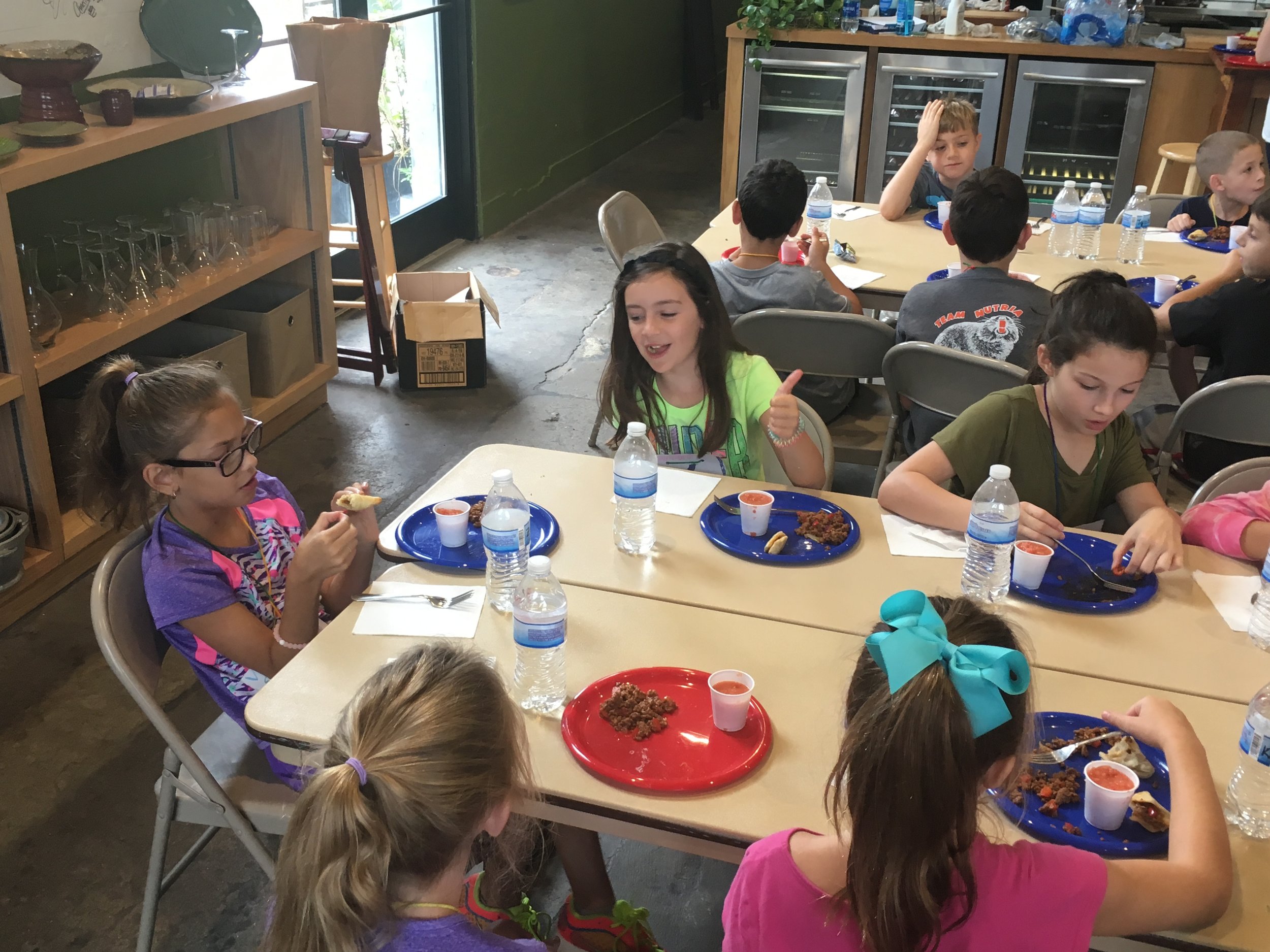 Wednesday- Italy
Right in line with our Italian theme of the day Wednesday, the campers started by making colorful and creative pasta mosaics. They turned out great! Then we got to learn about Italian foods and culture in a fun way with a rousing game of Italian themed Jeopardy.
Today, we cooked a delicious fettucine with sage butter sauce, and a caprese salad with balsamic reduction. Pizza Makers finished the pasta while everyone else played Grapevine with Jake, and then we all enjoyed our Italian themed lunch. Check out all the fun things we did below!
Thursday- Germany
We started Thursday with a fan favorite: Chopped. Each group got a basket of mystery ingredients and were tasked with creating their own unique dish to be presented to the judges (Alexa, Mary Clay and Ms. Jennie). They were to be judged on taste, appearance, and teamwork. Their ingredients were cambozola (a German cheese), sausage, spinach, Swiss Chocolate, and a Kaiser roll. They cooked up some pretty awesome dishes.
Next, we started cooking out German lunch: pork schnitzel, and a potato salad with a mustard based filling. Our German Pretzels finished the meal while the campers played Chefs and Waiters with Jake. It was a great day, finished off by a tasty meal.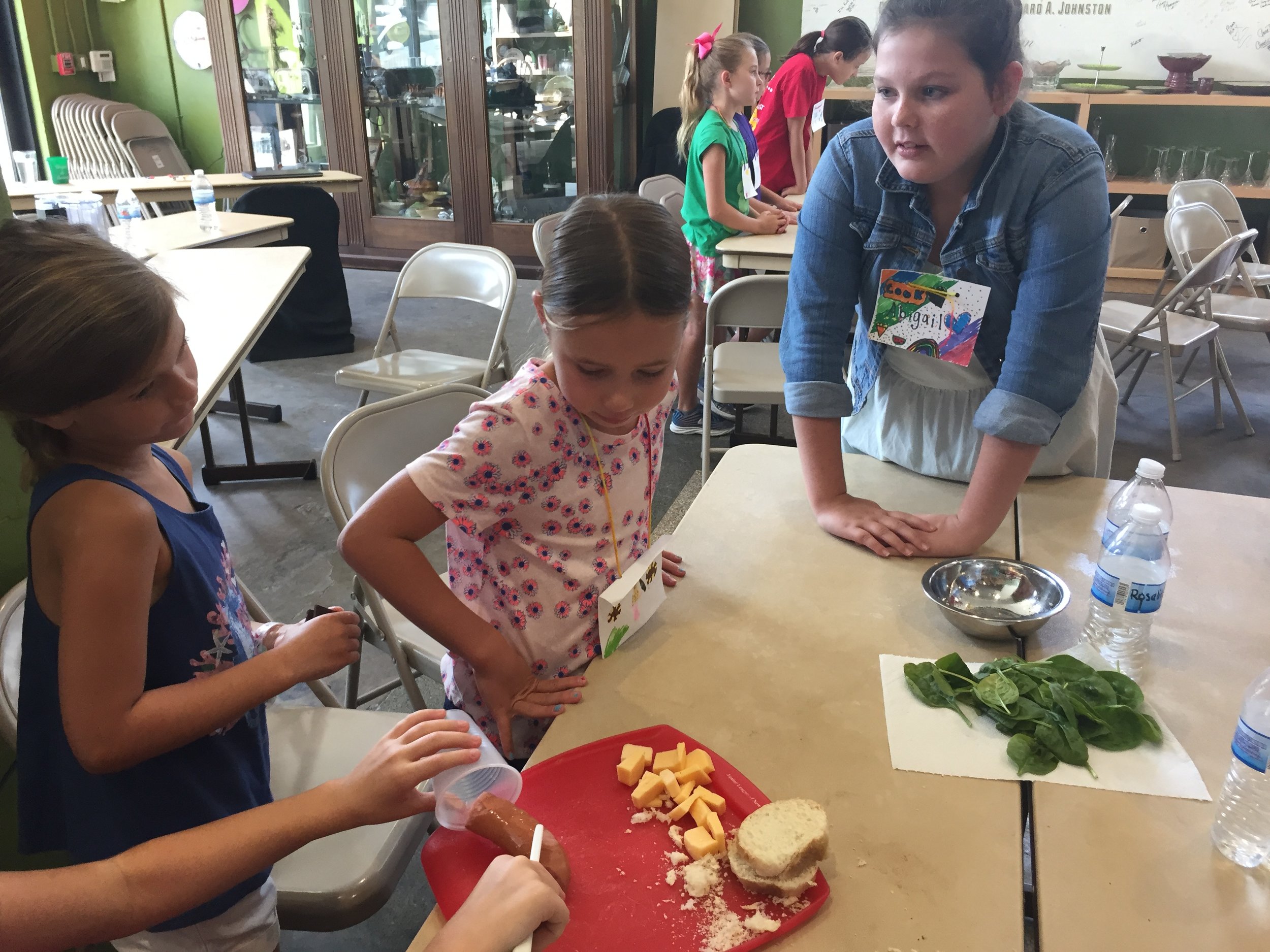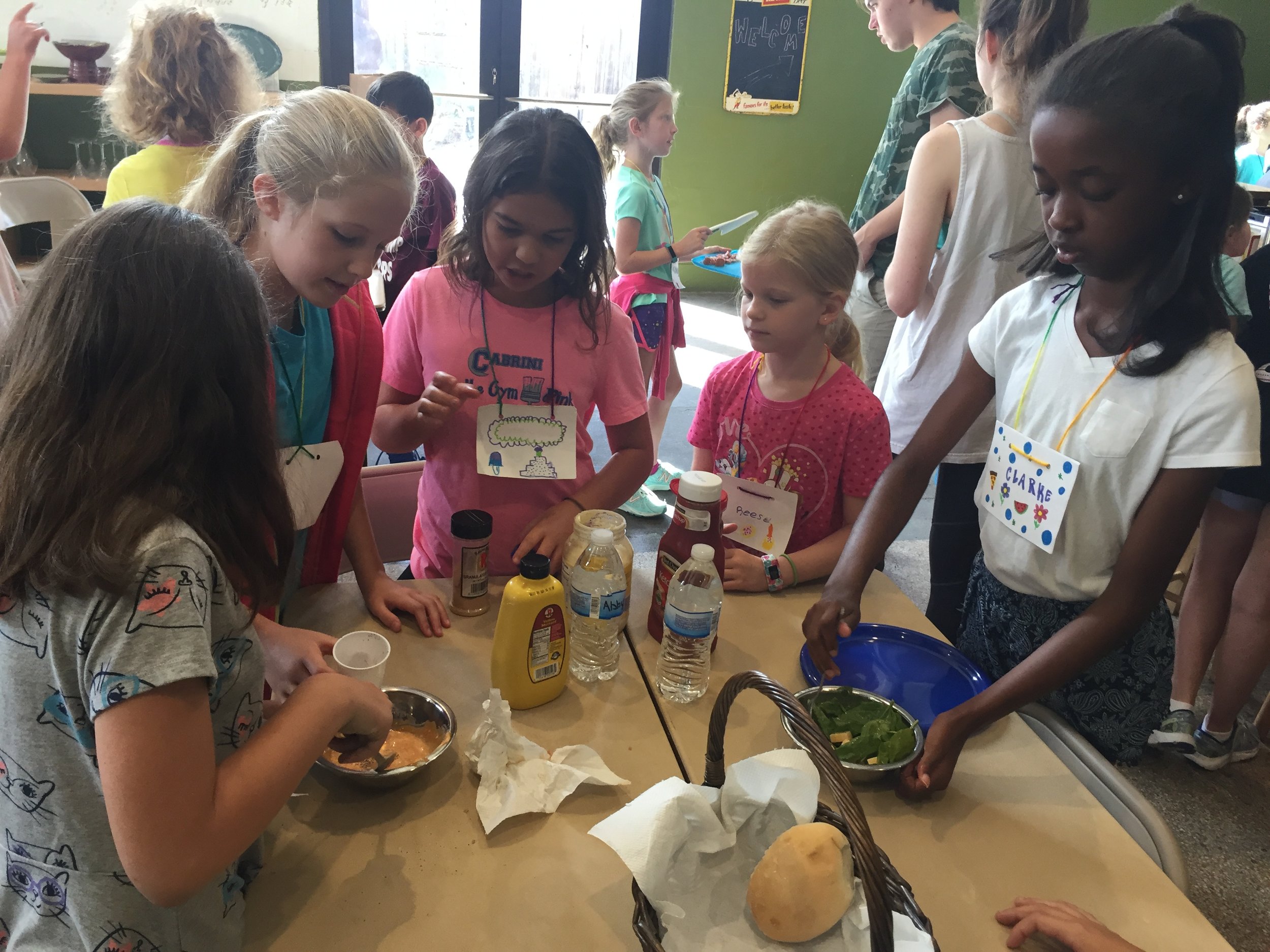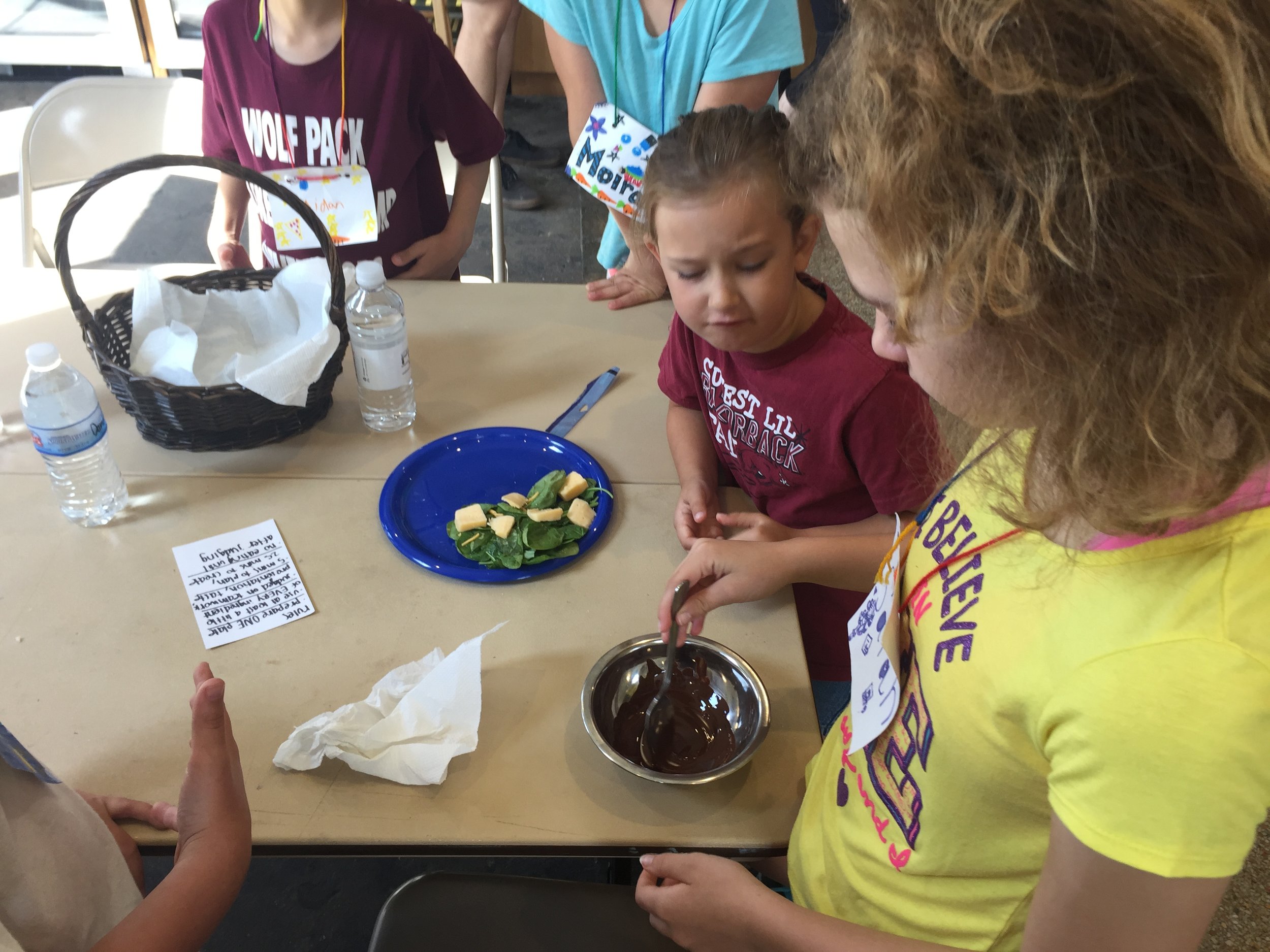 Friday- France
We started off our last day by making yearbook-esque cookbooks so all the campers could recreate their favorite dishes with their own twists at home. Then, each group wrote a song about regions of France, which can be seen in the gallery below.
Today, we were cooking Salmon Rillettes, roasted radishes and apple tarte Tatin. For games, we played a few of everyone's favorites from the week including Chefs and Waiters and Virus, and came back inside sweaty and hungry, just in time for lunch. Check out all our pictures to wrap up the week!